Just off the street on North Wenatchee Avenue is a small jungle that doubles as an apothecary. Plants hang from the ceiling and sprout from the tables. Lining the walls are hundreds of small amber bottles and jars, varying in size and shape. It's in those jars where the magic happens.
They contain tinctures, salves, balms, teas, soaps, lotions and supplements crafted with herbs and plants close to home — natural, local medicine produced by Salt Creek Apothecary.
"What we're trying to do is revive the original intent of the apothecary," said Kristen Acesta, a naturopathic physician and owner of Salt Creek Apothecary. "We're actually making herbal medicines for you right here."
The English word "apothecary" comes from the Latin word "apotheca," which loosely translates to "storehouse." Apothecary owners stocked and disbursed spices and herbs, and later began preparing medicines for doctors, making them the precursor to the modern pharmacy.
"A lot of people think of us as a supplement company, and that might be a good introduction to what it is we offer," Acesta said. "We are kind of like a supplement company, except that our morals and ethics are way, way, way better than a supplement company. I actually care about the herbs and where they come from. We hand produce all of our products, which inherently makes us different from a supplement company."
As a naturopathic physician and registered herbalist, Acesta is trained in helping patients treat a myriad of health concerns using plant medicine.
"People have so many different options nowadays," she said. "You're in pain and you don't want to take aspirin or ibuprofen, so you're looking for something natural. There are plenty of natural pain relievers on the market today, so the question becomes what are you going to choose? This is where I think we really shine."
An herbal remedy may work, but, Acesta argues, locally-sourced herbs can make a big difference.The goal with the apothecary was to have plant medicine grown locally for the people who live here.
"The reason you want to take our pain tonic is because you want the aspen and white willows that were grown from down the road," she said. "It is important to eat the food that grows around here, including your herbs."
Many of Salt Creek Apothecary's ingredients are "wildcrafted," meaning they are harvested or foraged from nature, not on a farm. The labels on the bottles at the apothecary are simple: name, ingredients, instructions for use.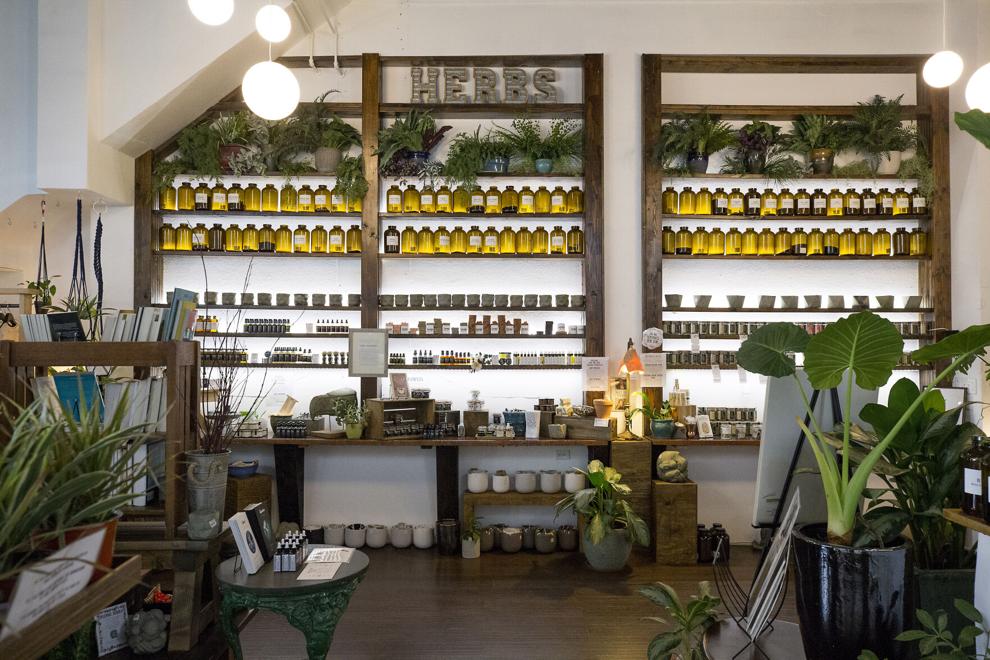 "I wanted it to be really clear: this is what's in it, all of these things are local that we have in it, this is how you take it, pure and simple. We purposely made this formula for you, from this area," she said. "I hope it instills this sense of confidence in people that they can trust us, that we are the stewards of the herbs and that we are looking out responsibly and trying to get you the best product available."
Acesta received her doctorate in naturopathic medicine from Bastyr University in Seattle. She moved from California where she grew up to complete her degree. After graduating, she quickly became disenchanted with living and working in Seattle.
"I realized, 'I hate being out here, this isn't the medicine I want to be practicing,'" she said. "I call it my 'Come to Jesus moment,' where I had this point of sullen depression in Seattle, realizing that in order to make it I was going to have to turn into a person I didn't want to be… at that point I was ready to just give up medicine."
Having grown up in a "farm town," she began looking for smaller, more sustainable places to start her own practice. She made a short list of places in Washington and Oregon, including Cashmere. She was determined to stay in the Pacific Northwest
"The Pacific Northwest is one of the largest hubs of herbal growing, herbal wildcrafting and herbal farming," she said. "We are in the sweet spot of being able to have accessibility for this."
She decided that wherever she got a job first, she would move. Then, the owner of Plaza Super Jet at the time "took a chance on her" and hired her as their produce manager. She said she felt anonymous again, working at a grocery store in an unfamiliar town.
"No one knew that I had this ridiculous amount of student loan debt for this high degree I wasn't using," she said. "I just became this kale-stacker again."
A year later, she was ready to return to practicing medicine. She began working as a naturopath in Leavenworth and through a mutual friend met Keely Murdoch, her partner in the apothecary. Murdoch was creating botanical products in a home lab.
"My first impression of Keely is that she's incredibly organized and it was very apparent she knew what she was talking about," Acesta said. "And I said, 'Look, why don't I buy out all your stuff and why don't you start making things for me?' And she just ran with it."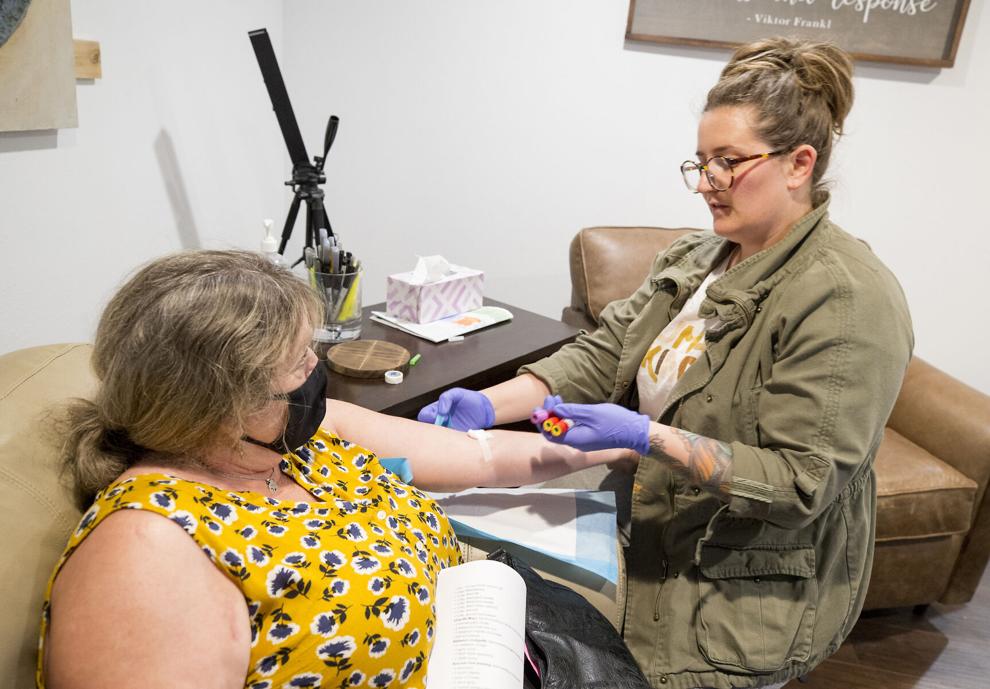 Acesta opened her clinic, Become Your Mission, in Leavenworth in 2017, and Salt Creek Apothecary officially launched in Cashmere nine months later in 2018. She used her knowledge as a naturopathic physician to guide Murdoch's creations.
Gradually, their inventory expanded, and the clinic alone couldn't house all their products. Their production facility remained in Cashmere, but they opened a new storefront in Wenatchee in 2019.
"The clinic and the apothecary are almost inseparable at this point, the clinic defines the apothecary. We're not just some crazy old hags in a basement creating witch's brew," Acesta said.
The formulas are developed to treat patients, and then, using patient feedback, the formulas continue to evolve and improve. Murdoch is able to tweak recipes to accommodate clinic patients' needs.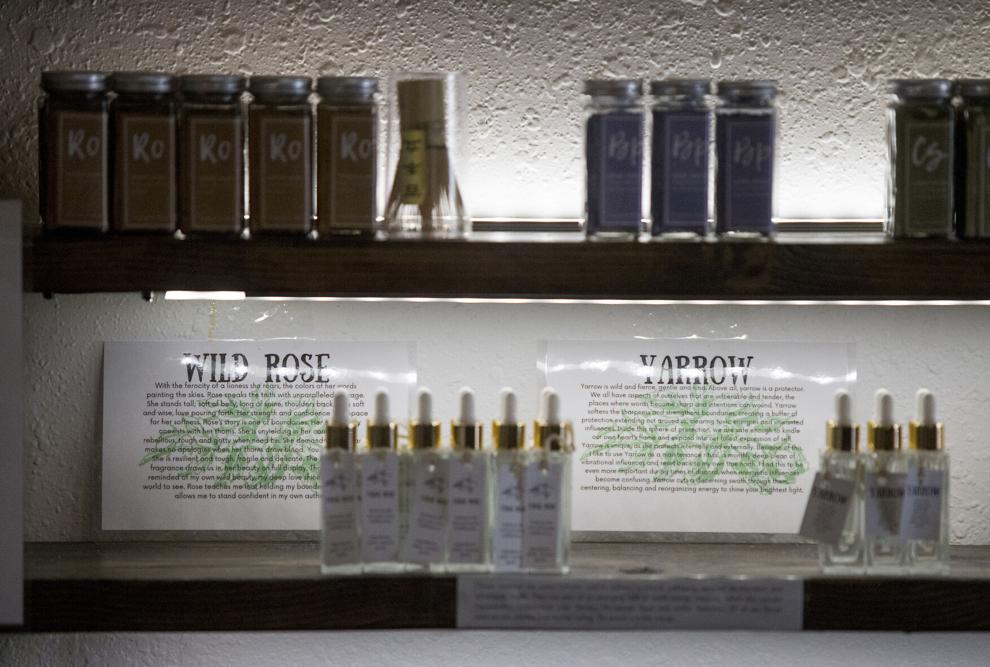 The move downtown has been a good one, Acesta said. They share clientele with nearby shops like Rhubarb Market who also sell local foods and products. Their current focus is educating the community on what an apothecary is and how it can help them.
"I really just want you to bring herbalism into your life in an accessible way," she said. "For some people that is buying supplements and for other people it is bringing in food as medicine, and maybe other people are starting to garden and grow these things themselves. There are so many facets of herbalism and health that you can become interested in and that's really where my passion lies."
Salt Creek Apothecary welcomes curious new visitors. Amid the plants and medicinals, there is also local art from around the region and an eclectic book collection, including many books about herbalism and health.
Acesta said some people feel intimidated by the selection of sometimes unfamiliar products. She said in the future they hope to develop courses and more educational materials to help customers learn on their own. In the meantime, she says, just ask.
"If you kind of think of us as the weird bookworms in the library, if you just come up and ask us a question we are going to be a wealth of knowledge for you," she said. "We are actually very friendly, and not only are we very friendly, we are actually very, very knowledgeable."
As the business grows, Acesta hopes customers will become more confident using herbs and plant medicine in their lives.
"Our goal is to help you. We want to help you help yourself," she said. "This really is a day-to-day medicine that can change your life."