Local growers are harvesting their first Cosmic Crisp apples for mass commercial sale, hoping to finally realize the investment made several years ago when they planted the trees.
Growers bought into the variety, which was developed some two decades ago when Washington State University cross-bred the Enterprise and Honeycrisp varieties, drawn by the claim that it would be easier to grow than Honeycrisp.
Honeycrisp, which was developed at the University of Minnesota, was one of the first new varieties to gain mass appeal for its juicy and crisp texture.
But Honeycrisp has been a challenge to grow. Growers in Washington state have embraced Honeycrisp for its high returns — consumers have been willing to pay a premium for the variety — but they have had to accept growing struggles, including a low pack out.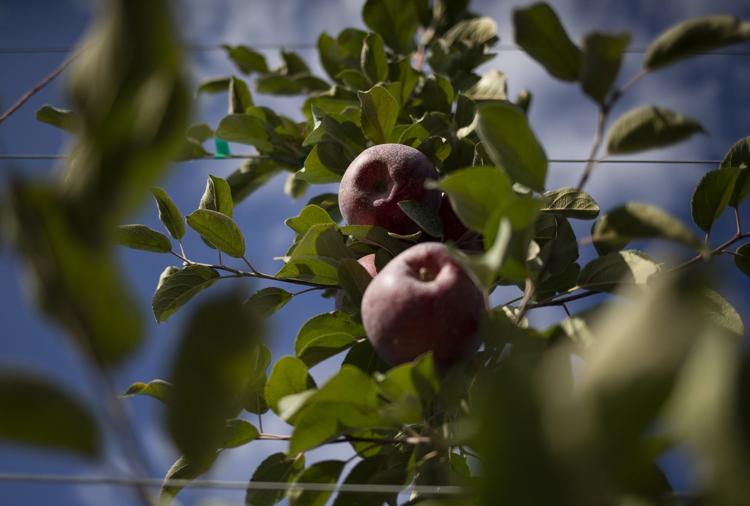 "When a grower has to throw away or process half of the output, that hurts," said Des O'Rourke, owner of Belrose Inc., a Pullman-based firm that provides analysis of the world apple market.
Cosmic Crisp promised better yields and fewer growing struggles.
Cosmic Crisp makes up a third to a fourth of the more than 90 acres of apples Grandview-based Frank Lyall grows.
Lyall started harvesting them on Sept. 30 and has been working on getting them picked within the recommended two-week harvest window.
Lyall said there have been critical improvements with Cosmic Crisp compared to Honeycrisp, namely a higher resistance to bruising, but it hasn't been entirely free of issues.
He's had problems with fireblight, a bacterial infection that can kill or stunt trees. And the tall 12-foot trellis for his Cosmic Crisp made the training process — when tree branches are strung against a wire or other fencing — more labor-intensive.
"I'm not saying it's a hard apple to grow, but I'm saying many of the same challenges you have with any variety are there," Lyall said.
A new variety always comes with production issues the first few years, O'Rourke said.
He expects, however, that the growing pains that come with a new variety will be mitigated somewhat with the extensive research done by WSU.
"The university and the USDA have done more work on Cosmic Crisp then on any other new variety," he said.
Still, he believes other problems will come up as the apple is stored or packed. "There are still a few unanswered questions."
Mark Barrett, owner of Barrett Orchards in Yakima, said he attended various grower seminars offered by WSU. Through those seminars and his decades of apple growing experience, Barrett has been able to keep any production issues to a minimum.
"There are some things I have to do beyond (what I do for) Red Delicious," Barrett said in comparing growing Cosmic Crisp to the once-dominant variety, which has a similar harvest window. "But it's almost as easy to grow as Red Delicious."
Barrett has been able to sell Cosmic Crisp early under a direct seller license, but he's still following guidelines regarding sugar levels. He picked his Cosmic Crisp at two different times and gave the apples time to develop their sugars. The earlier picked apples were sold first.
Barrett said he would have been more than willing to wait until Dec. 1, the date that commercial fruit companies can ship to retailers, if he were required to do so, primarily if it would ensure success. He's made a sizable investment in the new variety, and estimates spending about $22,000 per acre in the planting process.
He also feels he's benefited from the brand awareness and promotion done by Proprietary Variety Management and WSU. The apple, so far, has sold itself.
"The taste is well worth it," Barrett said. "It's a much better apple than Honeycrisp."