There isn't a hotel being built on every corner of the Tri-Cities, but it sure seems that way.
Developers are building one hotel each in Kennewick, Pasco and Richland.
Collectively, they will add more than 300 rooms to the market in the coming year or so.
That's a healthy 7.5 percent expansion of a market that had nearly 4,200 rooms at the end of last year.
There's a long-delayed Comfort Suites at Kennewick's Southridge that is almost done. It's close to the sports complex and Trios Southridge Hospital.
A Courtyard by Marriott is on track to open in the first quarter of 2020 at the Tri-Cities Airport in Pasco.
And in south Richland, framing began this summer on a newcomer to town, WoodSpring Suites. It's an extended-stay hotel expected to open in 2020.
At the same time, two other longtime Richland hotels are getting major makeovers and new names.
Low interest rates are helping drive the boom, said Taran Patel, managing principal for A1 Hospitality, a Kennewick-based hotel development and management firm.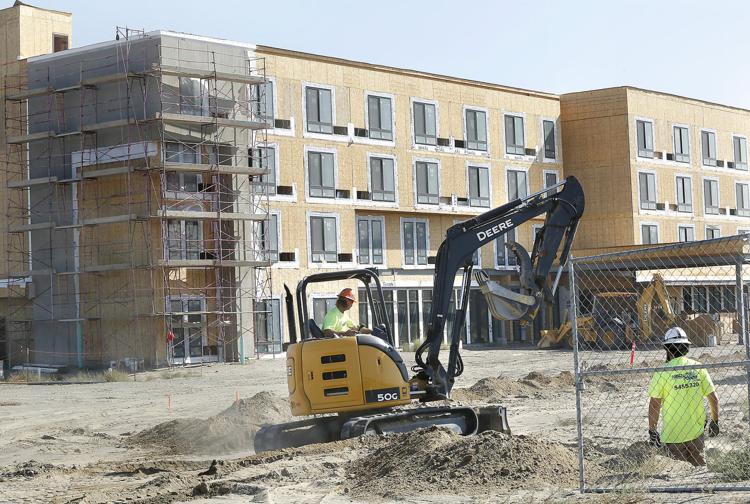 A1 is developing the Courtyard by Marriott. It typically uses a mix of debt and equity to build properties.
"It's a good time to be getting locked in with the interest rates," he said.
The prospect of 300-plus new rooms shouldn't overload the market, Patel said.
Each targets a different demographic, from economy (Comfort Suites) to upper mid-range (Courtyard).
"They're all functioning in separate segments," he said. "We have other hotels in the area. It's not a concern of ours."
Visit Tri-Cities, the region's tourism bureau, welcomes the newcomers and their added rooms.
"Each of these new projects will add something to the existing quality accommodation choices for visitors," said Kim Shugart, the bureau's senior vice president.
As developers build new properties, two prominent Richland hotels are getting major overhauls and new names.
The Richland Shilo Inn is under heavy renovation and will become a Best Western.
The Richland Red Lion Hotel, aka "Hanford House," recently submitted renovation plans to the city indicating it will become a Holiday Inn.
Visitors spent $560 million in the Tri-Cities last year and booked 458,000 rooms during the year.
Hotel revenue grew 1.4 percent over the prior year, according to Smith Travel Research figures cited by Visit Tri-Cities.
Lodging taxes generated more than $1.5 million for the Tri-Cities in 2018.