Residents of Chelan and Douglas Counties may not realize it but many livelihoods here depend on consumers far beyond the county lines.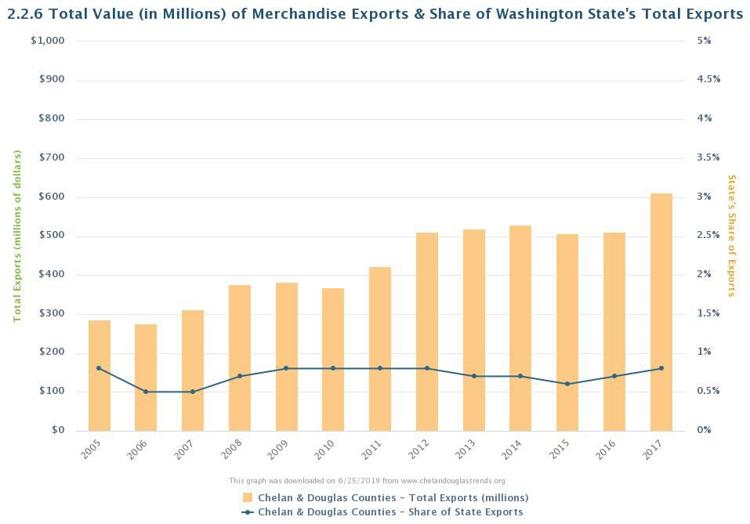 I write of exports and their role in the local economy.
In 2017, over $600 million of goods were exported from the two counties. That number represents a near doubling over the prior 10 years. Trends indicator 2.26 makes this quite clear. Note the especially steep climb between 2016 and 2017. Results for 2018 are not yet available at the local level. However, a look at the value of the area's most important export, fruit, for Washington state points to a likely slight increase in value in 2018.
The position of exports in the economy of Chelan and Douglas counties is relatively unique throughout eastern Washington. Yakima County, with an economy similar to this one, surpassed local exports in 2017, with a total value of nearly $1.3 billion. And Spokane County's exports were higher as well.
But on a per capita basis, exports from the two counties in 2017, bested those two much larger counties.
Here, the value per every man, woman and child amounted to nearly $5,200. Yakima showed a value a little less than $5,000. And Spokane's exports amounted to only a bit more than $1,700.
Before we get too proud, however, it's good to remember that the analog for the state in 2017 was nearly $10,500. It takes a few cartons of apples and cherries to make up the value of a Boeing airplane!
It will come as no surprise to most readers that exports from Chelan and Douglas Counties are nearly entirely from the agriculture sector. For those online, the Download Data secon of the indicator reveals that agriculture contributed over 92% of the value of all exports from the regional economy in 2017.
That share is little changed since 2005.
Further, food processing likely contributed another 2-3% to the overall mix of area merchandise exports in 2017. We don't know for sure, because unlike prior years, the Census decided to not publish (suppressed) the numbers for this important industry. But in 2014 and 2015, "value added agriculture" exports made up 4-5% of the total. All told, agriculture in raw or processed form, probably makes up at least 95% exports from the two counties.
What might surprise, however, is the make-up of the remaining 5% in 2017. In a far distant second place is a category "computer & electronic product manufacturing" exports.
Nonetheless, overseas sales amounted to nearly $14 million. In third place was the industry "machinery manufacturing," with exports amounting to just shy of $10 million.
Is the business community aware of the export ability of those likely few firms who make these local industries?
Why do we care? By definition, the ability to export implies that the local industry is competitive on a global scale. In other words, their products embody a price/quality combination that has won among the thousands or millions of competitors.
Further, if competitive globally, firms can typically amass profits at a higher clip than those simply directed at the domestic market. Those profits can be re-deployed in re-investments and higher wages to workers than would prevail if the products were sold only domestically.
Another reason we care is the $600+ million is a big number for the regional economy. As Trends indicator 2.2.1 reveals, the size of the local economy in 2017 was about $4.6 billion in "gross metro product (GMP)" terms. While the units of measure between GMP and exports are somewhat different, it is safe to say that exports directly made up at least 10% of the local economy, and more likely a ratio closer to 15%.
Of course, the size of the local export sector carries job implications. The Washington Apple Commission estimates that 30% of all Washington apples are exported. If all the parts of the local agricultural production sector — largely applies, cherries, pears and grapes – follow the state patern, at least 3,500 of the local agriculture workforce directly depend on exports. The total number of export-dependent workers in the two counties is likely many hundred higher, once other exporng industries and the indirect effects of jobs in industries servicing merchandise exports are considered.
Let us hope that the various trade disputes the U.S. is currently engaged in do not put this essential activity in harm's way.