WENATCHEE — The Wenatchee Valley Museum & Cultural Center is looking for a new executive director.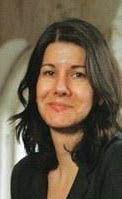 Keni Sturgeon, who has led the nonprofit museum since November 2018, is leaving at the end of this month to work for the Association of Children's Museums, based in Arlington, Virginia. She will lead strategic initiatives, according to a press release, and she will remain in the Wenatchee community and work remotely. She announced her resignation the week of Sept. 27.
During her tenure in Wenatchee, she helped create the museum's 2020-2025 Strategic Plan, working with board members, staff and the community. Initial phases of the plan were being implemented when attention shifted to address the arrival of the COVID-19 pandemic.
Under her guidance, the museum shifted to delivering virtual community-oriented programming.
The museum won a Social Justice award from city of Wenatchee in January for starting a Social Justice Series that included panel discussions addressing social justice issues in the community. This spring saw the debut of renovations to the museum's community space that included improvements to the sound system, lighting and acoustics, as well as new furnishings and backstage greenroom.
The museum has 14 staff members.
Sturgeon has bachelor's degrees in anthropology and archaeology and a master's in cultural anthropology and museum studies and a certificate in nonprofit management. She had worked in museum administration, with more than 15 years in senior and executive management, before arriving in Wenatchee.
She was director of the Jensen Arctic Museum at Western Oregon University from 2001-05; director of education and programs at the Haffenreffer Museum of Anthropology at Brown University from 2005-07; and director and curator at the Willamette Heritage Center in Oregon from 2007-14.
She also had served as an adjunct professor for the University of Oklahoma's online graduate program for museum studies.
She was selected from 20 applicants for the Wenatchee post. She replaced Sandy Cohen, who was the museum's executive director from July 2015 to January 2018. Darrell Dickeson served as interim director until Sturgeon came on board.
The search for Sturgeon's replacement started immediately and an announcement is expected in the next week, said museum spokesperson Ashley Sinner.
The museum at 127 S. Mission St. operates with the support of the cities of Wenatchee and East Wenatchee, and private donors.