Some holiday décor projects can be a heap of fun, while others — not so much.
Gathering a variety of fresh greens and a few accompanying goodies puts me in the holiday spirit. Time to create an easy project.
Making a wreath is great, but I have two quicker and easier suggestions. The first is to create a swag to hang next to an entrance. My second suggestion is to make a garland. What's a garland? It's simply a long string of greenery that frames a door, stair railing or mantle.
Both projects are easy, fun and quick — especially when you join some friends for a festive work party.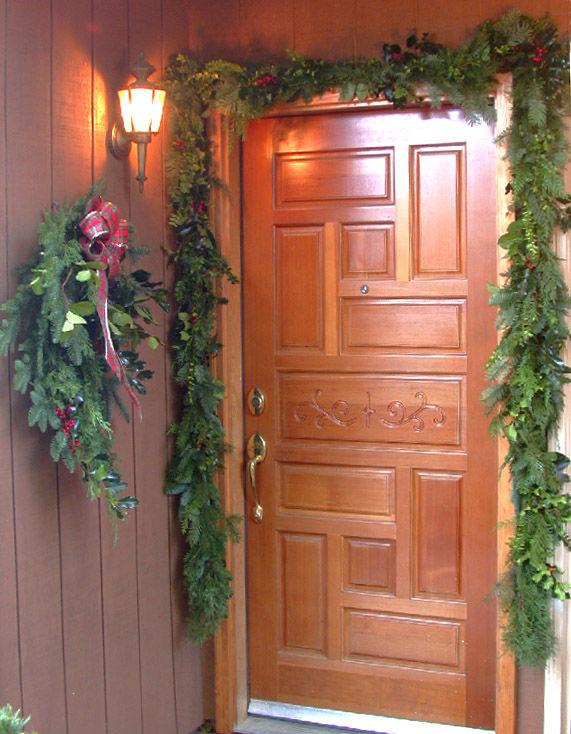 Supplies include fresh-cut conifers, plus holly or other evergreens, that combine nicely and offer textural changes. Next, select an accent or two, such as pinecones, red berries, dried flowers or purchased items such as ornaments, Christmas balls, fake poinsettia flower or a big outdoor ribbon bow.
A wire cutter and wire are needed for attaching everything. Paddle wire is simply wire wound around a little paddle, making it easy to unwind. It becomes invisible amid the greens. Craft stores have it.
Swags are easy
If quick and easy is your cup of tea, then go for a swag. It's simply wiring a few medium- to larger-sized branches of fan-shaped conifers to form the backdrop. Wire them firmly together near the top of your swag and form a good-sized loop for hanging. I double this wire, making it stronger.
Then it's time to audition smaller branches of holly or other large-leafed plants for interest. Hold up different shapes and textures until you come up with something pleasing. Wire them to your base. Hang it and stand back to eye your creation. Tuck in a little more material in sparse areas.
Add a big bow, cones or your chosen accent. When everything is wired in place, it's ready to hang or give as a gift.
Create a garland
Cut a piece of rope or twine the length you need for your artistic creation. Tie or bind each end so it won't unravel.
Snip a quantity of greenery tips about 6-inches long, including several textures of greens, both conifers and evergreens. Lay these out where you can easily pick them up as you construct the garland.
Temporarily attach your starting point of rope to a post or other stable holder. Attach paddle wire at that end and, while holding the rope taut, start adding your little bunches of greens, tucking their ends under the wire as you wrap your wire around and around the rope. This spiraling wire anchors all this greenery in place. Plant material should face the same down direction, with each bundle overlapping the next.
The process is surprisingly easy with just a bit of practice, as you get beyond the "all thumbs" stage.
For framing a doorway, start from the center of your rope and work out from there, so the garland hangs gracefully across and on both sides, framing door.
Wrap the wire firmly around the rope when you've reached your desired length. Now just drape it over the door, held by nails or hooks at the top corners. Tuck in a little more greenery if some spots seem sparse. You may want to use a hot glue gun to add some cones, dried baby's breath, bows or other decorations.
The holiday season is a wonderful time to enjoy camaraderie of friends combined with easy and beautiful projects. It gets us in the mood for the holidays, plus makes some cheery decorations for the home or gift-giving.
A WSU Master Gardeners of Chelan County column appears weekly in The Wenatchee World. Mary Fran McClure is one of four columnists featured.