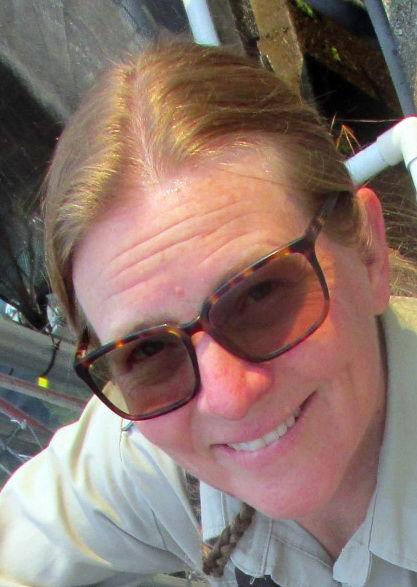 Hatcheries in winter are just as busy as in summer, but in different ways. At Leavenworth National Fish Hatchery (LNFH), the eggs of August have transformed, growing through the alevin stage, when they have yolk sacs on their bellies and can't swim well, into tiny fry.
By the first week of March, 1.2 million of these wee fish will fill 124 tanks in the nursery, and will need to be fed up to seven times a day. It's chilly in the unheated space, especially with the moving water generating a draft, so I have to wear a coat to spend much time observing.
What's the worst thing about working at a hatchery in winter? "Monitoring water flows and breaking ice for several nights in a row is the least desirable part about winter conditions, but keeping the water flowing is critical, and most rewarding after a cold snap," answers Craig Thomas, assistant manager at LNFH.
Fish need water the way humans need oxygen. A couple of hours without fresh water pumping into the ponds, and they will die. So a freeze-up of the pipes or ice clogging the intake is a full-on emergency. On Jan. 16 and 20, ice on the Entiat River broke up and clogged the intake system for Entiat National Fish Hatchery. Staff spent hours clearing ice and keeping water flowing to their summer Chinook.
Fish are cold-blooded, so as the water chills, everything slows down: metabolism, heart rate, movement. "We feed them about once a week right now, whenever the ice opens up," says biological science technician darren Hemmer from LNFH.
Sara Reese, assistant manager at Winthrop National Fish Hatchery (WNFH), reported, "Cold temperatures during the middle of January brought river temperatures to 32 degrees ... brr! There was no fish feeding for about a week and a half during this, as the raceways were 37 degrees (this is due to a combination of river and ground water)." Craig noted, "We generally don't feed when the water is below 36 degrees. Even then, it is a reduced ration. The fish have a difficult time processing the food during cold temps, nor do they require much food."
While fish in the outside ponds are at the mercy of the weather, younger fish in the nurseries are deliberately cooled to slow down their growth. This allows hatcheries to manage when young fry are moved outside, for instance.
At LNFH, spring Chinook salmon smolt are released in April, and the raceways are thoroughly cleaned before bringing fry outside. The well water used inside the nursery is relatively warm (46 degrees), and if not chilled, would mean the fry are ready to go outside before there is room available.
At WNFH, steelhead kelts are overwintered in circular tanks in a special building. Kelts are steelhead that have survived spawning, something other salmon cannot do. These fish are being nurtured for re-release, fed a diet of krill and surrounded by netting to mute light and screen the activities of the humans that tend them. This project is run by Yakama Nation Fisheries, who are also at work at LNFH prepping ponds for coho fingerlings to arrive in March, delivered from the Columbia Gorge by truck.
Screens used outside to prevent predators from eating hatchery fish are compromised by snow and ice. Sara said, "Staff are busy with snow removal when storms come through, and building some new, pond-cover structures."
At LNFH, the raceways that are not roofed are covered with fencing on hinges, which can be raised for feeding or cleaning, and lowered to protect the fish. During heavy snowfall, they must be left raised so they don't collapse under the additional weight, leaving the fish vulnerable to predators. Craig listed as problems, "Ducks, crows, ravens, kingfisher, otter, mink, great blue heron, osprey … just about everything that can get into the raceways."
Although most visitors come to our hatcheries in summer, a winter visit still offers plenty to see. Each of our three locations (Winthrop, Entiat and Leavenworth) offers trail access for snowshoeing and views of adjacent rivers.
As the days lengthen, I look forward to spring releases of salmon smolt along with the arrival of migrating birds and emerging wildflowers. On the increasingly warm, sunny days of this season, it doesn't seem long to wait.
Julia Pinnix is visitor services manager for Leavenworth Fisheries Complex.