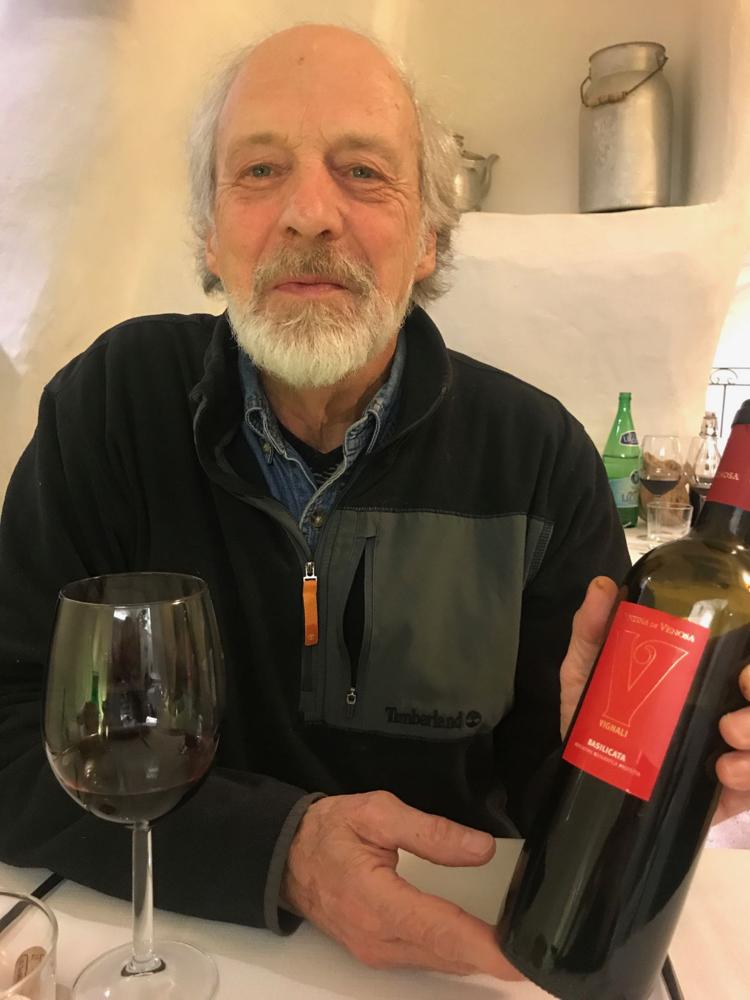 I had two goals on my recent trip to Southern Italy.
Firstly, to explore my mother's family roots while eating and drinking across the instep and heel of the Italian boot.
Secondly, to meet and interview Silvestro Silvestori, one of Southern Italy's best known food and wine authorities. Maybe that's three or four goals. Who cares.
No one really needs a goal or any excuse to go Italy, the most romantic and historic country on the planet. My partner Linda and I had been talking about going for the past few years. I'd been dreaming about the trip for decades.
I'd heard about Silvestori from Carolyn Johnson, a longtime friend and nurse practitioner at Columbia Valley Community Health in Wenatchee. Johnson, a devoted food buff, worked for Silvestori at his cooking school in Lecce, Italy, between her medical practice stints.
With my own Italian roots and cooking background (before turning to journalism), I was very much interested in Silvestori's thoughts on regional dishes. And as a wine writer, wine judge and amateur winemaker, I wanted to know more about the wine education courses and vineyard tours that Silvestori offered.
Getting to Lecce, however, had to wait until we navigated our way by train from Rome and all its historic treasures, to Bari, Italy's largest seaport on the Athenian Sea and capital of Puglia, Italy's heel. From Bari, we took the narrow-gage train back inland to Matera, close to where my grandparents came from in the early 1900s.
Off the beaten path
Southern Italy is off the common tourist trail, so we were happily forced to create our own route. Train and bus travel is cheap in Italy. And because we were traveling in November, there was never a problem finding a room for the next night, and at amazingly inexpensive rates. We never paid more than $50 a night for very nice rooms, sometimes entire apartments, that almost always included breakfast of at least cornetto (croissants) and cappuccino and often much more.
Matera is one of the oldest, continuously inhabited towns in the world, with evidence of habitation for more than 9,000 years. It was named a World Heritage Site in 1993 and was the European Capital of Culture for 2019, which made our visit all the more fascinating. Matera is one of the largest cities in the region of Basilicata, long considered the poorest state of Italy.
Embarrassed by the city's squalor, the Italian government started pouring money into the town in the 1950s, gradually improving the cave dwellings inhabited for thousands of years into shops, cafes and more livable residences. Only in the last 20 years has the town become something of a tourist draw with lively bars, boutique hotels and scores of Airbnbs.
Mel Gibson filmed his "The Passion of the Christ" in Matera in 2004, adding to the town's tourism.
My personal interest in Matera was focused on its proximity to Gorgoglione, the tiny mountain town where my grandfather, Frank Micucci, his family, and my grandmother's family were raised before immigrating to the U.S. My research through Ancestry.com and a Facebook connection with the town's Catholic church came up with no known relatives still living there. The only way to get to the town by gravel mountainous roads was to rent a car. That was discouraged because of recent flooding and landslides in the area. Still, Facebook allowed me to see videos of village nonnas (grandmothers) hand-making pasta and villagers playing music on ancient instruments in preparation for Christmas celebrations.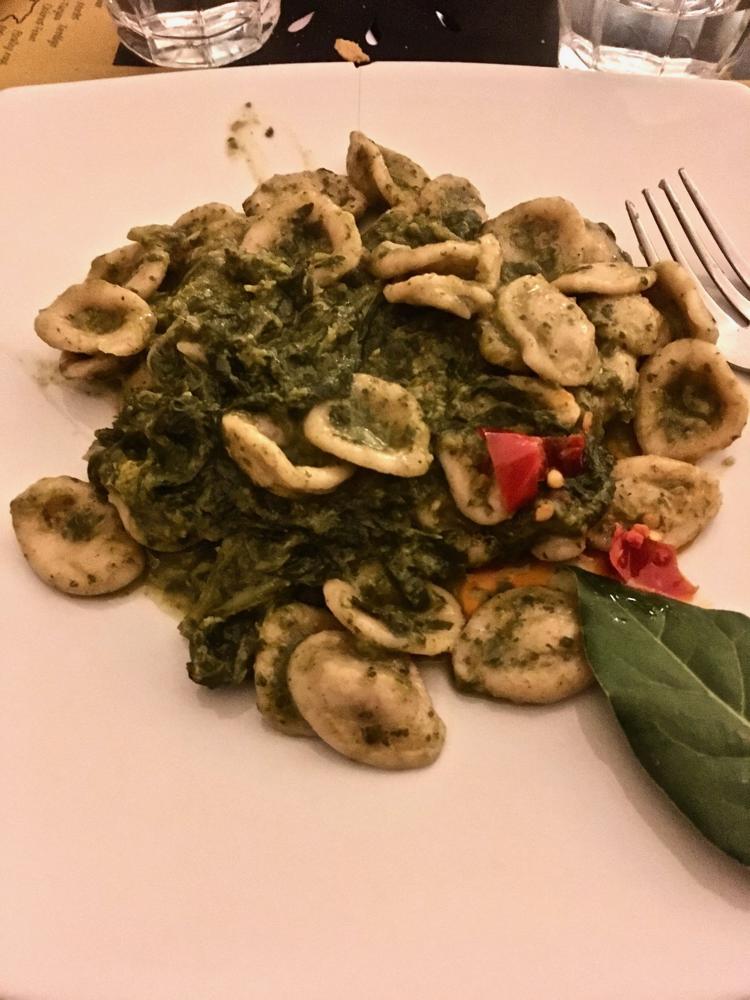 But in Matera, where we stayed three days in a wonderfully modernized cave room, I was able to capture the flavor of the region, fed by local dishes like Orecchietti con Cime di Rape (ear-shaped handmade pasta with broccoli raab and toasted breadcrumbs), peperoni cruschi (crunchy dried Senise chilli peppers used in everything), dried sausage with fennel, Pecorino cheese and the famous Matera bread made in monstrously huge loves. All washed down, of course, by the delicious and earthy native wine, Aglianico.
Spurred by tourism, Matera is thriving like never before. But there are few ways to make a living other than subsistence farming in much of Basilicata. Good reason for my grandparents and many other Southern Italians to want to move to the U.S. or elsewhere.
Meeting a legend
Our next stop was Lecce, where I had scheduled to meet with Silvestori to make sense of Italy's pronounced regional flavors when it comes to food and wine. The city is a must-see for anyone venturing to Southern Italy. With its unique mix of baroque architecture, countless cathedrals and a maze of limestone streets, Lecce is truly one of the boot's hidden treasures.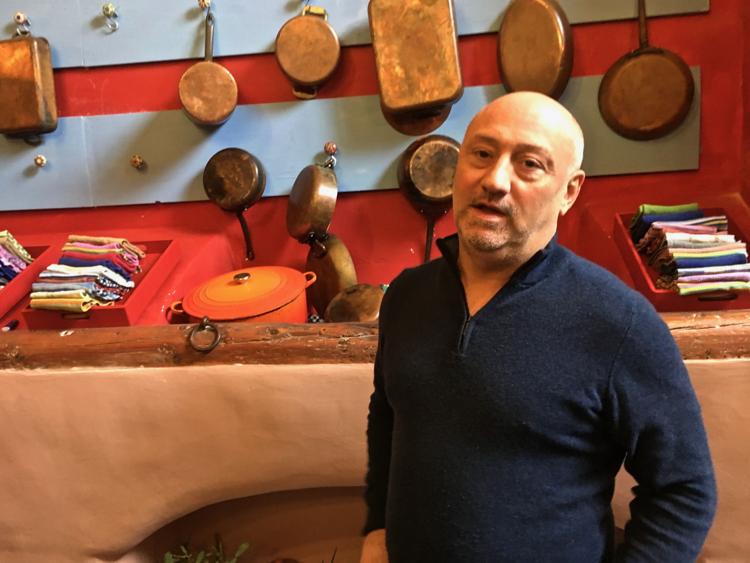 Silvestori offered a welcoming voice when he greeted us at the immense carved doors of his cooking school, The Awaiting Table. His rapid-paced and perfect English was the first we had heard on our trip. Most Italians speak very little, if any, English. Silvestori, however, was born in the United States of Italian heritage. He learned cooking in Seattle restaurants. His bachelor's and master's degrees in art, music and languages were earned through Evergreen State College in Olympia. He's also a certified sommelier.
But he's lived in Italy most of the past 30 of his 50 years. He opened his cooking and wine studies school in 2010. The school now offers 12 different classes, mainly to well educated international travelers. His school has been written up in the New York Times, Los Angeles Times, Bon Appétit and many other newspapers and magazines. He is a staff writer for Wine & Spirits Magazine and is working on a series of videos about his bicycle tours to wineries throughout Southern Italy.
Getting in the zone
Silvestori explained how Southern Italy is divided into 12 regional agricultural zones. Each zone produces its own wines and serves up its own regional dishes based on local agriculture and customs. The food, like the architecture can be a real mix, because Southern Italy, especially those areas near the sea like Lecce, Bari and all of Sicily, were invaded over and over again through the centuries by different civilizations wanting a strategic seaport. All left their cultural mark.
"Nepotism is very important here. Cousins are the only ones you can trust," he said with a laugh. Because of that lack of trust, and the region's rugged geography, its customs are strictly bordered. That extends to agriculture, recipes and winemaking. Silvestori teaches the age-old relationship between food, wine, the land and tradition.
"Food and wine is very specific to region. There's little cross pollination, and that's not always a bad thing," he said.
Raise a glass
In Puglia, Negroamaro is the most important grape, along with Primitivo and Bombino Nero. Negroamaro is most often made into a rosato, a light pink wine. Primitivo is similar to Zinfandel, a bold and spicy red wine. Rustic and meaty Aglianico is the pride red wine of Basilicata, while Nero d'Avola is famed in Sicily. Montepulciano and Sangiovese are important red varietals up Italy's west coast. Trebbiano and Vermentino are popular white wine varietals.
I usually ordered a half-liter of the house wine with meals. The wines were always local, fresh and simple. But all were quite good, inexpensive and they paired nicely with our mostly pasta, seafood and pizza fare. Occasionally, we splurged on a recommended bottle aged Aglianico or Primitivo and were justly rewarded.
The Mediterranean Diet of Southern Italy is actually protected by an UNESCO proclamation. One of Silvestori's classes is titled "How to Eat and Drink to 100."
Farm-fresh vegetables, tomatoes and olive oil, fish, whole-grain pasta and breads and plentiful wine, with a consistent dose of family and tradition, have led to a long, healthy life for people in this region for more than 6,000 years.
That's enough reason for me to have another serving of pasta and another sip of wine. Salute!
Rick Steigmeyer is a former Wenatchee World reporter. In his retirement, he makes wine, travels and writes about wine for Foothills Magazine.