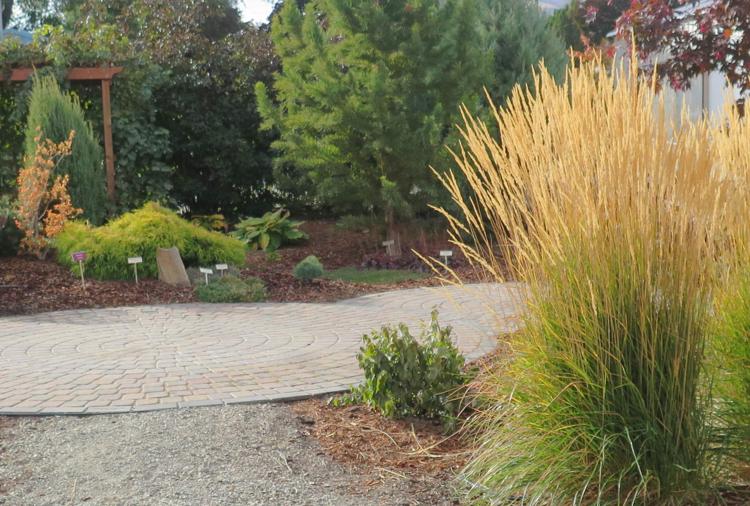 The transition into fall is bittersweet for me, perhaps because of spring's excitement seeing new emerging growth followed by a glorious summer at full tilt. September means plants slowing down, beginning the process of heading towards dormancy, yielding yet another type of beauty.
September into October is the transition between summer's bright colors into fall's ethereal muted colors. Not all muted — as we anticipate the vibrant colors of maples, burning bush (Euonymus alatus) and many standouts.
Shorter days, cooler nights and less water bring on this change. Photosynthesis slows — trees and shrubs pull in their nutrients for winter storage down into stems, trunks and roots.
That means chlorophyll (that makes leaves green) is pulled out of the about-to-fall leaves, unmasking yellow or other colors held within those leaves. This creates the blazes of red, yellow and oranges that gives us our amazing, awe-inspiring fall colors.
Think of maples, with names that give away their dramatic brilliance: Autumn Blaze, Red Sunset, October Glory.
The best time to buy deciduous trees and shrubs to maximize fall color is later this month into October, as you view their colorful splendor in full presentation. Here are a few to consider:
Enkianthus, a petite, dainty tree or shrub offers nice fall color although it does best in afternoon part shade in our area.
Fothergilla is a shrub that offers quite a fall display of color, with red, orange and yellow leaves all competing in brilliance. This slow-growing shrub varies in size, from 2- to 10-feet tall, and has white puffy spring flowers and then clean green-ridged leaves all summer.
Billowy smoke tree (Cotinus coggygria) is a large shrub that gives off an ethereal effect after its summer flowers fade into puffy thread-like plumes late summer into fall.
Sumac 'Tiger Eyes' is a large shrub with intense fall interest. Beginning in spring, this deciduous shrub is an eye-catcher with lime-green leaves. Come fall, it turns golden before the leaves drop. A precautionary note on sumac — it's a vigorous plant that puts out runners, although they're shallow and easily dug up. Best planted in a sunny dry spot so it grows slowly.
Stalks of straw-colored grasses such as Pennisetum, Miscanthus and Calamagrostis 'Karl Foerster' provide textural and color contrasts to the clustered blooms of chrysanthemums, asters and other low-growing perennials.
Asters are among the easy-to-grow perennials and provide lots of splendor. My favorites are the blue and purple cultivars, although asters offer a wide range of colors, such as white and pink. If you want a vibrant magenta one, A. 'Alma Potschke' fills the bill. On the opposite end of the flamboyant scale is bluish A. frikartii 'Monch', so restrained that it blends with most anything during its long bloom time from August through October.
New England asters, A. novae-angliae are compact and dependable.
Hardy chrysanthemums are iconic in fall, with plenty of color variation — white, soft pinks, rusts, purples, yellows. Newer types don't require spring pinching back to increase blooms as older cultivars do.
Divide asters, chrysanthemums, daylilies and iris every couple of years or so, saving the outer, younger plants for vigorous production. Plenty of starts to share with friends too.
Sedum is another dependable perennial for interest pretty much all year, with new cultivars coming on the market every year. One of my favorites is the old standby S. 'Autumn Joy,' which changes to warm rust tones following a summer of sporting soft pinkish-red. These clusters gradually fade to brown as winter cold approaches. I enjoy their interest throughout those bare winter months, cutting them back just before new spring growth begins.
Don't overlook the huge selection of low-growing sedums that are easy-care and provide splendid colors.
Saying farewell to our pleasant spring and summer is always a bit sad, yet we have plenty of fall's fabulous glory ahead.
A WSU Master Gardeners of Chelan County column appears weekly in The Wenatchee World. Mary Fran McClure is one of four columnists featured.