LEAVENWORTH — Lindsay Camp has been at the helm of Kodiak Cubs, the Cascade School District's preschool, for six years. The preschool has evolved immensely during her tenure.
"Initially the program acted as an early intervention program, chiefly aimed at serving students with special needs," Camp explained. "This program was housed at Peshastin-Dryden Elementary and was limited in scope mainly by space and somewhat by staffing. When I was hired, the idea was to grow the program to be able to serve as many preschool students as possible."
Now the preschool is nestled at the end of the sixth-grade wing of Icicle River Middle School, and Camp and her staff live by the premise of "making preschool a joyful place, full of laughter, love and learning."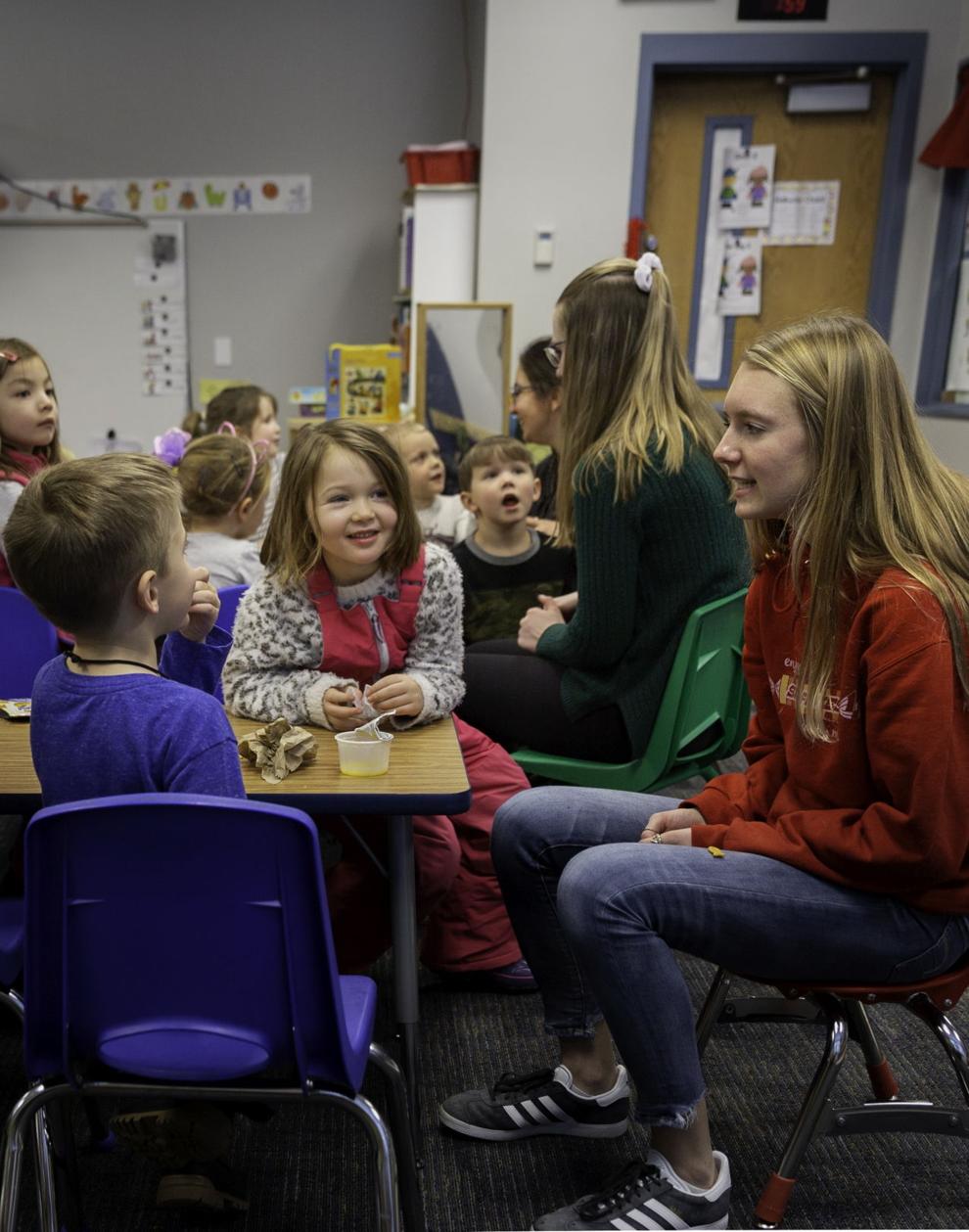 Comfort and joy were evident during a recent afternoon pre-K class. The students, in small groups, were immersed in three stations. At one station they played a board game, flicking a spinner and counting steps to reach the correct farm animal on the board. Another station was a sand table. Some children buried plastic animals while others "cooked," filling cups and bowls with sand.
The final station involved detective work. Camp gave each child a clipboard, and they walked around the classroom in search of N words — nails, noodles, nuts a nun! A couple kids finished early, grabbed a book from a revolving bookcase, flopped down on their bellies and read.
After stations, the students eagerly took turns using the bathroom sinks to wash their hands, knowing snack time was next. Camp chose this time to enter the next room over, where another group of pre-K students were also starting snack time. They chatted with friends as they nibbled goldfish and sipped orange juice. When high school students from the Child Development II (CD II) class came in, little friends shouted: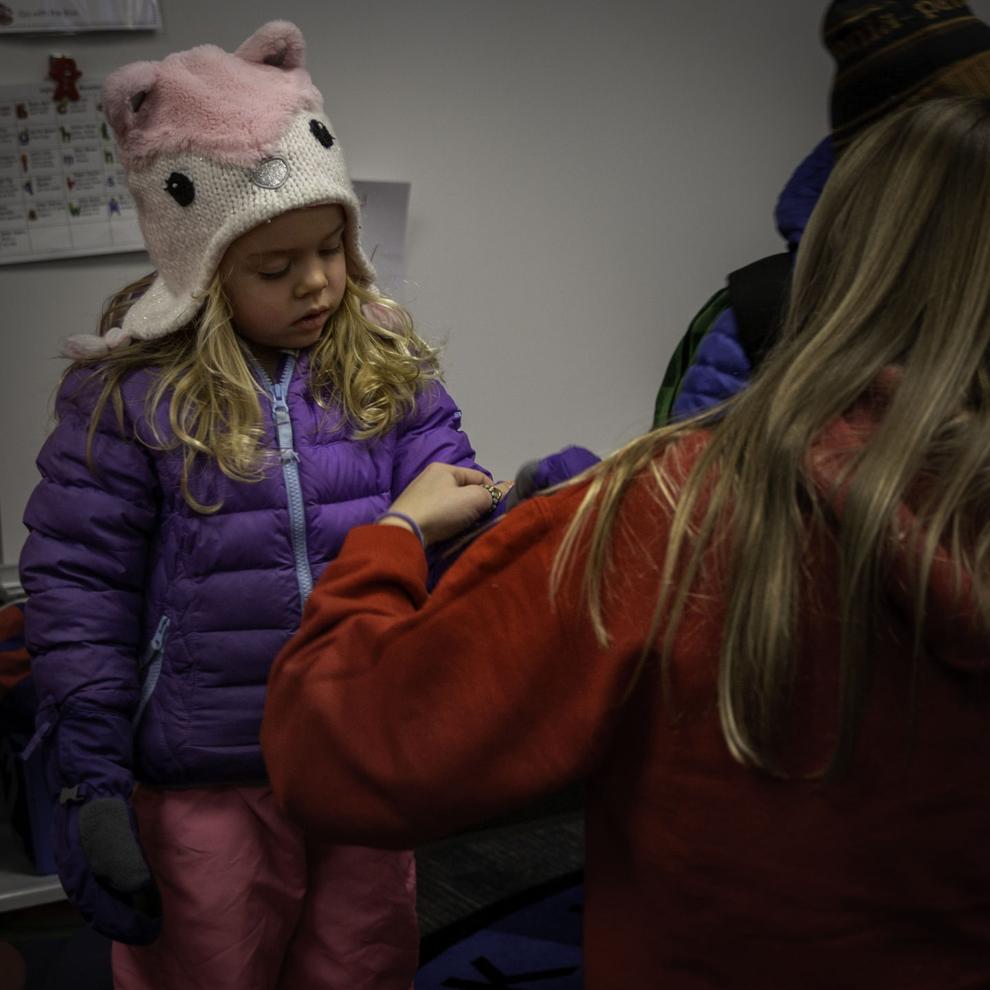 Yes, the high schoolers are popular here. "They work as student assistants in the program on a daily basis, helping set up and run centers, manage free choice and recess time and prepare activities," Camp said. "They are the arms and legs of the program. The best part of having them participate in the program is the relationships they build with the little kids."
Career and Technology Education classes, such as CD II, allow high schoolers to do hands-on work. Camp said, "It helps them know what to expect and find out what kind of work they like. The academic track isn't for all students. They can do tech prep as another pathway to graduation. Some students have really blossomed in classes like this."
Additionally, the CD program has made the preschool better. "Having them here takes the preschool to the next level," raved Camp. "I get to have more one-on-one time with kids who need it. And it's a chance for me to inspire the next generation of teachers, which is awesome."
The Kodiak Cubs program is full to capacity. Camp said, "Currently we have one full-time general ed teacher, one full-time bilingual para-educator, one part-time para-educator, a sign language interpreter, two full preschool classes and three full Pre-K classes, and we just hired another half-time special-ed teacher."
Working alongside Camp, Rocio Vizcaino puts her bilingual skills to full use. Her presence is especially essential for helping Spanish-speaking children and their parents feel understood and connected. "We want the children to feel comfortable in a school setting," Vizcaino said. "There are primarily Spanish-speaking students. They and the English speakers learn from each other."
Camp, a pro storyteller, loves story time as much as her students. This day, with fat snowflakes falling outside, was a good time to read a book about snow. In a hushed voice, she began. The preschoolers, after being chatty over their snack of crackers, grew quiet.
"Puppy's following her," Camp whispered. She swung the open book in a wide slow arc, making sure everyone got a good look at each picture. "Through the woods," she said, giving them time to point out animals hidden in the picture — a bear, a deer, a fox.
At the end of the story, it was time for their own snow adventure. The children pulled snow clothes off hooks and gravitated back into Camp's orbit. She and the high schoolers were kept busy, pulling mittens out of backpacks and zipping up coats.
There was no rush, no stress. They lined up, all bundled, for snow play at the end of a well-paced school day, having fun, feeling accepted and loved, learning fundamental literacy and math skills, but, chief of all, learning kindness and sharing.
Camp loves her job and mentioned another favorite part. "Sometimes I see my little peeps sitting on the carpet sharing a book with friends, and they are "reading" it the same way I do: holding the book to the side, showing the pictures to everyone, asking a lot of questions. I often say I am sprouting little seedling teachers!"
Marlene Farrell is a freelance writer who writes features for the Cascade School District.