LEAVENWORTH — There's a peanut butter and jelly sandwich that Gregory Lebovitz will likely never forget, even though he doesn't remember how it tasted.
"You know how when you eat a peanut butter and jelly sandwich you always notice the peanut butter to jelly ratio?" Lebovitz asked. "I can't tell you any of that detail."
Creamy or chunky? Strawberry or raspberry? White or wheat? No idea.
"Normally, I would've noticed something like that," Lebovitz said.
But on July 27, he didn't. He scarfed it down, practically inhaled it. The sole particular he remembers of his PB&J is that it was in pristine condition.
"It was not smushed," Lebovitz said, "which I found absolutely remarkable."
The stranger who gave it to him was a 35-year-old climber with the Chelan County Mountain Rescue Association named Stephen Guyette. He'd climbed 8,700 feet up Mount Stuart with the sandwich stuffed inside a backpack.
Guyette and his partner, Vern Nelson, were sent to lead Lebovitz and his two buddies from Long John Tower, an area 700 feet below the summit. After a day hike turned into a wayward climb through unfamiliar territory and then stalled at an ice field, the group decided to call for help.
Fortunately for "the Gregory Party," as they came to be known, Long John Tower is covered by Verizon.
Chelan County mountain rescues
On average, the Chelan County Sheriff's Office responds to 50 to 60 mountain rescues a year, including 43 in 2018. Mount Stuart accounts for seven of this year's mountain rescues, said Rich Magnussen with Chelan County Emergency Management.
Mountain rescues tend to work like this: the victim signals 911 dispatch, usually by beacon, phone or a third party. Dispatch calls the on-duty search and rescue coordinator from the sheriff's office.
The coordinator weighs the variables of the situation — location, injuries, weather, etc. — and then reaches out to the appropriate rescue group if help is needed from outside the sheriff's office.
Sometimes it's Chelan County Volunteer Search & Rescue, sometimes it's the sheriff's High Angle Rope Rescue Team, and other times it's a helicopter crew from U.S. Naval Base Whidbey Island.
But when the mission calls for technical climbing skill, they use volunteers from the Chelan County Mountain Rescue Association.
The mountain rescue association has roots in the 1950s when Wenatchee mountaineer Don Walker formed a group to respond to emergencies in the backcountry, according to The Confluence, a magazine published by the Wenatchee Valley Museum & Cultural Center.
The thought was that no one was more qualified to reach lost or injured climbers and hikers than the local climbers and hikers who knew the Cascades best. That's still the case today.
Today, when the rescue requires the mountain rescue association, the incident commander contacts Jeff Paton, a longtime mountaineer who serves as the association's communication officer, and then Paton sends a group text soliciting volunteers from its 30 or so active members.
An audible from Rainier to Stuart
As with many adventures gone sideways, the Gregory Party wasn't even supposed to be there.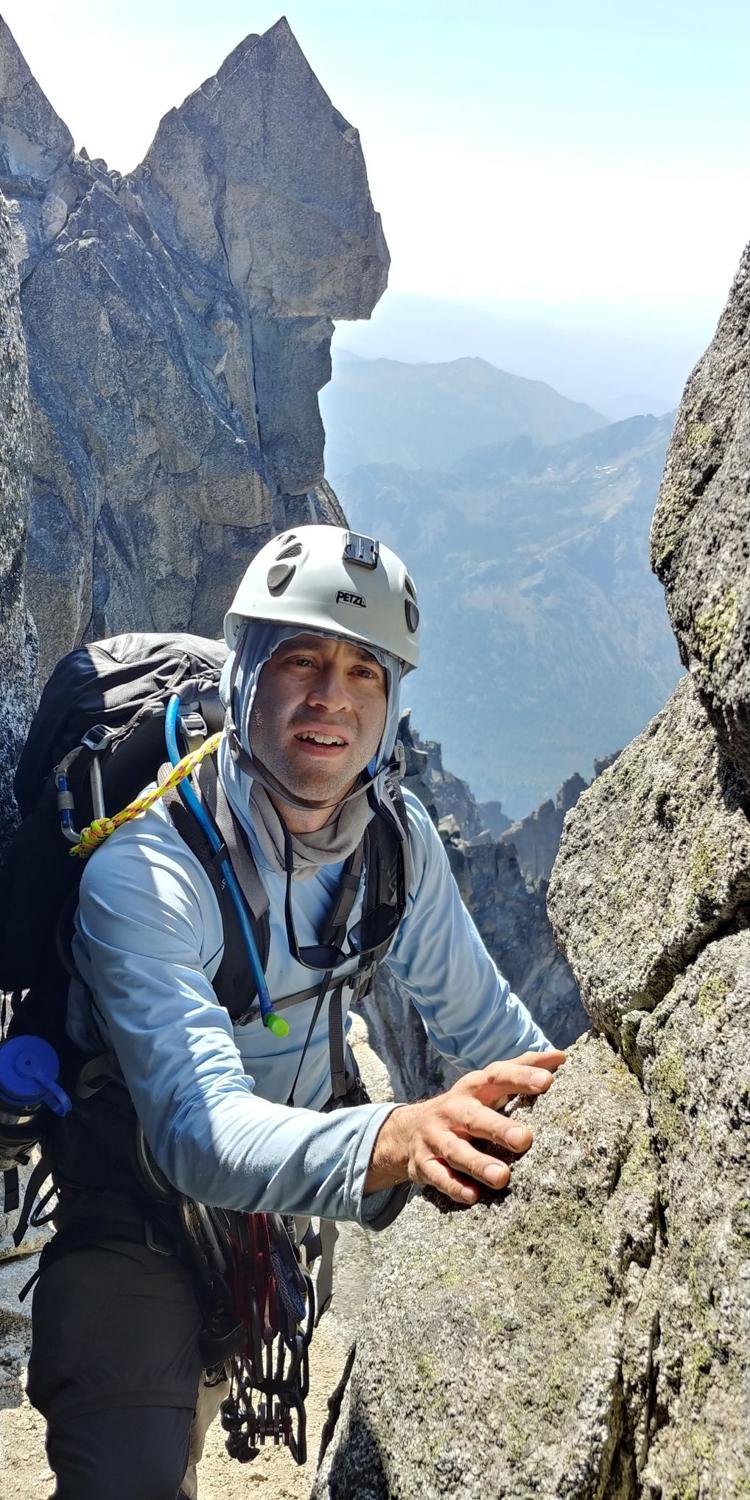 Lebovitz is a 48-year-old cyber security professional living in Santa Cruz County, California. He and his friends, who requested anonymity, have climbed for decades. Every year they try to do something together that's physically challenging.
The original plan was Mount Rainier. They trained for months to reach Washington's highest peak until a July heatwave melted and deteriorated the intended route.
"We called that off because we didn't feel like the amount of possible risk on the route was within what we had trained for," Lebovitz said.
All that training wasn't going to waste. It was suggested they attempt Mount Stuart, Washington's sixth-highest peak at 9,415 feet.
They bought a guidebook detailing the different routes up Stuart and on July 26 began their ascent up the west ridge, a route requiring some roped climbing.
Round-trip, their excursion was expected to last about 12 hours. By hour 11 they were 700 feet from the summit, faced with an ice field, and no ice axes or crampons.
They would go no further on their own. There wasn't enough daylight.
The group made camp on a ledge behind some rocks and then after long deliberation, called 911 about 10:45 p.m. Help would come in the morning.
In the meantime, the Gregory Party would spend a frigid, sleepless night on Stuart. For warmth, they put on every bit of extra clothing and huddled together under ropes, backpacks and a trash bag.
"That kind of cold, it sucks the courage out of you," Lebovitz said.
A teacher and doctor
When Paton got word the following day of three climbers in need of rescue, he sent the group text, as usual. Vern Nelson, a social studies teacher at Eastmont High School, and Stephen Guyette, an anesthesiologist at Confluence Health, said they could go.
Nelson, 31, was home resting from a recent climbing trip to The Bugaboos mountain range in British Columbia. Guyette, 35, was killing time before a trip to the coast with his wife and kids.
"It's always kind of a little bit of an unknown because you don't know exactly where people are because GPS isn't accurate on a mountain," Nelson said. "I always go through the conversation of how much do I need? What do I bring?"
It's a process he's accustomed to. Nelson joined the mountain rescue association in 2012 and has responded to 30 or 40 rescues. Guyette has climbed for almost 20 years and has gone on a handful of missions during his two years with the association.
They packed their gear, snagged some extra food for the Gregory Party and then departed around noon July 27 via helicopter from emergency management's facility in Olds Station.
The pair didn't waste time after the pilot dropped them off at Stuart Pass west of the mountain, covering in roughly two hours what took the Gregory Party most of the previous day.
"It's all thanks to Vern and his route finding," Guyette said. Nelson estimates he's climbed Stuart 15 times.
The west ridge is a deceptive climb for the uninitiated. It can be done in a day if you know where you're going.
"It's one of those routes where if you know what to look for on the mountain you can tell where to go, but if you're second guessing yourself it takes lots of extra time," Nelson said.
Going up to get down
The two rescuers reached the Gregory Party mid-afternoon, offering food, like peanut butter and jelly sandwiches, to the famished climbers, who'd only packed enough to eat for one day.
"I probably could've brought more food," Nelson said. "Those dudes were hungry."
It was determined the best way off Stuart was to go up and over. The group redistributed some gear and then started moving.
As they climbed higher toward the summit, Lebovitz was awed at the ease Nelson and Guyette navigated the narrow, exposed ledges, sometimes passing members of the Gregory Party.
"They just kind of danced around us even though we were taking up 80 percent of the ledge," Lebovitz said. The ledges were 18 inches to 2 feet wide, "And those guys were just skipping across it like it was a two-by-eight over a 6-foot river."
It comes with experience.
"After climbing for a long time you become comfortable with exposure as long as there's certain safety elements factored into that," Guyette said, like sturdy rock, good holds and little moisture or wind.
Rain clouds loomed in the distance. Not wanting to climb on an exposed mountainside during a thunderstorm, Nelson and Guyette moved the group with haste.
"I didn't think I had in me the kind of speed (with which) we moved through those rocks," Lebovitz said.
As they ascended, Lebovitz's mentality shifted. Rather than feeling like he was being rescued, it started to feel like sport climbing again.
"I had started to get my courage back and wasn't feeling wasted anymore and wasn't feeling threatened anymore in any shape or form," Lebovitz said.
The final push for the summit contained four pitches of somewhat rudimentary rope climbing. For speed, two or three climbed the same route on the same rope at the same time, Lebovitz said.
They made it to the top in about three hours.
"So, yeah, we got to the summit," Lebovitz said. "We took a quick picture. Took a quick bite to eat. Switched out of our climbing shoes."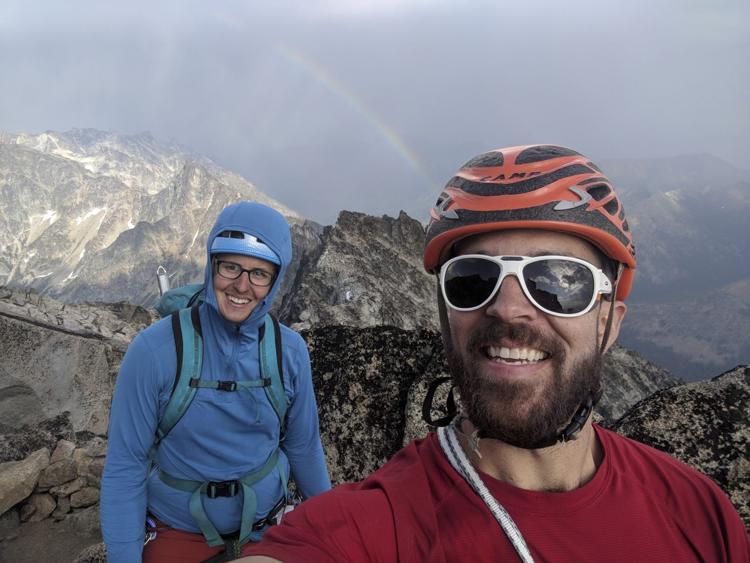 Parting ways
The descent was easy; a mix of hopping from boulder to boulder, scree skiing and rappelling.
Nelson and Guyette parted ways with the Gregory Party by helicopter about a third of the way down the mountain.
After they landed in Olds Station in Wenatchee, Guyette went home and Nelson played group trivia at the Riverfront Rock Gym in Wenatchee. He partnered with Mark Shipman, one of the longest-tenured members in the rescue association. They won.
Lebovitz and his friends made it back to basecamp near Lake Ingalls around midnight, sapped of anything resembling energy. They ate a freeze dried dinner, packed up a few things in case it rained and were in bed by 1 a.m. July 28, a mere 41 hours after they departed.
None of the climbers were ever that close to death or injury, but with a little less luck and a little less help and there's no telling how their story would've ended. That's not lost on Lebovitz.
"I give it up, it's really touching. It's really powerful to me," he said of the rescue. "It's a very powerful act of kindness and love."
It comes with the territory.
"We're a small group of climbers trying to give back," Nelson said. "You're sacrificing your time, but people would do the same for us. It's what we do."
And as for the PB&J that Lebovitz devoured? Whole wheat, chunky peanut butter and homemade grape concord jelly, courtesy of Guyette's wife, Michelle.