EAST WENATCHEE — There are few people in the world who know more about cryptocurrency mines than Anton Gykalo.
He was born in Russia and earned a civil engineering degree in Ukraine. He studied computer repair in China and designed crypto mining facilities in Bolivia.
Now Gykalo lives in East Wenatchee and works for Giga Watt — or at least he did until last week.
Fueled by the global Bitcoin frenzy, Giga Watt quickly became one of the top players in Central Washington with cryptocurrency mines in a half-dozen cities. Dave Carlson, the CEO and face of the company, was named Entrepreneur of the Year in 2017 by North Central Washington's Tech Alliance.
But the price of Bitcoin crashed and the company began to flounder. Bills weren't paid and construction halted.
Within six months Carlson resigned as CEO, more than 75 percent of the employees were laid off, and Giga Watt was nearly purchased by another company. Then it filed for Chapter 11 bankruptcy in November.
More than 50 people have been hired and then laid off by Giga Watt in a two-year period. The Wenatchee World spoke to four of them for this story.
Gykalo was one of the last remaining employees — he was receiving paychecks as recently as December, he said.
Through its spiral, communication from the company's international owners has been sporadic at best, former employees say. Gykalo says he still hasn't been given an official layoff notice or final pay.
Now, as best he can tell, Gykalo says he is out of a job.
Looking to the future, he plans to partner with at least one other former Giga Watt employee, managing director George Turner, and another local entrepreneur to start an independent blockchain operation.
"George and I are now looking for the next opportunity and we have a vision for the Wenatchee Valley," Gykalo said through an interpreter. "It's known right now as the Apple Capital of the World. We think the potential is here for it to become known as the blockchain capital of the world."
The collapse of Giga Watt
Gykalo, 57, began in the blockchain industry in 2012 when it was a brand-new concept.
He spent the next few years learning the technology across the globe. Since then, he's invented air-circulation systems and management software that improve the efficiency of mining computers.
In 2016, he was recruited by a company called Mining King to move to Los Angeles and develop data center designs.
Gykalo was later brought onto Giga Watt by co-founder Dave Carlson, he said.
Together they designed the company's Giga Pod data centers, several of which are in various stages of construction near Pangborn Memorial Airport.
Giga Watt expanded quickly and soon had facilities in Moses Lake, George, Ephrata, Rock Island and East Wenatchee. The operation began to garner national press.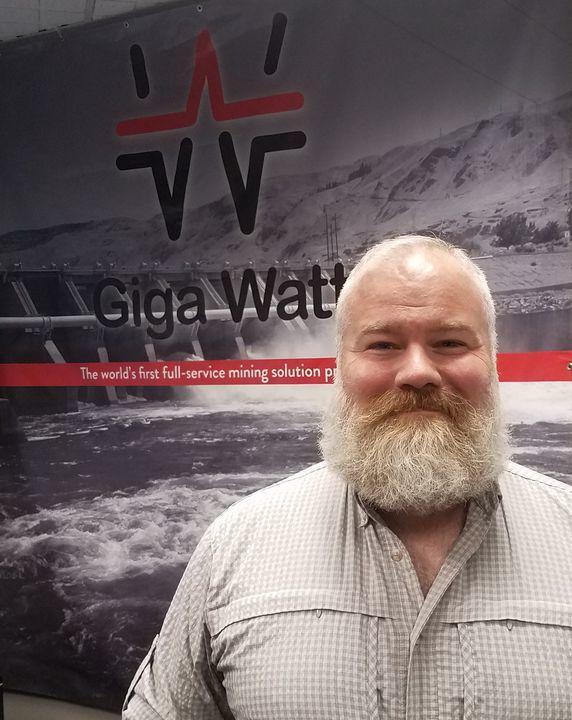 It went from six employees in early 2017 to dozens by the end of the year. There were more than 70 on the payroll by spring 2018, including Turner, the former managing director.
Turner previously spent 16 years as a Russian linguist for the Air Force's military intelligence arm. He was one of the only employees who could interpret for Gykalo and also interpreted for him during an interview with a Wenatchee World reporter last week.
But just a few months after he was hired in February 2018, it became clear to Turner that the company was growing too quickly and had spread itself too thin, he said.
"Behind the scenes, the company's finances were not in good shape and that was something we began to see signs of in the early summer for sure," he said. "… We found ourselves in a position where we couldn't pay our contractors so we had to start picking and choosing what bills to pay."
The concept behind Giga Watt was sound and its employees did everything they could to make it a success, he said. The problems stemmed from disagreements between the company's owners.
"There was tension at the highest level of the company. Dave Carlson had a clear vision for the company and the way it should grow," Turner said. "He intended that it should grow at a more measured place, at a more controllable pace. And I think the majority owners of the company really wanted to get out ahead and plant the flag of Giga Watt as the industry leader."
One of Giga Watt's majority shareholders, Andrey Kuzenny, declined to comment when reached on the secure messaging app Telegram. The other two majority shareholders, Leonid Markin and Edward Khaptakhaev, could not be reached for comment.
Giga Watt's legal counsel filed a motion to withdraw from the bankruptcy case on Jan. 7. Neither the counsel or any representatives attended a creditors meeting the next day. Another creditors meeting is scheduled for Wednesday — it's unclear if Giga Watt will have new counsel by then.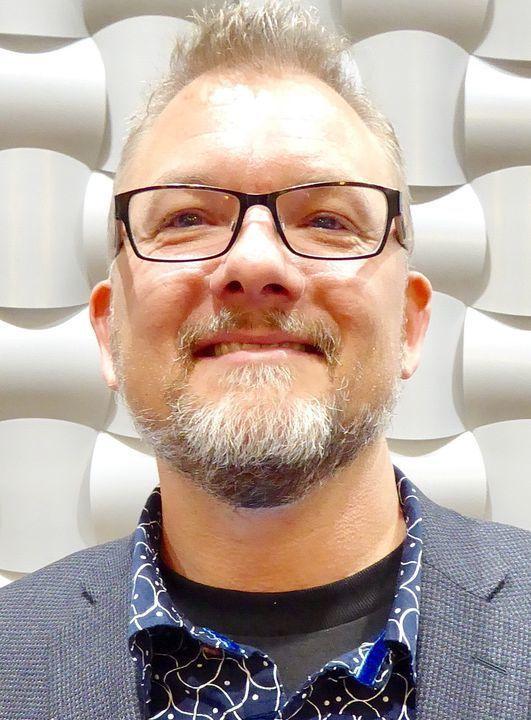 Carlson, who owns a minority stake in the company, also could not be reached for comment. He told The Wenatchee World in September after resigning as CEO that his decisions were often overruled by the majority owners.
"For a long time now, I've felt that my management decisions were not aligned with the other owners at Giga Watt," he said in September. "Since I am a minority shareholder, this means my desired direction was often overruled. Eventually I decided that I could have more positive impact for Giga Watt by consulting on outside projects while specifying the GigaPod solution I designed."
The company's financial struggles were due, in part, to the plummeting price of Bitcoin.
But a lot of its revenue came from an initial coin offering, or ICO, which offered customers the right to purchase space in its centers for 50 years, according to Giga Watt's proposal papers from the launch. It injected more than $20 million into the business in 2017.
But the company's revenue from both the ICO and mining computer sales went through Singapore before ending up at Giga Watt, according to court documents and former employees.
The ICO was processed by Singapore-based Cryptonomos, according to court documents. Giga Watt's majority owners, Kuzenny, Markin and Khaptakhev, are all listed as officers for Cryptonomos in its proposal papers.
Giga Watt's mining computers were sold through a company called Gigawatt PTE. Both are listed under the same address in Singapore.
The two companies are now trying to recoup some of their investments from Giga Watt through the bankruptcy process, according to bankruptcy papers filed by Kuzenny on behalf of Giga Watt.
Cryptonomos is seeking $2.3 million and Gigawatt PTE is seeking $1.37 million, according to the records.
Publicly, the first signs of Giga Watt's financial woes arose in August when liens for unpaid electrical work were filed against the company's facilities near Pangborn.
That was a dealbreaker for the lease Giga Watt signed with the Port of Douglas County for that land. Within two months, the Port began to evict them.
At that time, Giga Watt was also struggling to pay for the lease itself. Payments for August and September were late, Port Executive Director Lisa Parks said. October was paid but the port hasn't received any rent payments since then.
Giga Watt's financial problems then led to layoffs right after Turner was promoted from a project manager to managing director.
"It was the final Friday in September that they named me managing director and the following Monday I had to lay everyone off," he said.
The company went from 67 employees to 19, he said.
"At that point, we knew we had to change things drastically if we had any chance of saving the company," Turner said.
There was a chance of salvation in October when a company came in and offered to buy Giga Watt.
"In October, (they) flew out to meet with the owners of Giga Watt and tendered their offer to purchase the company," Turner said. "There was sufficient funding, and specifically allocated funding, to satisfy every debt the company had."
Turner declined to name the company but another source close to the deal confirmed that an offer to purchase Giga Watt was made. That source also declined to name the company out of fear it could lose out on future deals.
The deal was also structured to give the ICO coin holders a share of equity in the company, Turner said.
"It appeared to all of us here on the ground in Wenatchee that it was a viable, and perhaps the only viable, way to accomplish that," Turner said. "Unfortunately, the amount they were offering didn't satisfy the majority owners of the company."
But in November Giga Watt declared bankruptcy, which Turner said came as a surprise to the employees on the ground. Turner didn't last much longer — he was laid off on Christmas Eve.
Blockchain capital of the world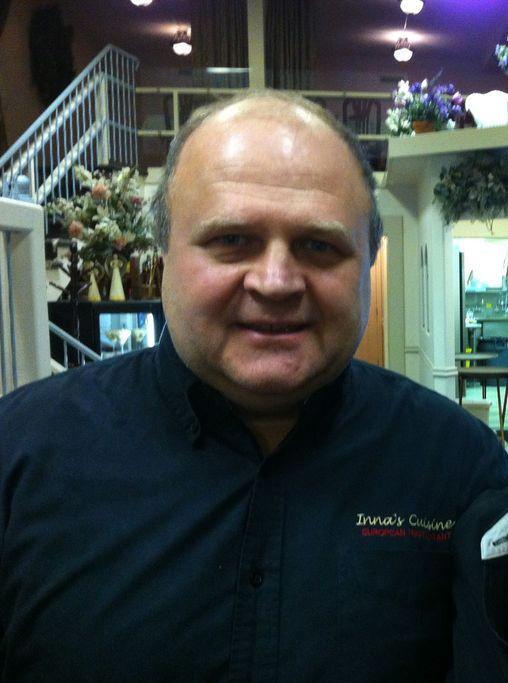 One day in 2016 Gykalo, the Russian engineer, walked into Inna's Cuisine on Wenatchee Avenue, looking for familiar European tastes. There he met owner Sergiy Kazulin, a Ukrainian man who with his wife Inna Kazulina, opened the restaurant in 2005.
The two struck up a quick friendship and before long Kazulin, who's a mechanical engineer by trade, decided to build a blockchain data center of his own.
Kazulin's facility is off Grant Road near the airport. It will operate under the name Silver Apple Mines, and construction should be finished in a couple weeks.
Once it gets off the ground, he wants to hire Gykalo, Turner and possibly other former Giga Watt employees to build out the business, which will focus on cryptocurrency mining and other blockchain applications.
"It's a shame where we're having to do this in an environment where the biggest blockchain company in the area, Giga Watt, is closing," Turner said. "But we think the technology has a great future, that it has a great future here specifically."
The big priority right now is to make sure the area doesn't lose these blockchain experts, Kazulin said.
"The people that were recently with Giga Watt, I don't want them to go away," he said. "I want those people to stay here."