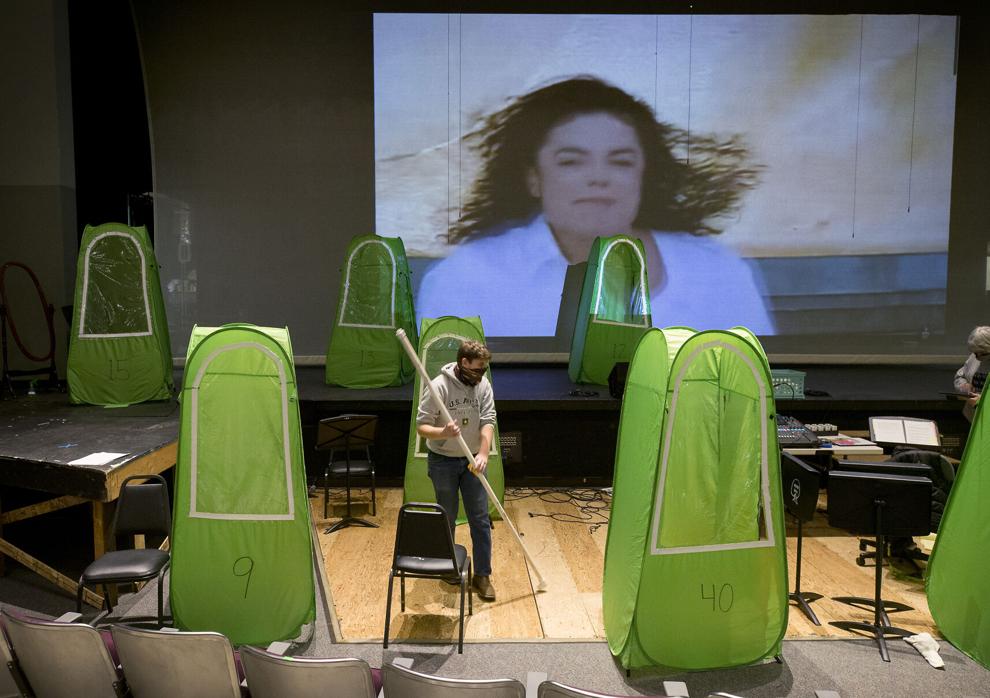 WENATCHEE — Photos of Wenatchee High School band members playing in green tents struck a pandemic nerve this week, causing the images to go viral in a matter of hours.
Wednesday's Wenatchee World story was about the reopening of Wenatchee and Eastmont high schools. Photos by Wenatchee World Photo Editor Don Seabrook showed band students in the tents.
The images sparked a strong reaction in those perhaps enamored with the ingenuity of the solution and those appalled with placing students in a tent bubble. It was the perfect recipe for a meme.
"I can tell you this was the first time we've had national attention surrounding anything we've done here at Wenatchee High School. It was certainly an interesting experience. We're continuing to get media requests. They just keep coming," said Wenatchee Principal Eric Anderson on Friday.
Anderson said he is looking at this as a positive.
"This gives us the ability to highlight nationally and internationally the difficulties of where we sit right now in education during a pandemic. I think it highlights the challenges that we face but also highlights the creative solutions our educators are coming up with to make us have real positive learning experiences for our students," he said.
Thursday morning after the story came out, Seabrook was fielding media requests for the images from MSNBC, CNN, Fox News, New York Post, TMZ, English newspapers, New York Magazine, "The Tonight Show starring Jimmy Fallon" and Northwest newspapers.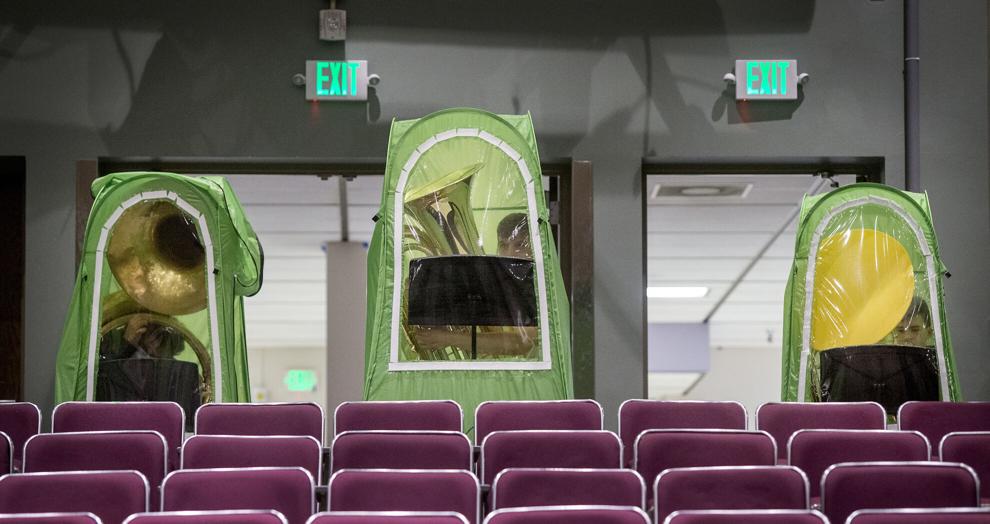 The biggest thing the national and international media wanted to know was who came up with the idea for the tents, Anderson said. The idea for the tent was the brainchild of WHS Drama Club Adviser and Director Paul Atwood.
Last December, Atwood presented the idea to Dr. Malcolm Butler, health officer for the Chelan-Douglas Health District, and Wenatchee School District staff. The plan was to bring students together to record the musical "Spookly, the Square Pumpkin."
"He had actually done a smoke test with the smoke machine from the auditorium where there would be potential leaks in the music pods," said Diana Haglund, a Wenatchee School District spokesperson. "He had done his due diligence to explore the feasibility of these pods and sought the approval of the health district, which he got from Dr. Butler."
Haglund said the school district first used the pods to record a virtual online musical experience last December so that was the proof of concept. From there, the music teacher wanted to use the pods in all the classroom spaces for choir and music classes.
"We fielded several calls from school districts in our state curious about where we purchased them. How much they cost? There were a lot of people looking at this as a pathway forward," Haglund said.
Anderson said the band students have been enjoying their time in the spotlight, especially the opportunity to perform before an international audience.
"The fact, they had the opportunity to play in front of BBC News and then again on the local Fox affiliate in Seattle. They are always excited to play in front of people. They are always excited to show off what they can do," Anderson said. "I think yesterday (Thursday) there was a lot of positive excitement they had an opportunity to share this with others and create some excitement as well."