A new home | Afghan family resettles in Wenatchee
WENATCHEE — With a hurried walk and a backpack twice the size of her torso, Mehrin Noori was ready for her first first-day of school. There's lots of studying to do before she can become a doctor.
Asked if she was excited for school, Mehrin smiled and said, "Yes."
Her father, Reshad Noori, elaborated.
"Every day they are asking, 'When is it going to start?'" Noori said of his daughters. Mehrin wants to be a physician like her aunt.
The Nooris — Reshad, 33, his wife, Fatima, 26, who shied away from an interview, and daughters Mehrin, 6, Maryan, 4, and Behtrin, 20 months — are far from home. They're five of the roughly 76,000 Afghans who've reached the U.S. since the mass evacuation in August 2021. More than 122,000 Afghans fled the country when the Taliban took control from exiting U.S. and NATO forces.
But their new home in Wenatchee is close to Washington Elementary School where Mehrin on Monday entered the first grade. Maryan will enter a Head Start program on Tuesday.
"Girls can't go to school in Afghanistan," Noori said. "So I'm feeling happy that I have three girls that can go to school here."
If not for a fortunate phone call, the Nooris might not have escaped Taliban rule.
Evacuating
Noori split his childhood between Kabul and the Parwan Province to the north.
He began work as a tailor at 8 or 9 years old. He learned to make dresses and in 2006 opened his own shop at age 15. In 2008, he moved to Dubai in the United Arab Emirates for a month to work as a tailor, but returned to Kabul because Dubai was too expensive. He was unemployed until 2010 when he took a job with a German company contracted with NATO to perform laundry services.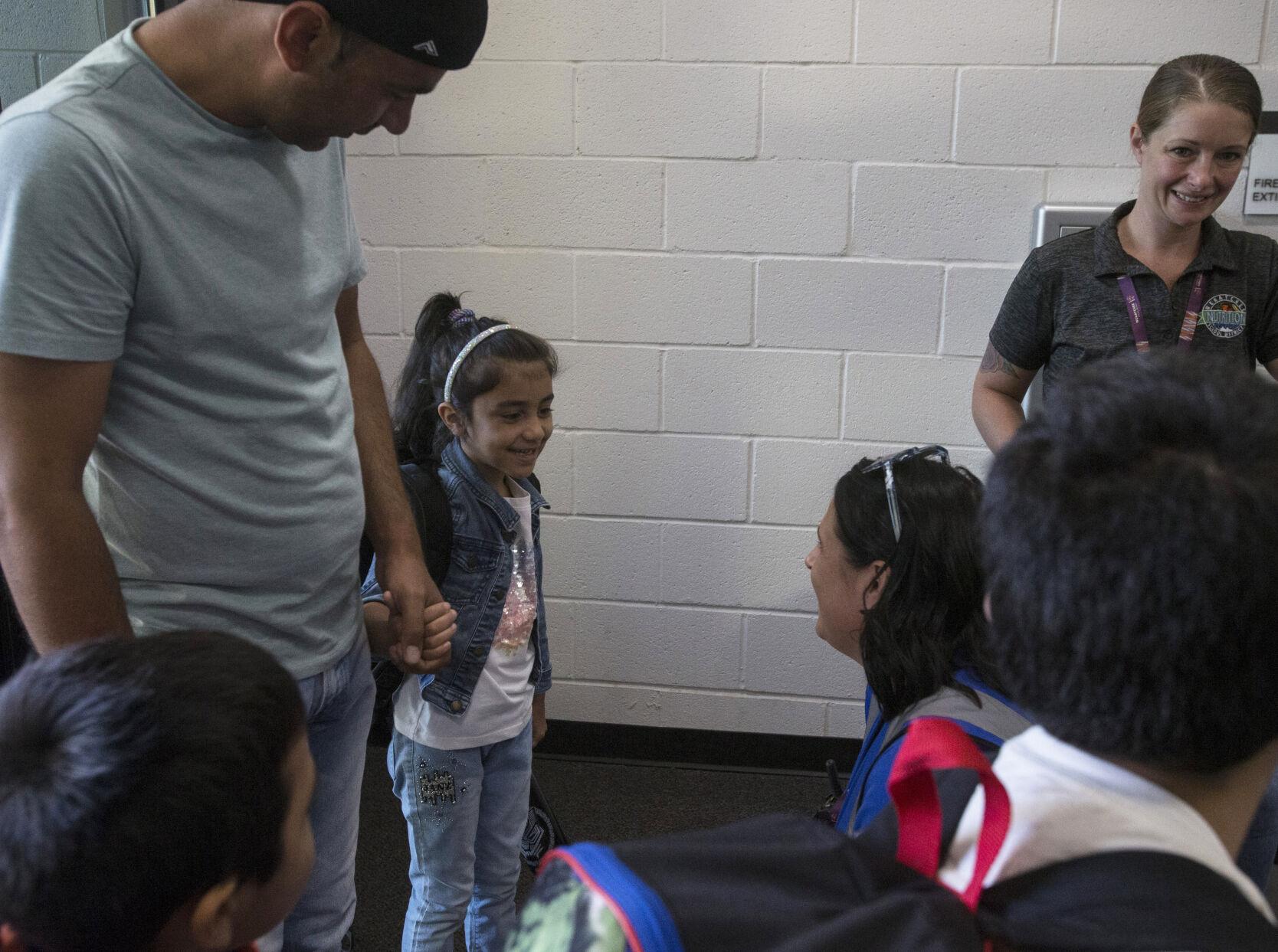 He worked for NATO until the fall of Afghanistan last year. In the exodus, he and his family slept behind Hamid Karzai International Airport for two days.
Noori described the scene as something he hadn't even seen in movies.
"It was a very, very bad day," Noori said. On one side, Afghan soldiers fired blank cartridges to move the crowd, he said, and "from another side Taliban was (firing) the real guns."
He carried with him a small pack of documents, including identification that proved his employment with NATO — information that could get him killed by the Taliban. As an aside, Noori noted that he burned all other documents linking him to the U.S. NATO "because I was not sure I will get out from Kabul."
A well-connected, retired Marine working for a private military contractor, whom Reshad knew from his years of work with NATO, called Noori's phone amid the chaotic evacuation and helped the family get into the airport.
From Kabul, they were flown to a refugee camp in Abu Dhabi, capital of the oil-rich United Arab Emirates in the Persian Gulf. It wasn't long after that a suicide bombing Aug. 26, 2021, at the Kabul airport killed 170 Afghan civilians and 13 U.S. troops.
The Nooris lived in Abu Dhabi for nine months and, like thousands of other refugees, life was one of squalor and limbo. Food was often rotted and their quarters were referred to as the "Abu Dhabi prison."
Evacuees were confined to their rooms for two months. Thousands protested the living conditions by sleeping outside the refugee housing for six days. Similar demonstrations continue.
Because of his history of employment with NATO, the Nooris were eligible to go to the U.S. Their next stop was Leesburg, Virginia, where they lived at the National Conference Center for 24 days.
It was a stark change in treatment.
"When we arrived in Virginia, we was feeling that we are also human," Noori said. It was in Virginia that Noori was told an agency called Sponsor Circle volunteered to help his family resettle in Wenatchee.
As he considered the offer, Noori gave weight to his past experiences with volunteers: "They would like to help people," he said.
He signed an agreement July 5, 2022. They arrived in Wenatchee three weeks later.
Doug Head of Wenatchee's Sponsor Circle affiliate acts as a liaison for the Nooris. The group began in earnest in January and has about 14 members.
"A group of us came together to talk about this new model for helping refugees to essentially to supplement what the overwhelmed refugee settlement organizations were unable to manage because they had so many referrals," Head said.
Accepting the Sponsor Circle's invitation to Wenatchee likely meant they avoided several months of waiting in Virginia, Head said, but in doing so the Nooris "gave up some government funds that they would have received otherwise."
In early August, the Nooris moved into an apartment in Wenatchee. A GoFundMe is available to help them settle into their new life.
Afghanistan
Noori is the only person from his family who fled Afghanistan. His mother, father and eight siblings have fortified their home "like a prison" and only leave its confines out of necessity. Most of his family members who held jobs under the previous government are now unemployed.
"My brother was working in one Indian company, now the Indians are escaped from Taliban," Noori said. He added, "My father was working in the British embassy — now there is no British embassy; and my small brother was working for NATO — now there is no NATO camp." One younger brother started a small store selling clothes for children.
As Noori spoke of his family, he yearned for his former life.
"We was enjoying — really — we was enjoying our life," Noori said. "To be in your country, to be with your family, relatives where you were born, it's very good to be there."
He added, "I'm very sad for Afghanistan, for our people, for my family, for the other families. I'm happy for myself and for my kids that now we are here, but for the others we are sad. There is not any days that for a few seconds you will go to your country, to your family. It's a little hard to forget everything.
"I'm hoping to see them again."
Wenatchee
The Nooris are acclimating to Wenatchee, but there are still steps to take before their new life becomes their new normal. They're in the U.S. on a humanitarian visa and are applying for asylum.
They've taken English classes since their arrival in Wenatchee — Mehrin is learning fast, Noori said. He picked up the language years ago while working for NATO.
Noori will begin a four-year apprenticeship in October to become an electrician. He hopes to earn enough to send money to his family.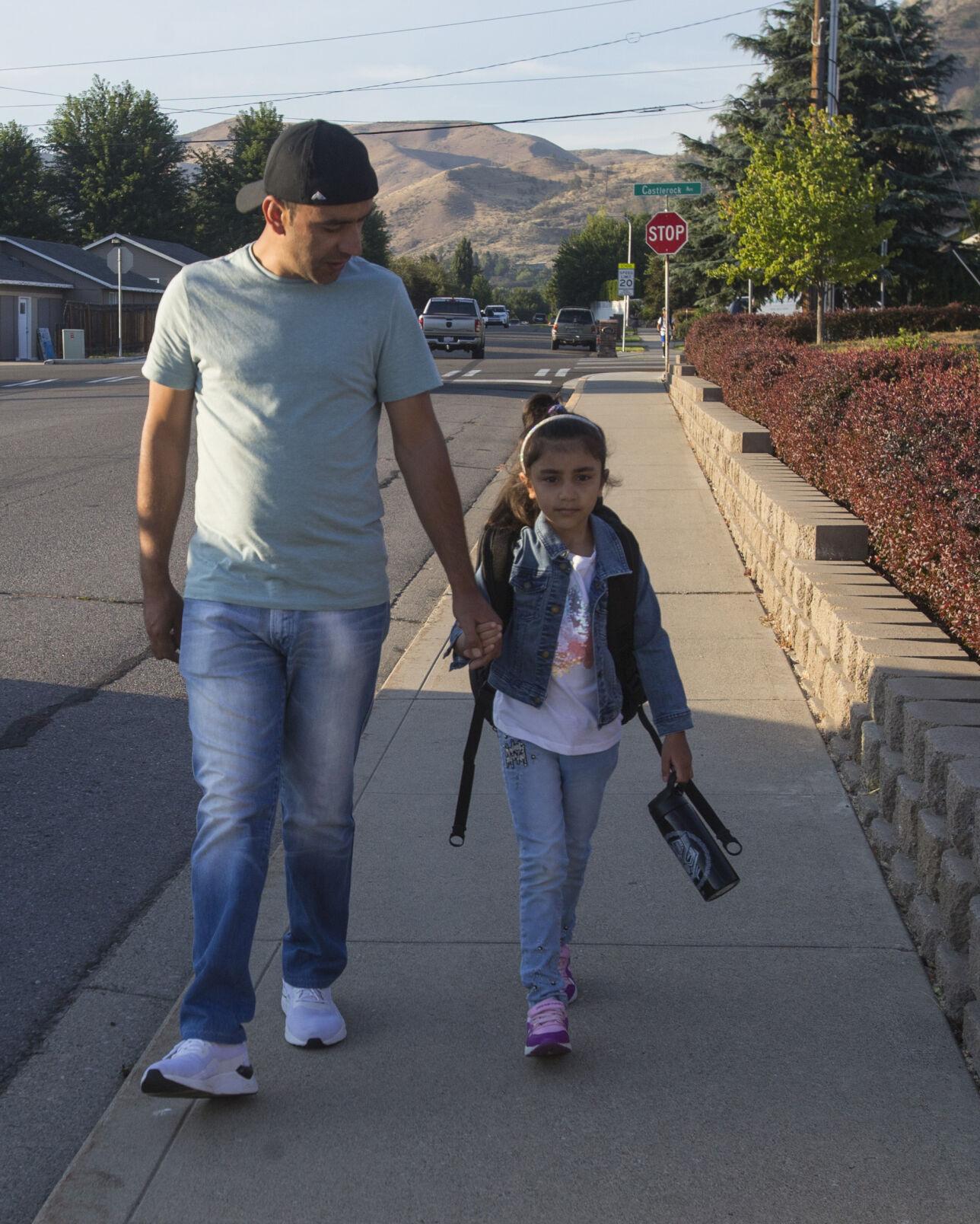 "My family in Afghanistan, they need my support," Noori said.
But for now, his focus is his wife and daughters.
Noori led Mehrin through the doors of Washington Elementary School where they were greeted by Principal Janell Royster. They said goodbye and Noori and Fatima walked home with Maryan and Behtrin.
Asked how it felt to take his daughter to school, Noori said, "Very good. Feeling a little old because when your daughter starts school … " before his words trailed into laughter.
Pete O'Cain: (509) 664-7152
on Twitter@peterocain