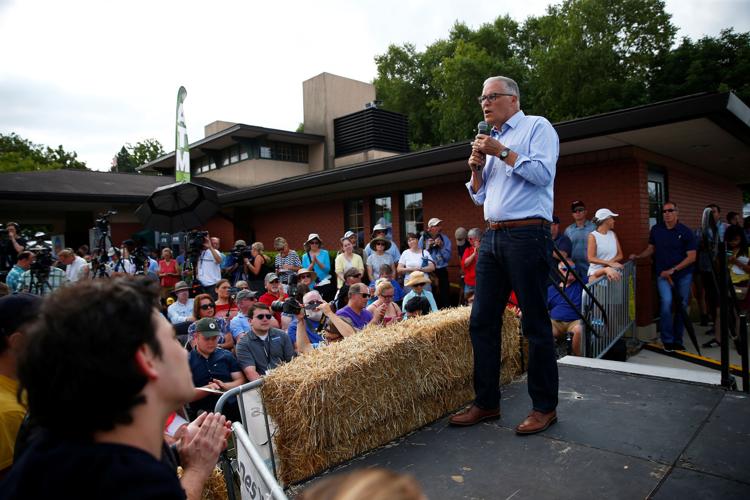 WASHINGTON, D.C. — Gov. Jay Inslee said on Wednesday he was withdrawing from the race for the 2020 U.S. Democratic presidential nomination.
The 68-year-old Inslee, speaking on MSNBC, said it had become clear he would not be the party's standard-bearer and that he was pulling out of the race. Inslee announced his bid for the Democratic nomination on March 1, with a campaign centered on fighting climate change.
His climate-focused campaign has had an impact on the overcrowded Democratic presidential race, but it wasn't able to boost Inslee's standing in the contest. He remained near the very bottom of Democratic primary polls.
Inslee, a two-term governor, hasn't cracked 2% in a single qualifying poll. The most recent national poll gave him 0% support. He was no longer even listed among the top-20 Democratic candidates in polling averages.
Inslee's unceasing calls for a climate debate haven't persuaded the DNC to stage one, but they've led both MSNBC and CNN to announce "climate town halls" with presidential candidates.
But while he's released the race's most detailed and ambitious plans to combat climate change, and become a near daily fixture on cable news, Inslee wasn't invited to participate in CNN's Climate Crisis Town Hall. CNN, which has invited nine candidates, is using the same polling threshold for its Sept. 4 event as the DNC is using for its debate, the week after.
Aseem Prakash, the founding director of the University of Washington Center for Environmental Politics, applauded Inslee's focus on climate change but said the governor was, to a certain extent, a "victim of his own success." Every Democratic candidate, Prakash said, has an aggressive plan to combat climate change.
"Climate change is now a mainstream issue in the Democratic Party," Prakash said. "The unique selling proposition of Jay Inslee is no longer there. Gov. Inslee does not have anything that distinguishes him from the pack."
It's unknown whether Inslee will seek a third term as Washington governor. There are statewide and county officials — Attorney General Bob Ferguson, Lands Commissioner Hilary Franz and King County Executive Dow Constantine — who are considering running for governor if Inslee doesn't.
And there are aides, legislators and city officials — Solicitor General Noah Purcell, state Sen. Christine Rolfes, state Rep. Drew Hansen and Seattle City Councilmember M. Lorena González — who say they will run for statewide office if the current officeholders choose to launch gubernatorial campaigns.
Reuters wire service contributed to this report.