Codee Reid in the field against Bridgeport. (Empire Press photo/James Robinson)
Empire Press Correspondent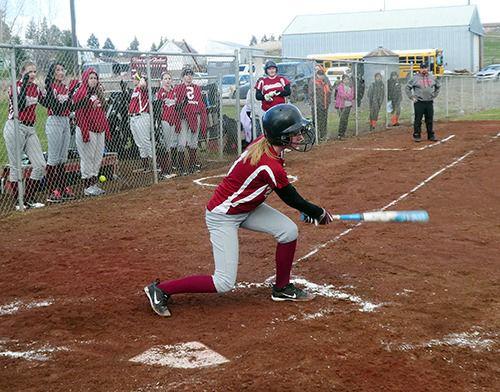 The Shocker baseball and softball teams?saw action at home and on the road last week.
On a cold, windy and rainy?day in Waterville, the Shocker boys team?hosted the Bridgeport Mustangs
on April 10 and came away with a solid 13-1 win.
Starting pitcher for Waterville/Mansfield was Will Osborne.?Relief pitchers were Jordan Davis and Ethan Petersen. Petersen ended the game in the?fourth inning with three impressive strikeouts. Jacob Stibal was catcher for the Shockers.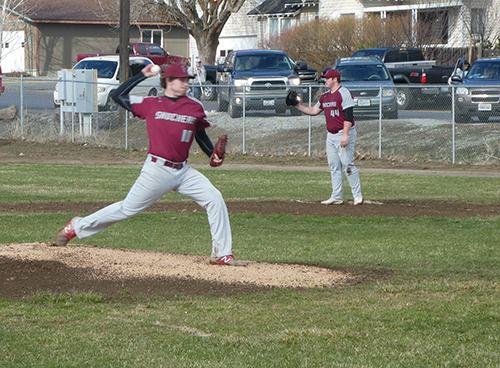 The Shocker?girls also had a winning afternoon over the Fillies,?with a final?score of 20-2. Shocker pitcher Ariana Salcido threw?10 strikeouts and seven walks. The Shockers had?16 hits which included in-the-park home
runs by Codee?Reid and Makayla Kelley. Catching for the Shockers was Jordan Adams.
Later in the week, both teams traveled to Oroville?to meet up with the Hornets in doubleheader contests April 13.
The Shocker girls split their games losing the first to Oroville, 13-17, then winning the second game 11-8.
Waterville/Mansfield's boys easily moved past Oroville for both games, 10-0 and 9-1.
Friday's games went very well, according to coach Cody Brunner.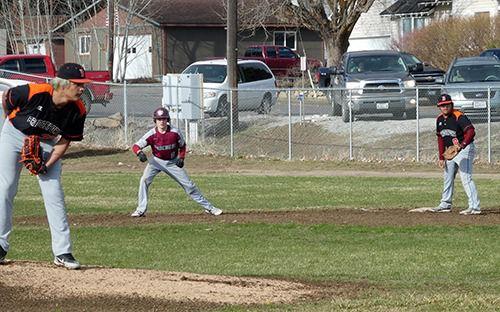 ?Will Osborne went the distance in game one by throwing a complete game (five innings due to the 10 run rule) shutout," Brunner said. "In the second game, Tristen Marden threw two good innings and then Ethan Petersen came in and finished the game on the bump for us."
Brunner added that Cody Deshazer did?well at stepping up?to the plate in key situations and kept innings alive.
"Those who reached base, did a good job running the bases, reading the ball in the dirt and being aggressive which I like seeing in every game. Overall, I think the team did really well," Brunner said.?"We had some moments where we started to get satisfied?and didn?t hit the ball like we are capable of doing but then we would come back the next inning and add on. This season we are focusing on never being satisfied and to always push forward to improve, to add runs each inning and get better each day. I think Friday night, we did a great job at not being satisfied.?
As of April 13,?Waterville/Mansfield's?baseball team was 5-3?in the Central Washington 2B League standings.?League leader?was the Brewster Bears?at 11-0. The Shocker softball team?was 6-3 league standings?with Brewster leading?10-1.
This season many of the baseball and softball games have been postponed due to?inclement weather.?Hopes are to be able to complete the scheduled number of games by season's end.