Raw pineapple - which contains bromelain - is too much for my mouth nowadays, but roasted, baked, or cooked into something is fine. As a child, I never liked canned pineapple, including that "pineapple puree goop" they used as a banana split topping. But when my maternal grandmother brought a fresh ripe one straight from Hawaii, I fell in love. It was sweet, almost buttery, and tasted a little like a ripe banana. That was back in the '70s and I have never tasted one like that since. Sweet-and-sour is a great flavor combination, best used in recipes like German potato salad and in the sweet-and-sour pork recipe featured here. Fresh pineapple and fresh cherries make the sweet and the sour in a different take on the popular dish.
Tips: I could not find fresh cherries so I used granny smith apples instead. Frozen cherries often have added sugar, which I try to avoid, but they can be used for color and taste if you prefer.
Ingredients
8 thick boneless pork chops
1 small bag baby carrots, whole or sliced
1 bulb fresh garlic, minced
1 piece fresh ginger root, minced
1 fresh pineapple, peeled and chopped
2 cups pitted fresh cherries (I used 2 chopped granny smith apples instead)
1 bag colorful mini bell peppers, seeded and sliced
2 large limes for the juice
Optional sweetener to taste
Directions
Salt and bake 8 thick boneless pork chops in a dutch oven at 400° until very brown, retaining the meat juices. Add about a half a cup of water to the pot to release the meat juices. Chop the pork into cubes and return to the pot. Place the pot on top of the stove on medium heat. Add everything to the pot except the bell peppers and lime, and cook until everything is tender, stirring occasionally. Stir in the bell peppers and cook for a few more minutes.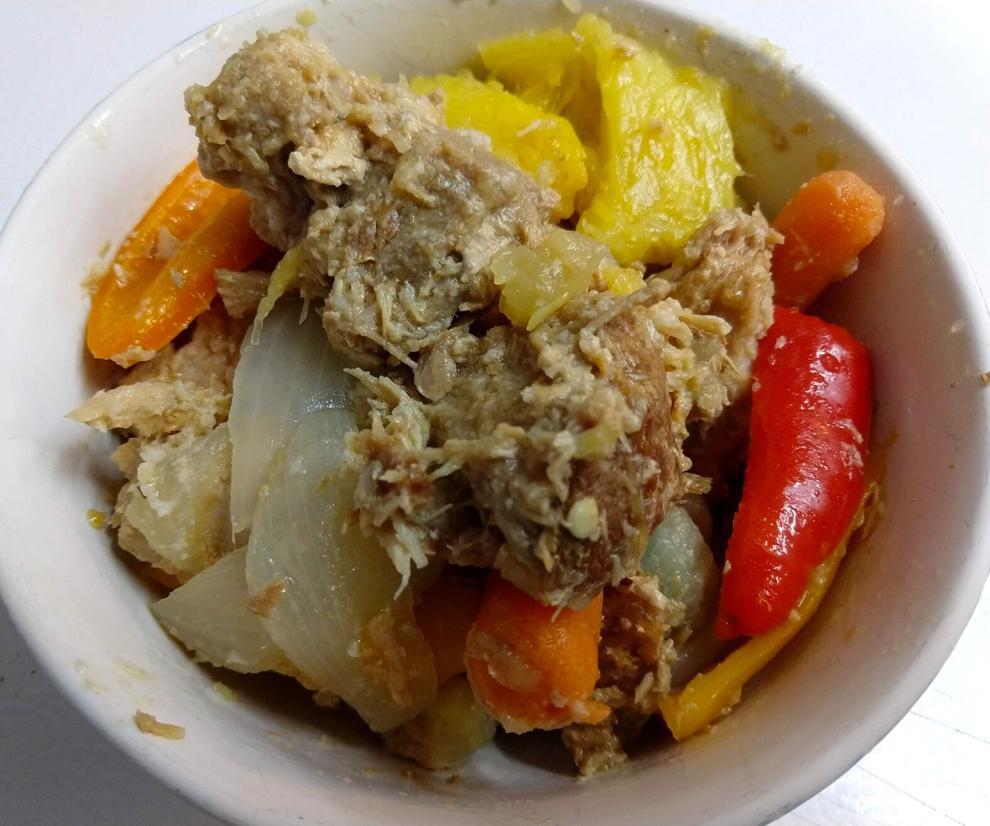 Squeeze fresh lime on top. Serve with sweetener, soy sauce, and rice vinegar on the side to be added as per individual preferences. Freshly minced garlic, ginger, onion, or hot peppers are nice to have as additional sides to sprinkle as desired.