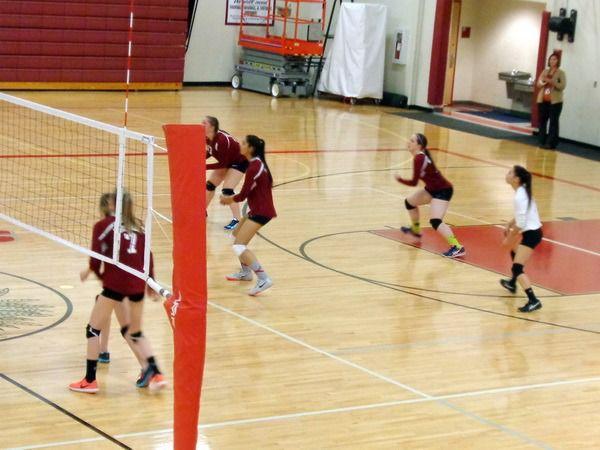 Empire Press Correspondent
Warden came to town Oct. 20 and defeated the Waterville/Mansfield volleyball team in three sets, 25-17, 25-21 and 25-21. The games were hard fought and there were few volleys that went uncontested. The home team played well, it just could not defeat the talented Cougars. Waterville/Mansfield had five servers who were perfect from the line but only a few serves were not returned by the Cougars. Elaina Thomsen was the big gun offensively for the Shockers.
Kim Parcells, the libero, had 25 digs for the evening. She was the primary reason that the ball went back over the net when Warden served it. She also had two for two serving, four serve receives and a kill. Kelsey Browning set up Waterville/Mansfield hitters for potential kills. She had 24 assists. She was six for nine at the service line and had two kills. McKaylin Gormley had three for four at the line, had five kills and three blocks. Kayla Toomey was a perfect seven for seven on serves, with four kills and two digs.
Rochelle Laney was one of the perfect servers with five of five. She also had four kills and two digs. Maria Mullen was 18 of 18 from the service line with four serve receives and a kill. Matilde Caria had four for four serving with five digs and one kill. Stephanie Chavez had two serve receives and a dig and Ariana Salcido was one for two at the service line and had three serve receives.
Thomsen was strong in all three sets. A perfect 23 for 23 serving, she also had four digs and a block defensively. But her most significant contribution was 13 kills for the evening. She tallied four aces in game two, and four of her kills were in that contest. She was a major contributor to a strong Shocker comeback in that contest. In the first set she blasted a sizzling kill through the Cougar defense that drew cheers from the crowd.
The Waterville/Mansfield volleyball team is moving toward tournament time. Their final regular season game was Oct. 27 against Soap Lake.