Jimena Garcia, Mandy Regallie (serving) and Natalie Rendon of the Kernel's B-team playing Manson on Feb. 22. (Empire Press photo/James Robinson)
Empire Press Correspondent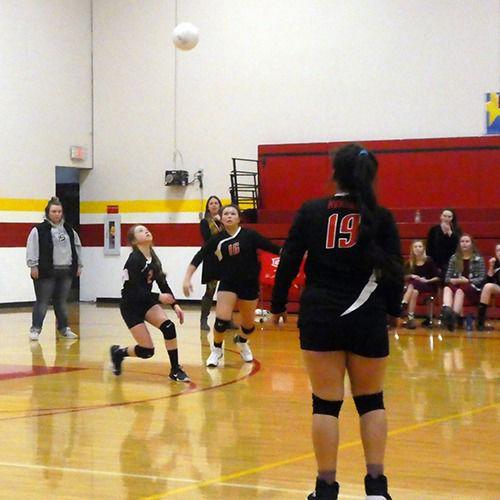 The Waterville/Mansfield Junior High volleyball team opened its season Feb. 22?hosting?the Manson?Junior High Spartans at Mansfield.
The Kernel's squad?is composed of players from sixth, seventh?and?eighth grades and is divided into?an A-team and B-team. The B-Team plays its three-set?match prior to the A-Team.
Head coach for the Kernels is Melissa Flaget, and the assistant coach is Thera Moore.
The B-team won their match over Manson by?capturing?two of three sets. Scores were 25-21, 25-21 and 20-25. Playing on the B-team?were Natalie Rendon, Eava Wood, Evalee Shafer,?Mandy Regallie, Jasmine Garcia, Jimena Garcia and Caroline Petersen.
The A-team lost their match, losing all three sets.?Scores were 14-25, 21-24?and 21-24. Playing on the A-team?were Tiera Miller, Elsie Munson, Harlie Zones, Macy Carey, Alexia Garcia, Bailey Viebrock?and Johnna Hope.
The next home game, played at Mansfield, is against Thorp on March 1.