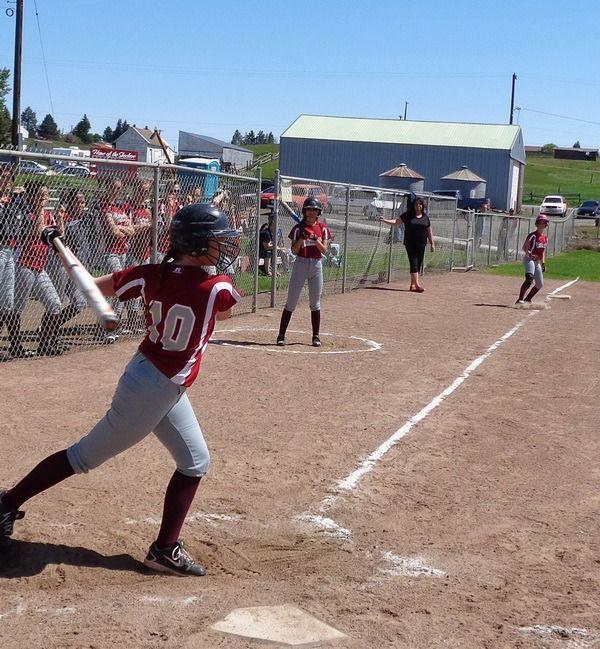 Cora Dills hits against Soap Lake. (Photo by Joel Harding)
Empire Press Correspondent
On April 30, the Waterville/Mansfield softball team won by a run in the first game, then by 10 runs in the second contest. The scores were 5-4 and 17-7. The home team did not get a lot of hits, but they used good pitching, good fielding and a lot of walks to win both games.
In the first inning, Evelyn Cazeres had a sharp hit to center field. Then she used smart base running and a third base on balls to Allysa Hansen to score the first Shocker run. In the fourth, Haylee Newcomb and Evelyn Negrete were both hit by pitches. Sarah Velasquez struck out but reached first base when the Eagle catcher dropped the ball. Cazeres then walked, forcing in Newcomb. Before the inning was completed, Negrete stole home, squeezing between the pitcher and the catcher for a run. In the fifth, Alyssa Hansen hit a long ball which, although caught, scored Kaionni Burke. In the sixth inning Negrete scored when Ari Salcido walked.
The second game was close only for an inning. The score was 6-4 as the second stanza began. Seven bases on balls translated to six runs for Waterville/Mansfield. Cazeres, Salcido, Drew Koenig, Addie Tonseth, Basi Jimenez and Laura Shriner had runs batted in when their walks forced in runners with the bases loaded. In the third inning, Shriner was hit by the opposing pitcher, then scored on Cazeres' single. Velasquez, who singled, Cazeres and Salcido all scored on Salcido's home run. Again, walks to Burke, Hansen, Koenig and Tonseth brought Tonseth credit for a run batted in. Cora Dills brought in another run with a walk. Shriner, Cazeres and Salcido got hits, which scored their teammates in a big third inning for the Shockers. In the final stanza, which was the fifth, hits by Cazeres and Negrete resulted in a run brought in by Patty Garnica's base on balls.
Salcido pitched well in both games and the Waterville/Mansfield skill on defense, although not perfect, was sufficient to the task. The Shockers play at Almira Coulee-Hartline on May 3 and at Mabton on May 7 to complete their regular season.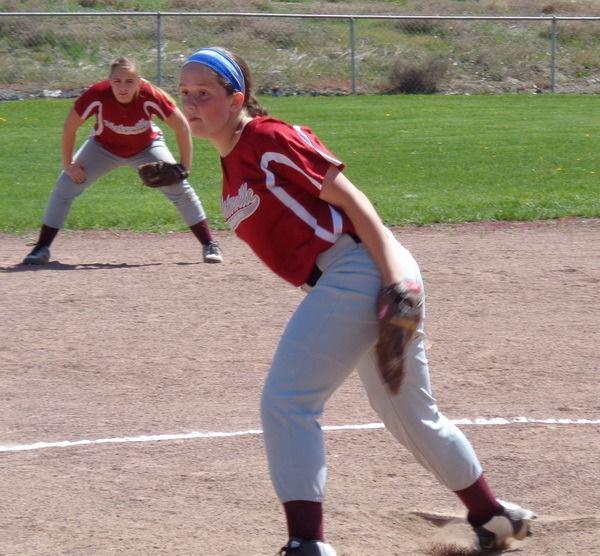 Ari Salcido pitches. Allysa Hansen is ready  at shortstop. (Joel Harding photo)
Drew Koenig is ready for a hit at second base. (Photo by Joel Harding)