Alex Poppie and Justine Clements in the air against Okanogan during the varsity game on Sept. 5. (Empire Press photo/James Robinson)
Empire Press Correspondent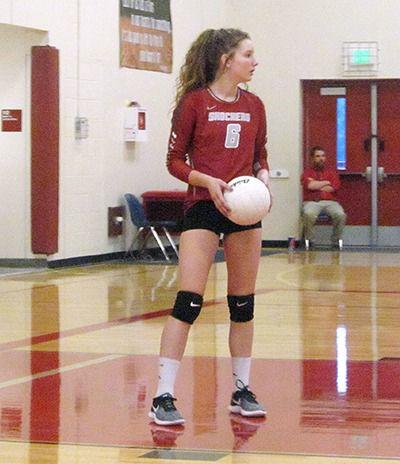 The Waterville/Mansfield junior varsity and varsity volleyball teams played their first game of the season at home Sept. 5 in a non-league match against the Okanogan Bulldogs.
The Shockers varsity team lost their match 3-0 with set scores of?13-25, 14-25 and 13-25.
The Bulldogs had 15 players on the varsity roster and the Shockers had nine players.?Both the Shockers and Bulldogs have four senior players. The Shockers had two freshman starters.
The Bulldogs played well controlled and were highly skilled.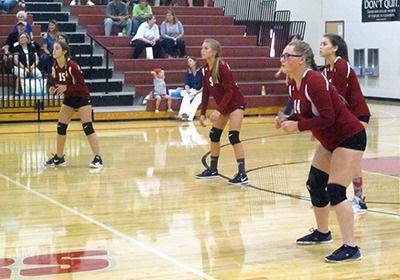 Shocker head coach Melissa Flaget said, ?We are a young team without much varsity level experience. The girls played hard. Next time will be better.?
The 2016 season ended with the Bulldogs having a win-loss record of 6-10 while the Shockers had a 1-8 season.
Waterville/Mansfield senior setter Justine Clements led her team with 10 assists. Other highlights included Ariana Salcido with 3 kills and Sarah Mullen with 3 kills.
The Shockers? junior varsity did well by winning their match 2-1. The set scores were 25-22, 25-20 and 18-25. In the last set, the Shockers gave up many points by service errors and in sending the ball out of bounds on return hits.
This year?s junior varsity team is mostly freshmen who had an outstanding season as eighth-graders. They are expected to do well and to add some extra talent to the varsity team.
JV coach Jill Moomaw said, ?Yes, we are a young team and they really played well. We will need to work on ball control in our next practices.?
Other sources contributed to this story.