Empire Press Correspondent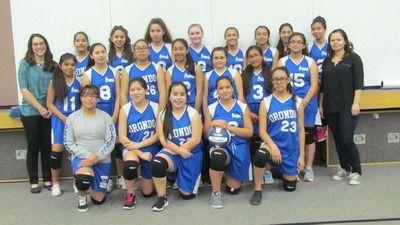 A crowd filled the bleachers at Orondo School on March 12 to cheer the hometown Eagles girls' volleyball team to victory over the Soap Lake Eagles.
"This will be our fifth game this season," coach Leah Potter said before the game. "With the addition of eighth grade students at Orondo Middle School this year, we now have A and B teams and can compete at a higher level. All but one of our A team girls played for us in previous years."
Alicia Lopez introduced girls volleyball at the school when she began teaching there 10 years ago. Potter has been co-coaching with Lopez for the last three years and Adazelle Gomez was added to the coaching staff this season. The three rotate coaching times according to their schedules.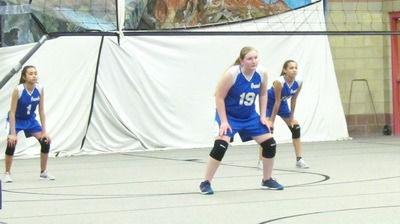 "As coaches we seek to inspire our girls to work together and understand the responsibility it takes to be part of a team," Potter said. "Most of the girls won't go on to play college-level sports, however, they will be part of a team in one capacity or another all of their lives. Teaching teamwork is our emphasis."
Twenty-one girls participated in the sport during the month of March. Nine seventh and eighth-graders play on the A team and the remaining 12 sixth and seventh-graders make up the B squad.
"We spent a lot of time teaching fundamentals at the 12 practices before our first game," Potter said. "Now that we play three games a week, practice time is down to non-game days."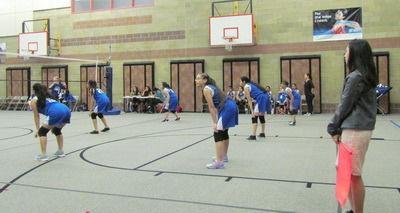 "Our usual schedule on game day," Potter continues, "is an hour of study hall after school before we begin warm-ups for the five o'clock game. I am giving some extra time for warm-up practice today. Maybe it will help us win!"
Practice and teamwork paid off as the A team took their positions and the game began. Each match consists of three sets requiring 25 points for a win. Orondo got off to a quick start and racked up a 25-8 score in the first set. Soap Lake bounced back to give Orondo greater competition in the second set, but Orondo came out on top 25-18. Orondo finished the last set with a 25-15 victory over Soap Lake.
Orondo Community Scholarship Committee members sold concessions of pizza, cookies and beverages during the games.
Orondo's B team also prevailed over Soap Lake with set scores of 25-18, 25-19 and 25-16.
Seventh-grader Fernanda Garcia said, "This is my third year to play volleyball. I like that it is physical and we learn to work as a team. If a teammate doesn't do the right thing, we cheer her on. We try to pump each other up."
Orondo's volleyball season ended on March 22 with a game against Pateros. Track season begins in April.