Shockers girls varsity on defense against Manson. (Empire Press photo/James Robinson)
Empire Press Correspondent
The Waterville/Mansfield Shockers boys' varsity basketball team took a 33-44 loss against the Manson Trojans Dec. 10 at the Shocker Dome.
Top scorers for the Shockers were Johnny Mullen (13 points), Tanner Marden (8 points), and Devyn Klinginsmith (6 points). The Shockers only made 12-of-49 shots from the field. Neither team did well in shooting free throws. The Shockers were 7-of-12 while the Trojans were 8-of-17. The game was tied at halftime but the Trojans were able to control the offensive boards, getting their own rebounds for second and third shots and scoring.
Coach Heath Jordan said, "For the most part our defense was good. This week we are going to work on our timing of setting up plays. The boys played hard and made a short comeback in the third quarter but it just wasn't enough."
The Waterville/Mansfield junior varsity team lost to the Trojans 31-47.
Scoring for the Shockers were Kayden Browning (10 points), Ben Garnica (8 points), Tristen Marden (5 points), Ethan Petersen (3 points), TJ Moser (2 points), Travis Prey (2 points) and Kyler Borden (1 point).
In an earlier game, the Shocker girls defeated the Trojans in a low-scoring slugfest, 30-26.
The game was tied at 15 at the half, a score that held throughout a scoreless third quarter, but Waterville grabbed the upper hand in the fourth quarter to seal the contest.
Leading for Waterville/Mansfield was Hannah Hughes with 10 points.
No information was available for the girls junior varsity.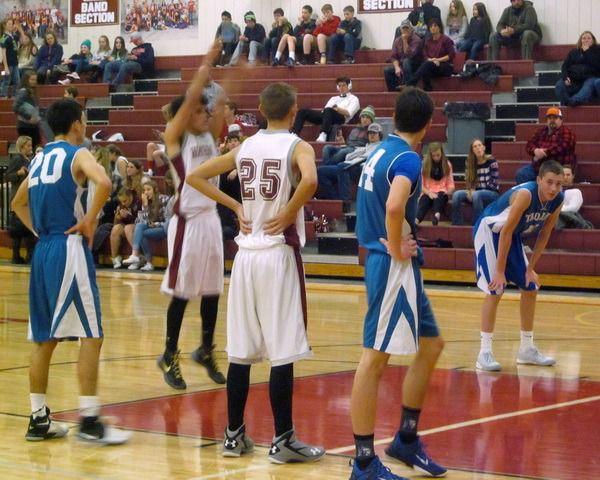 Ben Garcia makes a free throw during the Shocker junior varsity game against Manson. (Empire Press photo/James Robinson)