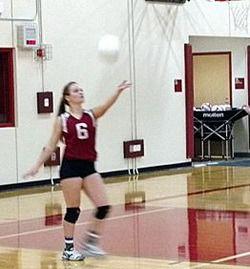 Empire Press correspondent
The Waterville/Mansfield volleyball team fell to the Tonasket Tigers, 3-0, in a Central Washington 2B League match Sept. 15 at the Shocker Dome.
The junior varsity played first, losing all three sets. The first JV Shocker loss was 8-25. For the second and third JV sets, the Shockers had a much better showing, but lost 21-25 and 20-25. Coach Heather Hughes said of the team, "They are young girls working hard. They have not had a lot of experience."
The Waterville/Mansfield varsity team also suffered the same 3-0 fate as the JVs, but there was some great play in the second and third sets.
The first varsity set was close at 20 points for Shockers and 25 for the Tigers. The second set proved that the two teams were well-matched, as the set was tied at 23-23. This put the game in overtime in order for one team to win by two points. The Tigers finally scored the necessary two points for the win, 27-29. At times, the volleys went back and forth 10 to 15 times. The third set loss by the Shockers was identical to the second set. The set was tied and it took the Tigers several attempts to score and win, 22-25.
The Shockers traveled to Lake Roosevelt on Sept. 13.
The varsity came out really strong but lost the match 3-2 with set scores of 25-20, 25-23, 15-25, 20-25 and 9-15. The JV got a win 25-18, 25-15, 1-15.
The girls varsity team later turned the tables on Tonasket at the Okanogan Invitational Tournament held Sept. 17. The Shockers defeated the Tigers 2-1 to place fourth out of eight teams. The girls also defeated Omak 2-1. They lost to Colfax, 2-0, and to Davenport, 2-0.
The Shockers played Sept. 20 at Brewster and will then play at home at 6:30 p.m. Sept. 22 against Soap Lake.