Jacob Stibal takes a charge against Lake Roosevelt. (Provided photo/Stephanie Stibal)
Empire Press Correspondent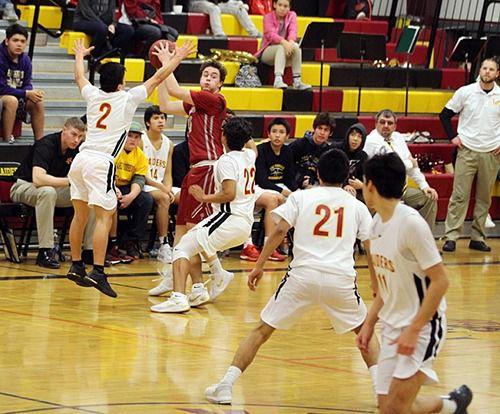 LAKE ROOSEVELT ? The Shockers boys basketball team?lost 53-50?in bizarre fashion on?Feb. 1?in Lake Roosevelt, but still locked up the sixth and final transfer spot out of the Central Washington 2B League and into the postseason.
Down 52-50 with 2.8 seconds left, Waterville/Mansfield found itself in a familiar scenario: down by less than?3 points with a chance to tie or win the game at the buzzer.
Unfortunately for the Shockers, coach Heath Jordan forgot to tell his team one important thing in the timeout huddle: that the team had no timeouts remaining.
Unable to get the ball in and with the five-second timer winding down, the Shockers? inbound player called timeout, resulting in a technical foul and an ensuing free throw attempt for the Raiders. The Lake Roosevelt player drilled the free throw and a last second heave was off the mark as Lake Roosevelt escaped with the victory.
The Shockers led by 13 points at halftime, but let the lead slip away in the second half. Waterville/Mansfield lost just?4 points in the third quarter as Lake Roosevelt outscored the team 14-10 in the frame, but the fourth quarter proved to be the Shockers? undoing.
?They implemented their full court trap late, and it worked against us,? Waterville/Mansfield coach Heath Jordan said after the game. ?They have some athletic kids on that team, and we tried to make passes we could not make.?
The result was Shockers turnovers which turned into easy transition buckets for Lake Roosevelt, and the score quickly became even with less than two minutes to play.
?It?s heartbreaking, and I take all the blame for this loss,? Jordan said. ?We played some really good basketball against a good team. We were so close to getting that win on the road, and the guys are pretty disappointed.?
The win drops the Shockers? record to 9-11 on the season, and sets up a game in Granger against Liberty Christian on Feb. 9. Win, and the Shockers enter the district double-elimination quarterfinals. Lose, and the season is over.
?We?re walking into districts sixth and we?ll have to go on the road again,? Jordan said. ?We have a whole week to prepare. It?s a whole new season.?
Devyn Klinginsmith led the Shockers in scoring with 12 points. Johnny Mullen added 11 points and Jacob Stibal notched?8 in the loss.