Jacob Stibal (21) on defense with Jordan Davis (13) and Johnny Mullen (15). (Provided photo/Stephanie Stibal)
Empire Press Correspondent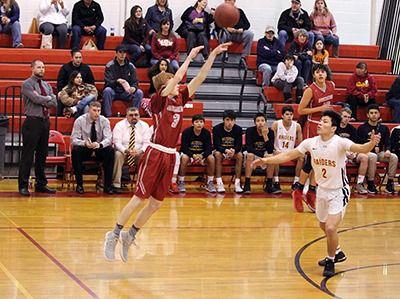 GRANGER ? The Waterville/Mansfield boys basketball team?s season came to a close with a 56-43 loss to Central Washington 2B League foe Lake Roosevelt on Feb. 16.
The Shockers split the regular season series with the Raiders, beating Lake Roosevelt on Jan. 6 by a score of 60-47, but fell to the Raiders on the last night of the regular season, 53-50.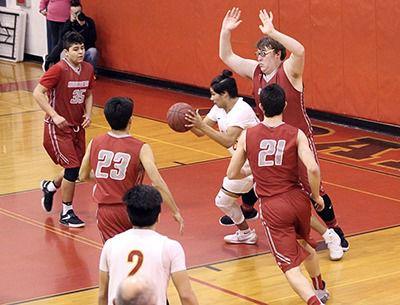 After beating Liberty Christian in a loser-out play-in game to start the postseason, the Shockers advanced to the CW2BL district tournament?s double-elimination format. Sixth-seeded Waterville/Mansfield lost to second-ranked Oroville on Feb. 10 by a score of 57-35, relegating it to another loser-out game against fourth-ranked Lake Roosevelt on Feb. 16.
The Shockers end the regular season with an 11-12 record overall, 7-9 in CW2BL regular season play, good for sixth best out of nine teams in the league.
The Shockers? signature wins on the season included a big win in Tonasket against the third-place Tigers on Dec. 12, and a 56-9 dismantling of Republic on Dec. 18.
Turnovers and road games proved to be Waterville/Mansfield?s Achilles heel all season long as the Shockers lost their final seven regular season road games of the regular season.
On Feb. 16, Johnny Mullen led the team with 17 points and Devyn Klinginsmith added 10 points.
Shockers coach Heath Jordan could not be reached for comment.