Quarterback Jacob Stibal (2) hands off the ball to Angel Lucero (22). (Provided photo/Stephanie Stibal)
Empire Press Correspondent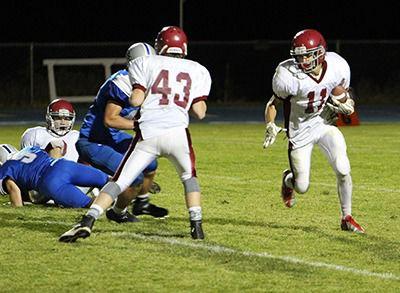 MANSON ? The Waterville/Mansfield football team lost to Manson 47-7 on Friday, Oct. 6, north of Chelan. Although the score was lopsided, the league-mandated running clock for a 40-point spread was only reached in the fourth quarter.
Waterville/Mansfield assistant coach Tayn Kendrick said it was a step in the right direction for the Shockers, who were 40-pointed on the first play after halftime a few weeks ago against Tonasket.
Manson, who beat Tonasket on Sept. 29, had two rushers eclipse the 100-yard mark against the Shockers and Kendrick said the team needs to focus more closely on tackling, and specifically, wrapping up tackles.
?The kids are definitely getting better,? Kendrick said.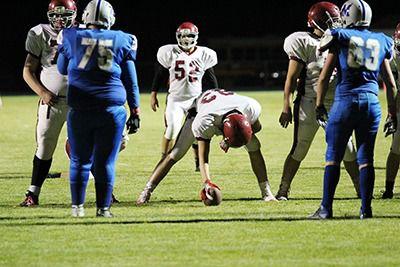 Kendrick lauded the play of Johnny Mullen on both sides of the ball, saying he was a standout player on both defense and offense. On defense, Mullen played defensive end and brought pressure to the Manson quarterback and on offense, Mullen was the tight end doing some blocking for the runners to find some holes.
The Shockers? points came on a defensive touchdown when a botched Manson snap resulted in a fumble. Mullen picked up the ball and ran it back for the touchdown.
Kendrick said that offensively, Waterville/Mansfield had a few red zone opportunities but could not convert them into points and praised Manson as a great team who will be battling for a district crown at season?s end.
The Shockers will look forward to the game against Liberty Bell for homecoming on Oct. 13.
?Yup, Liberty Bell for homecoming,? Kendrick said. ?If we keep going in the trajectory that we?re going, increasing execution and limiting our mistakes as much as possible, along with working on turnover drills, wrapping up on tackles, we should see some improvement. We need to make sure that when we're running, we?re protecting it, some of those small things are tough for us. It?s not the running of the offense that needs help, not our defensive system, it's the small things.?