Will Osborne with a steal that ended in a 2-point lay-in against Oroville at the CW2BL district tournament in Granger. (Provided photo/Stephanie Stibal)
Empire Press Correspondent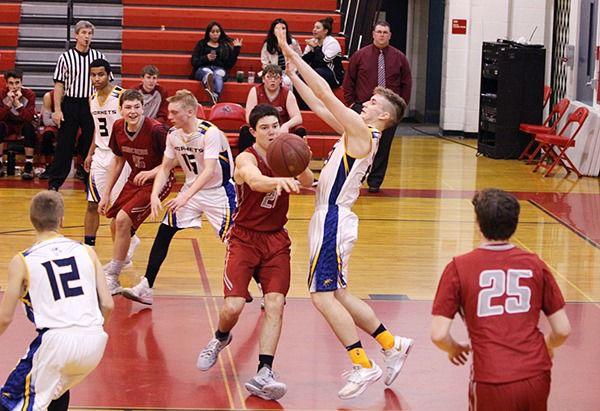 GRANGER ? The Waterville/Mansfield boys basketball team followed up their neutral court win over Liberty Christian in Granger on?Feb. 9?with a 57-35?loss to the Oroville Hornets on Feb. 10.
The loss doesn?t end the Shockers? season, as the team will play Lake Roosevelt on?Feb. 16 in a loser-out contest.
?We couldn?t get anything to drop for us tonight,? Shockers coach Heath Jordan said after the game. ?We had a lot of good shots that rimmed out. I hate to blame anything on the officials but there were some interesting calls out there tonight, but give credit to Oroville.?
Waterville/Mansfield trailed Oroville 23-15 at halftime and Jordan said it seemed as though the team was stuck in the mud offensively.
At this point in the season, Jordan said that getting just 35 points on the board won?t win many games. However, on the other side of the ball, Waterville/Mansfield allowed just 57 points in the loss, but couldn?t find an answer for Oroville?s post players and were outrebounded, which has become for the team.
The Shockers struggled at the free throw line all night long and the team could not take advantage of layups in the paint.
Hornets big man Spencer Martin got 21 points in the paint for Oroville, something the Shockers could not stop.
Although the loss stings and would have given the Shockers a berth in the state tournament, Jordan said the experience is a good one going into this weekend?s loser-out contests.
?Good experience for our guys for sure,? said Jordan. ?Right now we have another game to prepare and get ready for. It?s a whole new season and we need to find a way to get back to a high level of play.?
Johnny Mullen again led Waterville/Mansfield in scoring, notching a team-high 11 points in the Central Washington 2B League district play in game. Partner-in-crime Devyn Klinginsmith added nine points for the Shockers.