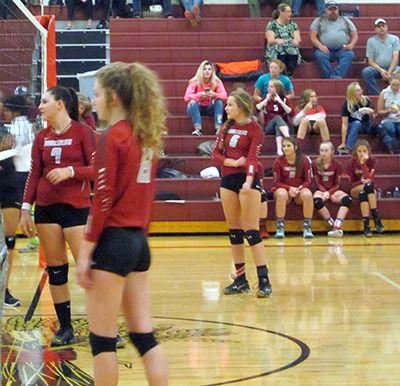 Empire Press Correspondent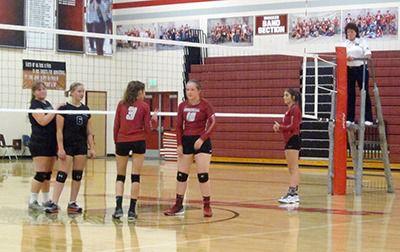 The Waterville/Mansfield Shockers junior varsity and varsity volleyball teams had a successful night against the Liberty Bell Mountain Lions Oct. 5.
The JVs won all three?sets by scores of 25-12, 25-16 and 26-24. The last?set was tied at 24?each so the win?had to come by?2 points.
JV coach Jill Moomaw said, ?These girls are getting much better at attacking the ball and covering the floor. And, tonight they had lots of good serves.?
The Shocker varsity team?defeated the Mountain Lions, 3-2. The Shockers won the first set by?a score of 25-14. The other four?sets were all close with constant lead changes. In those?sets, no team lead by more than?4 points at any given time. The second game the Shockers also won, 25-21. The Mountain Lions captured the next two sets, again with very close scoring, 21-25?and 23-25. The fifth set???to determine?who?would win the match?? was decided by the first team to reach 15 points.?The Shockers took that set,?15-10, and the match.
When these two teams met Sept. 30, the outcome was reversed. The Mountain Lions won three of the five?sets played.
Waterville/Mansfield's?next home game is against the Tonasket Tigers on Oct. 12.