B team members in action are Jasmine Garcia, Caroline Petersen, Jimena Garcia and Evalee Shafer. (Empire Press photo/James Robinson)
Empire Press Correspondent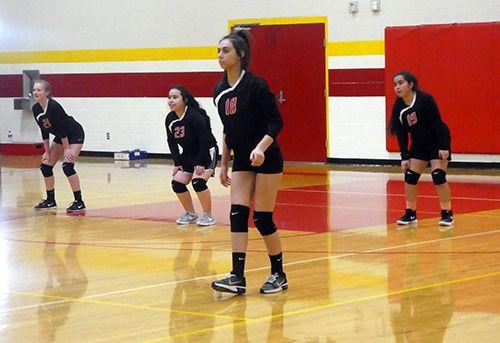 The Waterville/Mansfield Kernels junior high volleyball teams?hosted the?Pateros Nannies?March 22.
The Kernel A and B teams?both won their matches over the visiting Nannies.
Waterville/Mansfield's?B team won all three sets of their match. They took the first set by a score of 25-17. In the second set, Alysha McGraw?contributed 12 consecutive serves to end the set with a 25-12 win. The third set was the closest scoring with the Kernels?coming out on top, 25-9.
B team players?are?Natalie Rendon, Eava Wood, Aspen Farrington, Evalee Shafer, Maddy Regalie, Jasmine Garcia, Jimena Garcia, Caroline Petersen and Alysha McGraw.
?The team is learning and developing their offensive skills," coach Thera Moore said.?"Their previous two games they worked on it and today they got it!?
The Kernels'?A team also won their match by winning two of the three sets. Waterville/Mansfield?took the first set?by?a score of 25-9. The Kernels followed that win by capturing the second set, 25-15. In the third set,?the home team got behind at the start and never recovered. The Nannies took that set, 25-15.
?The team is learning to?transition from offense to defense,"?said coach Melissa Flaget. "Today they did a good job in making the switch back and forth.?
Playing on the A team?are Tiera Miller, Elsie Munson, Harlie Zones, Macy Carey, Haley Vargas, Alexia Garcia, Bailey Viebrock, Melissa Vela?and Johnna Hope.