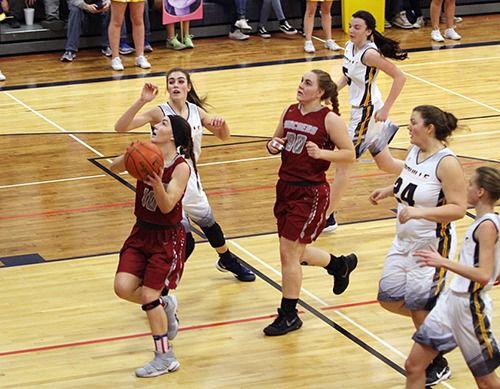 Empire Press Correspondent
OROVILLE ? The Waterville/Mansfield girls basketball team?s defensive prowess was on full display Jan. 30, as the visiting Shockers took down Central Washington 2B League bottom feeder Oroville by a final score of 42-18.
The win was the Shockers? 11th of the year, two more than the state-qualifying team from two years ago. Fantastic defense has been a staple for Waterville/Mansfield all season long, and Tuesday?s game marked the fourth game this season the Shockers have limited their opponent to single digit scoring totals in all four quarters.
Waterville/Mansfield?s leading scorer on the season, Elizabeth Katovich, once again paced the team in scoring with?8 points. Teammates Meredith?Mittelstaedt?and Brooke Willms each added?7 points in the win.
Offensive production continues to be a point of emphasis for Waterville/Mansfield, but when you play such good defense, sometimes defense is the best offense.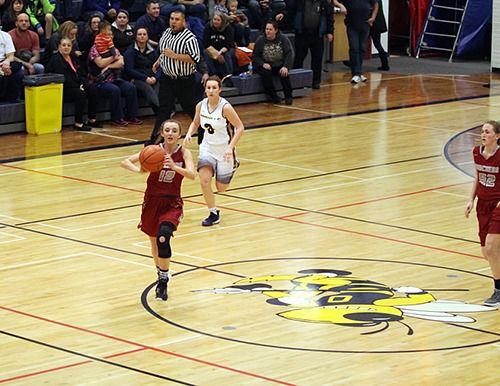 The Shockers were able to use good pressure and rotational help defense to stifle the Hornets all game long. Defense in the paint was an especially strong point for one of the best defenses in the CW2BL.
?We were trying to mix it up a little bit and show Oroville a few different looks, so that helped,? Waterville/Mansfield coach Kieth Finkbeiner said after the game. ?Oroville has a very young team so they struggled to score, and we did a few different things and worked on some things as we continue to work through our season.?
Implementing new defensive schemes is something the rest of the league should look out for come tournament time, as the Shockers throw a lot of different looks at an opposing offense.
Finkbeiner said the girls? focus is one game at a time and that by looking only into the near future, the Shockers will be better off moving into tournament play. Waterville/Mansfield sits in third place in the CW2BL standings after Tuesday?s win.