For the second time this week it can be said that the Waterville-Mansfield Shockers are going to state. Saturday evening the Shockers defeated the Entiat Tigers 54-6 in their regular season finale, securing the Shockers second place in their district and a guaranteed spot in the WIAA 1B Football State Playoffs. This marks the first time since 2006 that our hometown football team has advanced to the postseason.
Throughout the regular season, the Shockers and Entiat have been among the district leaders. The Shockers only ceded the district lead to Liberty Bell three weeks ago. Meanwhile, when Waterville-Mansfield had to forfeit last weekend's game to Pateros due to the team entering COVID-19 protocols, Entiat gained a half game lead over the Shockers for second place. However, with the last game being a matchup by these two teams separated by less than one game, it made the regular season finale a winner-take-all affair.
It was a matchup that the Shockers made clear they didn't intend to lose. The defense only gave up one touchdown for the night and the offense showed a dominant running attack that put the game away in the third quarter.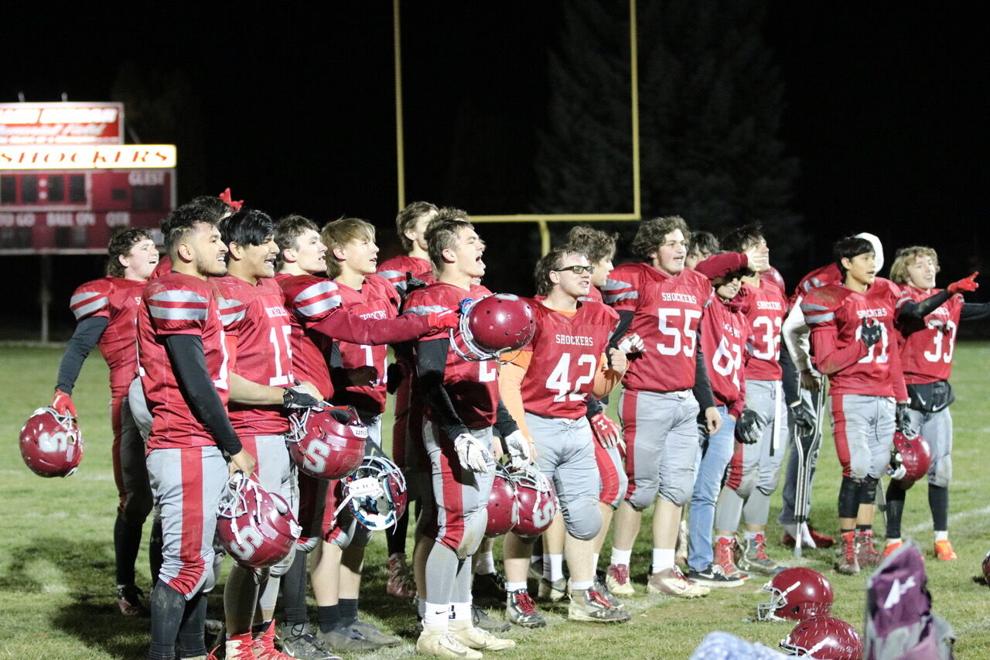 It is often said that defenses win championships, and the Shockers showed they have a championship caliber defense. It embodied a bend, don't break mentality, making two key goal line stands. Braydon Murison led the way with 16 tackles for the night. Jack Katovich was a wrecking ball with 8 tackles, including two sacks. Preston Mulanax tallied 9 tackles and Kaneem Island added another 6 tackles for the defense.
Head Coach Tayn Kendrick was pleased overall with the defense's performance.
"There are still some things we need to clean up, but the Shockers rallied to the ball and made two more goal line stands," he said.
Meanwhile the Shockers' offense tallied 563 yards on the ground on 42 carries. They were led by Abe Diaz, who accumulated 367 yards on 20 carries to go along with 6 touchdowns. Five of those touchdown runs were 40 yards or more. Trevor Moore also had a big night with 132 rushing yards on 7 carries. One of those runs scored a touchdown.
Coach Kendrick credited the offensive line for creating opportunities for such a big night rushing.
"The line of Trevor Moore, Braydon Murison, Luiz Rodrigues, Mateus Mullen, and Jack Katovich set a tone for the game and the running backs hit the holes and played through contact," he said.
The magnitude of the football team's accomplishment is not lost on the team's captains. They have helped transform Waterville-Mansfield's sports programs from perennial losers into contenders. They see reaching state as a big deal, but they also realize that reaching the postseason in one sport in one year is just the beginning of the transformation they hope this season is the catalyst for.
"It's amazing to feel like we were part of helping it get back into it (state). When I was a freshman and even a sophomore, we thought we did something. Now, with just all the hard work it's finally paying off," said team captain Braydon Murison.
"I think what the coaches say a lot is to try to build a winning culture. I feel like that to go to state for the first time in 15 years is at least a step towards creating a winning culture. If we make that last for a long time and maybe turn us back into the 99 Shockers, then that will be nice," said team captain Jack Katovich.
"It's what we've been working towards. We went from trying not to lose every game to trying to win every game. Now it's trying to keep it going for next year and for years to come," said team captain Cole Borden.
The captains credit the change in success to an evolution in mindset for the team, recognizing that everybody on the team adds value to the group's success.
"Before, I think it was a lot more of a divide between the upperclassmen and underclassmen, and now I feel it's more of one team. I feel like before it's more like the old style of juniors and seniors got to play, and the freshmen and sophomores were the punching bag for the first two years, and they would eventually get to play. I think it's a little different now, because we've got a lot of underclassmen that are important to the team. Everyone has a role to play, and I think that we recognize that," said Katovich.
They also noted that this season was the first in any season or any program they have been involved in that everybody has remained academically eligible throughout the season. This has allowed them to be able to count on one another to be able to be present and contribute to the team's success.
"It's healthy, knowing that everyone's going to be there every day and not wondering who you're going to have for the next game," said Murison.
With the regular season completed, the Shockers have been seeded 12th for the state tournament. They will be taking on the pass-oriented Naselle Comets. It is a game that will have its challenges as Waterville-Mansfield's captains agree their opponents are fast and have talent. But they believe if they stay loose and focus on their game, the Shockers can come away victorious.
"No matter what happens, we just need to play the best that we can and work through any challenges that come up during the game," said Murison.
"We need to ignore the things that happen on the way and focus on the things we need to do. Have a good week of practice now that we have everyone. Friday, have some fun, get some good rest. Saturday win," said Borden.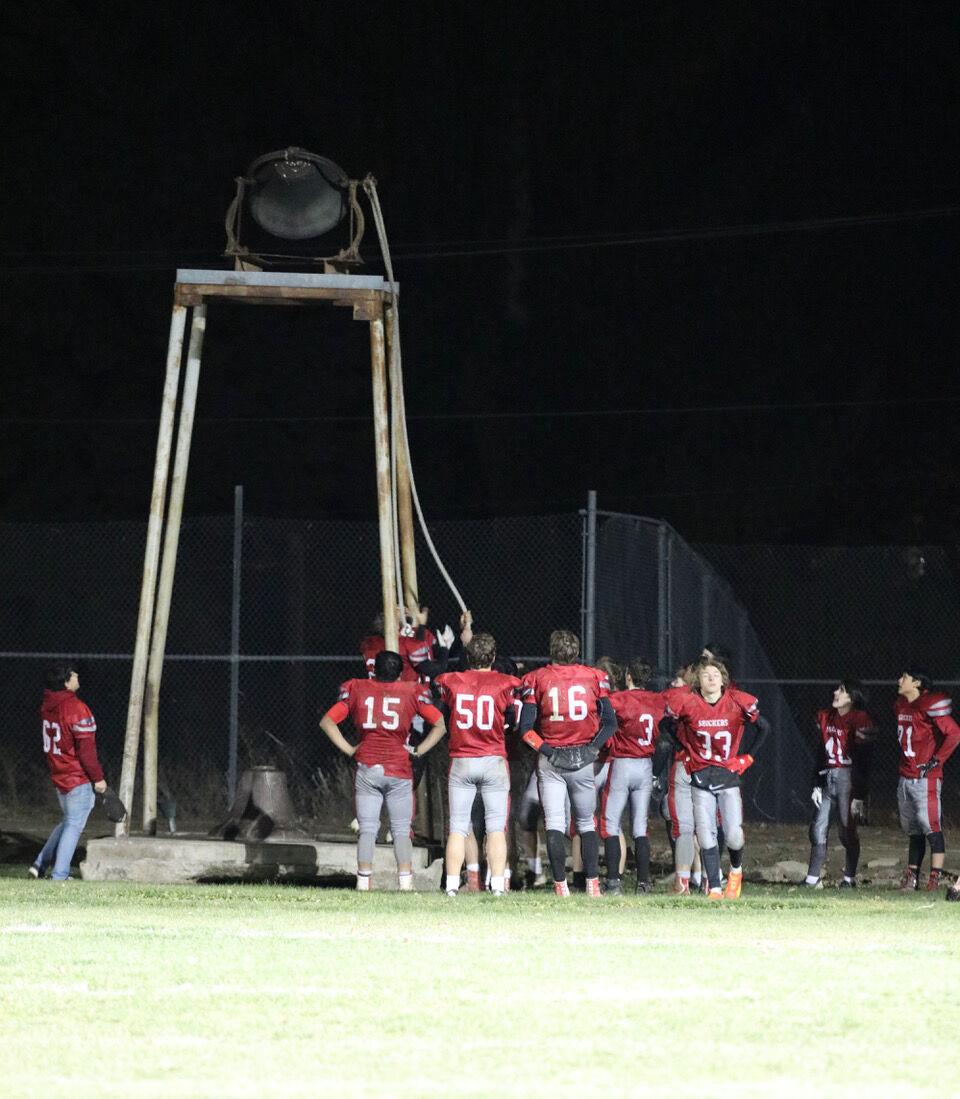 On defense, they believe if they stay disciplined and contain the outside, forcing any runs back to the inside, they will be able to contain the Comets' speed and the Shockers' secondary will be up to the task of handling Naselle's passing attack.
"Our pass coverage is good. We have a good safety, Preston. We have a good couple corners. I think we'll be fine. It's just keeping our heads," said Katovich.
On offense, Cole sees an aggressive defense that will line up on the opposite side. But he feels if the offensive line communicates and he can complete some passes, it will open enough holes for the Shockers' ground game to continue to dominate and provide plenty of problems for the Comets' defense.
"They're definitely aggressive on defense. So, the offensive line is going to have to pick up blitzers and really has to talk, because they're going to come full force. We'll have a good run game and if we complete some passes they'll back off. We have to have a good balance," said Borden.
This Saturday the 12th-ranked Shockers (5-3) will begin their state playoff experience against the fifth-ranked Comets (7-1) at South Bend High School. The tournament is single elimination. Kickoff is scheduled for 1 p.m.