I grew up in Southern California, where taco shells are crispy and fried in lard. The toasted corn tortillas and signature taste of lard add much to the flavor as well as the texture. Make plenty because one is just not enough.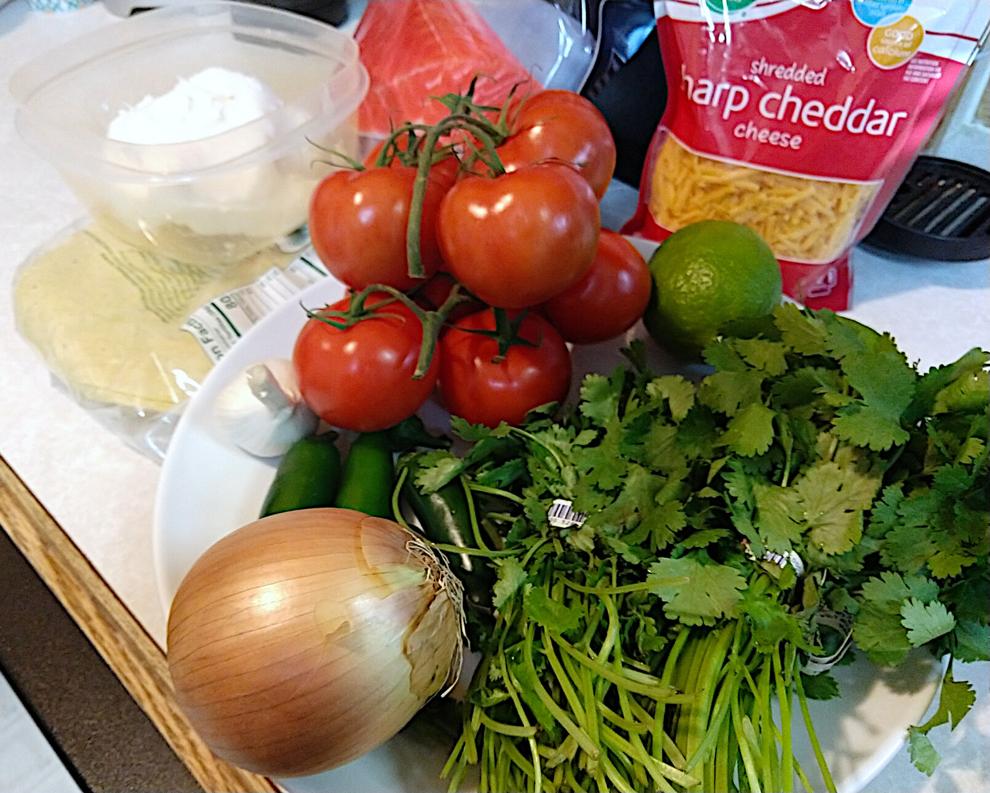 The secret to a good, fresh salsa - or guacamole for that matter - is freshly squeezed limes and tiny pieces of minced garlic. Some people don't like fresh cilantro, but for those who do, you can never add enough cilantro.
5 - 10 jalapenos (depending on how hot you want it)
1 bulb of garlic (5 - 6 cloves)
Optional: Salt and apple cider vinegar
Frozen skin-on salmon (4- 6 pieces)
Dice the tomatoes, onion, and jalapenos into a large bowl. Squeeze the juice of the limes in next and stir. Mince the bulb of garlic and add-in. Cut the long stems off the cilantro bunch and chop the tops finely, then stir it into the bowl. This is your salsa. You may add salt to taste and a few tablespoons of apple cider vinegar if you like.
Start heating a nonstick pan and sprinkle salt to taste into the bottom. Place the salmon skin-side down and cover with a tight-fitting lid. Cook until desired doneness (at least 145°).
While salmon is cooking, take a large nonstick skillet and heat up a few tablespoons of lard. Crisp up the corn tortillas into taco shapes by first cooking on one side until just softened over medium heat, then flipping the tortilla over and bending in half. Cook each outer side of the taco shell until the tortilla is lightly browned and crunchy. Add a small amount of lard to the pan after each tortilla, if necessary.
Assemble the tacos by placing salmon into the tortillas, then salsa, and finally cheese. Eat them immediately.