Wenatchee
Tickets on sale for Dan Miller's Cowboy Music Revue
Award-winning television show host Dan Miller, his daughter Hannah, and Wendy Corr, performing as Dan Miller's Cowboy Music Revue, are bringing true cowboy music to Wenatchee High School at 2 p.m. Oct. 6 as part of the Wenatchee Community Concert Association's season lineup.
Dan Miller has spent more than half of his life in front of television cameras and on stage, as a television host for game shows like "Top Card" to sporting events including Mesquite Championship Rodeo and PBR Bullriding. Hannah Miller inherited her dad's musical talent, and has been performing since the age of 6 as a musician (fiddle and mandolin) and vocalist. Rounding out the trio, Wendy Corr joined the band in 2008 as bass player and harmony vocalist. Audiences will be entertained from start to finish as the western trio plays familiar hits like El Paso, Amarillo By Morning, Night Rider's Lament and Ghost Riders in the Sky.
Tickets are $25 for adults and $10 for students.
Twisp
Merc Playhouse sets 'Breaking Legs' auditions; still adding to "Rope" cast
Auditions for Merc Playhouse's winter comedy, "Breaking Legs" — coming to the stage in January — are set for 4 p.m. Oct. 6 and 7 p.m. Oct. 9 at the Merc Playhouse, 101 S. Glover St., Twisp.
The hunt is for three men in their 50s and a woman in her 30s. The play, by Tom Dulack, is directed by Carolanne Steineback. Rehearsals are set to start in November, with performances Jan. 10-12, 16-19. No prepared material necessary. Auditioners will read from scripts which will be provided at the auditions.
Merc also is still looking for a man and a woman to fill out the cast of "Rope" that starts rehearsals next week.
Wenatchee
Erratics learn about FOOL's journey, Hruska's book
"Searching the Okanogan Drainage for Multiple Ice Age Events and Catastrophic Flooding: A FOOL's Journey" is the topic of the Oct. 8 meeting of the Wenatchee Valley Erratics Chapter of the Ice Age Floods Institute at the Wenatchee Valley Museum & Cultural Center, 127 S. Mission. The meeting, which is free and open to the public, starts at 7 p.m.
Don Hruska, retired mining geologist, is one of four Okanogan residents who formed Friends of the Okanogan Lobe (FOOL). Their quest has been to investigate how geologic forces shaped the Okanogan landscape. He has also written a book, "Okanogan Ice Skating: Three Million Years of Glacial Impact and Basement Rumbling," that will soon be on sale in the Ice Age Floods Institute bookstore (afi.org/product-category/book/).
For overviews of the Ice Age Floods and information on the Ice Age Floods Institute, go to iafi.org or hugefloods.com.
Leavenworth
Workshop demonstrates how to make baskets from pine needles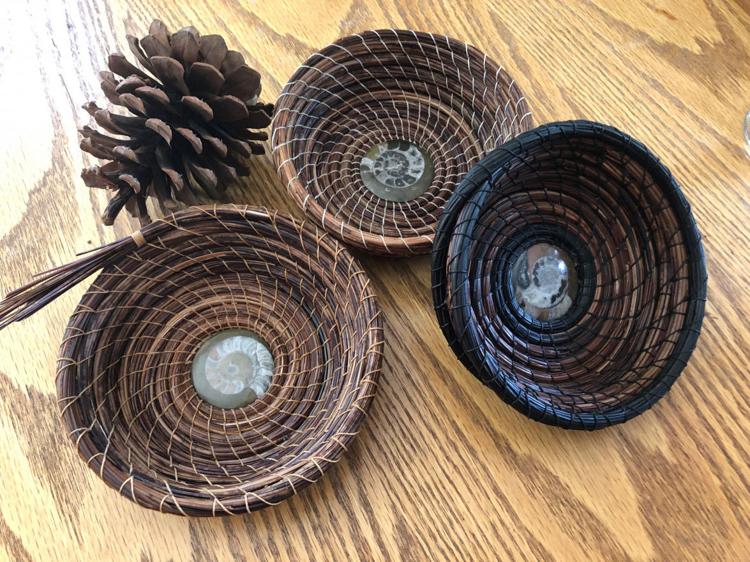 No need to curse those Ponderosa pine needles. Turn them into baskets, with help from Leavenworth weaver Christi Lewis at a Nov. 9 workshop at the Wenatchee River Institute, 347 Division St., Leavenworth.
The workshop is from 9 a.m. to 2 p.m.
Learn to create a basket of home-baked, glycerin and dyed ponderosa pine needles with a unique and beautiful ammonite fossil base. Each course participant will take home a finished basket. Beads as well as natural materials from the forest also will be used as embellishments.
"My grandmother, an artist in her own right, encouraged my love of nature and art at every opportunity," Lewis said. "We were forever exploring the Lake Wenatchee forests and beaches for rocks, moss, sticks — anything that could be converted into a pinecone bird, a mobile, wall hanging, or simply enjoyed as nature's art."
It wasn't until Lewis and her husband Doug retired from teaching and moved to Lake Wenatchee with their dog Scooter, that she mastered pine needle basket artistry after seeking instruction on the internet, scouring numerous books, and with a great deal of practice. She now finds joy in sharing her basket weaving artistry and skill with others.
The workshop cost is $75 for Wenatchee River Institute members or $85 for nonmembers, with lunch included from Leavenworth's Dan's Food Market. For information go to wwrld.us/2mnaq1D.
Wenatchee
Museum gets haunted, reaches for the skies
The Wenatchee Valley Museum & Cultural Center is jumping into fall with a host of new projects, from spooks and things that go bump in the night to an exploration of the night sky.
The "My Sky" exhibit, in collaboration with NASA, is set to open Oct. 4 and run through Jan. 4. It invites children and adults to explore the sun, the moon and the stars. Get your hands on an enormous 5-foot wide model of the Moon, explore close-up images of what the sun looked like on your birthday last year, invent your own new constellations. The exhibit will introduce scientists, artists and other people who are inspired by the sky above us. Some associated special events are included. Stay tuned for more details.
The Haunt, a scary, special-effects trove of horrors — all in good fun — is set to run Oct. 18-19, 25-26, 29-31. Built in partnership with Haunted in Washington, proceeds benefit the museum. Tickets are $12 pre-sale, available now, or $15 at the door. The event is not recommended for children under age 13.
Volunteers also are needed.
For details, see the museum's Facebook page or call 888-6240.

Wenatchee
Music Theatre of Wenatchee's 'The Addams Family' starts Oct. 17
The cast is set for Music Theatre of Wenatchee's fall production, "The Addams Family."
Wednesday: Ainsley Shearer
Ancestors: Josh Schoenwald, Skyler Cuthill, Mariann Boyce, Dane Schmidt, Heather Hill, John McQuaig, Timmy Hulse, Laura Brown, Liz Brazeau, Katie Grant and Jason Rolfs
The show, with a script and song lyrics packed with humor, embraces the wackiness in every family, offering messages of trust and honesty where love always wins.
Wednesday Addams, the ultimate princess of darkness, has grown up and fallen in love with a sweet, smart young man from a respectable family – a man her parents have never met. And if that weren't upsetting enough, Wednesday confides in her father and begs him not to tell her mother. Now, Gomez Addams must do something he's never done before — keep a secret from his beloved wife, Morticia. Everything will change for the whole family on the fateful night they host a dinner for Wednesday's "normal" boyfriend and his parents.
Shows are at 7:30 p.m. Oct. 17-19, 24-26, 31, Nov. 1-2 with 2 p.m. matinees Oct. 26 and Nov. 2.