CASHMERE — Here's a play you can watch with your eyes closed.
"Vintage Hitchcock: A Live Radio Play," presented by Cashmere High School Drama Department, is a stage production of a radio play from the 1940s featuring three of Hitchcock's early stories, "The Lodger," "Sabotage" and "The 39 Steps."
"Vintage Hitchcock: A Live Radio Play" opens Thursday with four shows planned — at 7 p.m. Thursday through Saturday with the final show at 6 p.m. Sunday, broadcast on KOHO 101 FM.
"This is something we haven't done before," Director Susan Gubsch said. "It is an old-fashioned radio show. The students are being like 1940s actors. We have another student group that is the Foley group, so they are doing the sound effects."
All the sound effects will be done by hand with no electronic help. Gubsch said they found items it is believed will simulate the proper sound.
This is the first play for CHS that will have a live audience since the pandemic started, she said.
Gubsch said a lot of students auditioned, because they were anxious to try something new. It was great for students who have trouble memorizing lines.
"This is great because radio actors had their scripts. So they were able to try a larger part which they may not normally be comfortable with because they didn't have to memorize everything,' she said.
Playing before a live audience will be fun, she said, because they not only listen but also watch the show being created.
"The setting is a 1940s radio station and they'll all be dressed in 1940s costumes. The students will be playing multiple roles in the different shows, so they have to come up with different voices and characters," Gubsch said. "That has been challenging."
Most of the cast of 30 is on stage, with the Foley crew right below.
Practice has been going well leading up to opening night, she said.
"Right now, we've been focusing on one story at a time, keeping the actors and Foley crew together. That's been going really well," Gubsch said.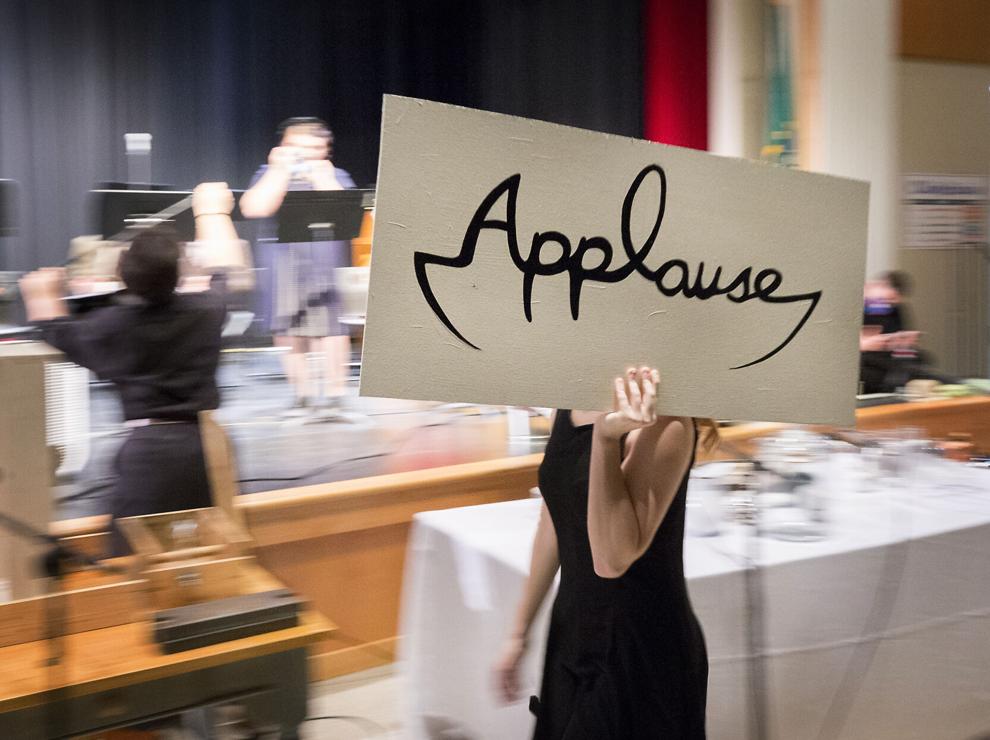 Gubsch thinks audiences will enjoy it.
"Having gone to some of the radio shows that have been put on in Wenatchee and Leavenworth, people love it. They are fascinated by how the sound effects happen and follow along with the voices and the stories," she said. "It will be a fun way for people to come out and support the kids."