This week: Knights in shining armor, a community festival, Dolly, a diner, Elvis and rock of another kind.
Knights of Veritas & Medieval Teachings
6:30 p.m. Thursday, Pybus Public Market, Wenatchee
Join the Knights of Veritas as they teach about medieval astronomy, sword play, how to put on medieval armor, and more. Admission is free. Suitable for everyone in the family. For information, go to ncrl.org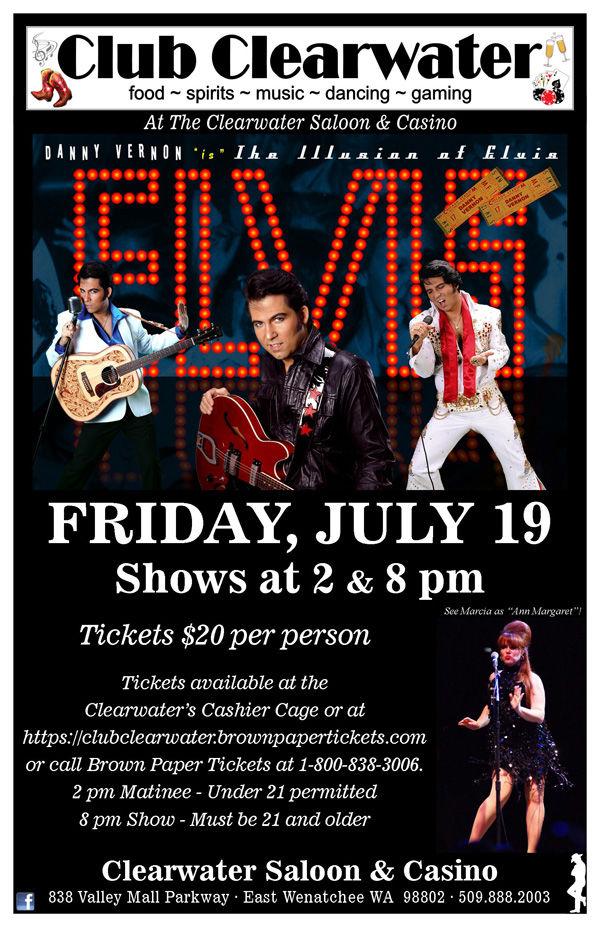 Danny Vernon's Illusion of Elvis
2 p.m. and 8 p.m. July 19, The Clearwater Saloon & Casino, East Wenatchee
Clearwater Saloon & Casino rolls out the red carpet for Elvis on July 19 — or Danny Vernon's "Illusion of Elvis." The 2 p.m. show is open to all ages, while the 8 p.m. show is for the over-21 crowd. Vernon impersonates Elvis and his wife, Marcia, the emcee, also does an impression of Ann Margaret. Tickets are $20, available at brownpapertickets.com, at the Wenatchee Valley Senior Activity Center and at The Clearwater's cashier cage. Call 888-2003.
July 12-21, Merc Playhouse, Twisp
Friday is opening night for the Merc Playhouse's summer production, "A Diner On The Way." Find out what happens when the Hubbard family stops for a quick bite at a small-town diner. Performances are at 7 p.m. Thursdays through Saturdays, with 2 p.m. Sunday matinees. Tickets run between $5 and $20. The July 18 performance is admission by donation. For information, go to wwrld.us/2KGGcl4.
Wenatchee to Leavenworth Geology Tour
9 a.m.-4 p.m. Saturday, Wenatchee Valley Museum & Cultural Center. $40-$45. wwrld.us/rocktour
A rock is not just a rock. Geologist Brent Cunderla will explain why on a bus tour from Wenatchee to Leavenworth looking at different rock types and geologic processes that occurred over the past 100 million years. Meet at 9 a.m. at the Wenatchee Valley Museum, 127 S. Mission St. Bring a lunch.
Leavenworth Summer Theater is preparing for Wednesday's opening of its second summer musical production, this one at Hatchery Park. This is the first time "Hello Dolly!" based on Thornton Wilder's novel "The Matchmaker," has been brought to the summer outdoor stage. Follow Dolly Levi as she orchestrates life, adventure and love for her friends, finding and reclaiming her own life along the way.
Friday and Saturday, Pioneer Park, Waterville
Live music, food, a parade, car show, quilt show and 5K race make for a busy Friday and Saturday in Waterville's Pioneer Park for the annual Waterville Days festival. For schedule and details, go to watervillewashington.org. The music lineup includes Jumpers Flats on Friday evening and Hearts of Praise and Waterdog Saturday. The parade starts at 11 a.m. Saturday. Advice from the organizers: "Come early. Spend the whole day. Bring the whole family."