Comedy is a different game than it was in the '80s.
That's what Susan Rice has experienced in her more than 30 years of doing standup.
Rice will be appearing at 7:30 p.m. July 25 at the Red Lion Hotel in Wenatchee. It is actually the second time she has been in Wenatchee this year. She also took the stage at the Wenatchee Convention Center in March as part of Laugh Riot.
Next week's show, presented by Rotten Apple Productions, will also feature Art Krug, Rice's co-host on their podcast, "Stop Me If I've Heard This. (wwrld.us/2NVXr4l)
"The thing about getting as much mileage in this business as I have is I don't pull back anymore," Rice said. "I'm giving everyone the benefit of the doubt and I'm assuming they are going to give me the benefit of the doubt as well."
Rice, 67, lives in Portland and started doing comedy in the '80s in Los Angeles, she said. At that time she quit her job working at a bank to focus on comedy and tripled her income.
"The money hasn't changed very much in 36 years," Rice said. "When I quit my job in 1985, I tripled my income by starting doing stand up and that doesn't happen anymore."
The last time she was in Wenatchee was almost 15 years ago, she said. She and another comic got pulled over by a police officer when they entered the city.
"We got out of the ticket because we told the police officer that we were a mother son wrestling team," Rice said. "He laughed so hard he let us off."
She now does mostly one-night or corporate events instead of comedy clubs, she said. She spends a lot of time doing shows at wineries and is on the road quite a bit.
One of the biggest changes she's seen in recent years is the increase in hecklers, Rice said. More men are willing to shout things at her during shows than in the past.
"It goes along with the incivility that people feel they have the right to have now," she said. "People feel like they don't have to be nice. They don't have to be civil to people in line or in a crowd."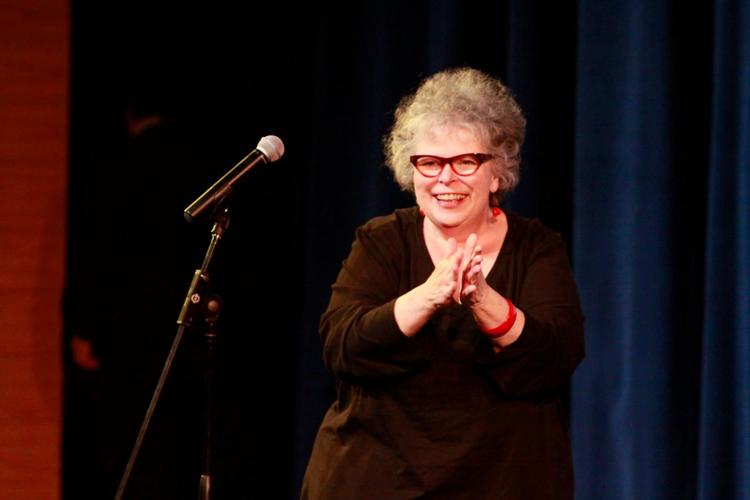 Rice wanted to emphasize that she does not make a point of creating controversy in her shows. Her comedy is more story based and she tells a lot of jokes about getting older. She reminds people of their grandma, aunt or another maternal figure.
It is a sign of the times that people feel more empowered to yell at comics, Rice said.
"It is a little more prevalent. You see it in driving, you see it everywhere. It is a sense of entitlement," she said.
One of the positives, though, is that the new, upcoming comics are more politically aware and engaged, Rice said. In the 1980s the comics were more delinquents who didn't want any responsibility.
"I'm amazed at the young comics coming up and how intelligent they are and how well read they are," she said. "They have a lot of principles and it is lovely."
Rice's nieces worry about her health with her travels and it hasn't gotten easier to drive to shows as she's gotten older, but she isn't slowing down, Rice said. Comics never really stop doing comedy.
"Comics don't tend to retire, they die," she said. "You don't hear about retirement parties for comics."