CASHMERE — Rock bands are historically notorious for infighting, ego clashes and bickering. But when four of five members are married to each other, who fights with who?
Husband and wife, obviously.
That's the scenario — and the joke — for Cashmere groove rock band Devil's Gulch and the Missionaries. The band is comprised of Jeremy and Jessica Tritt (rhythm guitar/vocals and vocals), Pete and Bre Hinkle (drum and bass/vocals) and Jacob Simms (lead guitar/vocals).
"I just stand in the corner and mind my own business," Simms said.
They kid about the dynamic, but in truth they consider it a strong point. The Tritts have been married for 20 years and have two kids, and the Hinkles have been married 17 years and have three kids.
"It's so neat because they already know how to deal with each other," Simms said. "And it's like being in a new band — everyone has to learn how to co-exist and these guys already know how to deal with each other because they've been in relationships for a very long time and they've made them successful."
Jeremy Tritt smirked and put it simply, "We've already learned how to fight."
It helps with the rhythm section, too.
"You want your drummer and your bass player to be tight, and when they sleep in the same bed every night that's about as close as they can get," Simms said.
"The way me and her work together shows through really well," Pete Hinkle said.
The band originates in more ways than one at Club Crow in Cashmere. The Tritts, between bands at the time, linked up with the Hinkles five years ago at the popular tavern.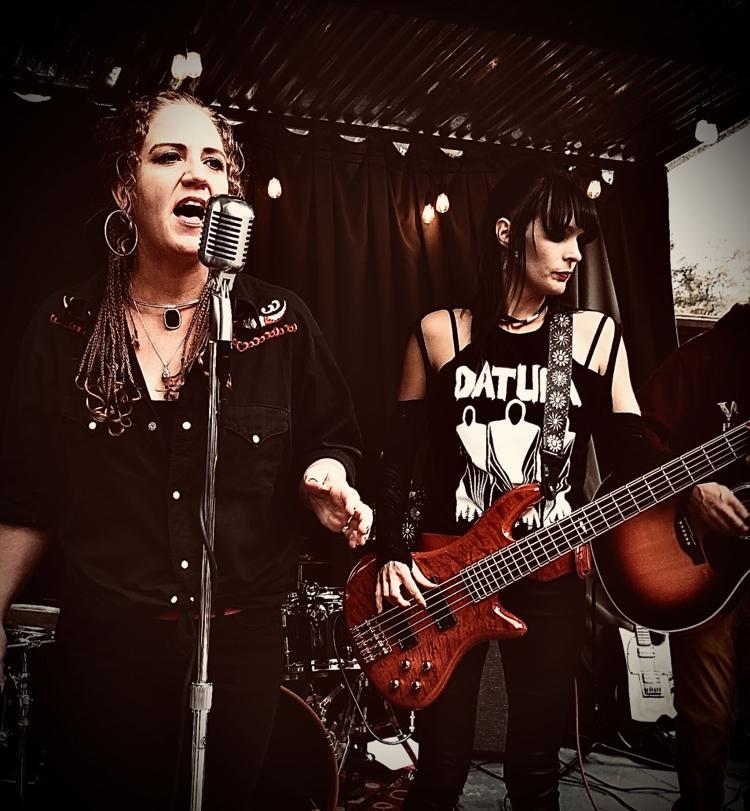 "It was pretty apparent from the beginning the stuff we were doing was a little different than what other folks were doing," Jeremy Tritt said.
Last year, they invited Jacob Simms, at the bar having a drink, to join them on stage. Simms had his guitar nearby because he'd played a show a few hours earlier.
"You get more gigs if you always have your gear," Simms said. "Pro tip."
Their sound reverberates from its members' deep mix of influences.
"You can definitely tell in our music that we play because within a 45-minute set, we'll hit six or seven genres," Jessica Tritt said.
Jeremy Tritt is "heavily" influenced by Sublime, and loves old-school country like Merle Haggard and Johnny Cash. Jessica Tritt is into bluegrass, jazz and blues, with a sweet tooth for '80s hair metal. Simms has played in heavy metal bands, but considers himself mostly a blues player.
"It's got a good crunchy drive to it, and it pretty much fits right into reggae; it fits right into the hard stuff we do — it's great," Jeremy Tritt said of Simms.
"That's why I love blues, because it's kind of already in everything," Simms said. "It's already there. You just kind of like dust off the top of it, go (blows) — there it is."
Hinkle prefers a jazz style of playing, with influences like Stewart Copeland of British rock band The Police, as well as '90s grunge.
Bre Hinkle wasn't able to attend an interview with The World last Friday.
"We should totally answer her questions completely off," Jeremy Tritt said.
The group jumped on the suggestion, taking turns voicing for Hinkle.
"I love classical music," Jessica Tritt said.
"Kenny G is my favorite," Simms said.
"Michael Bolton. I really like Michael Bolton," Jessica Tritt said. "I will give you 10 bucks if you put that in the article."
(Author's note: The World included this pro bono.)
For the record, Bre Hinkle's thing is punk. At least, according to her husband it is.
At a typical Devil's Gulch show, more than 50% of the band's setlist is original songs (they have almost 40) and the rest are unconventional covers of deep cuts.
Jeremy Tritt, a lover of stories, does the bulk of the songwriting
"I'm not about repetitive stuff," Jeremy Tritt said. "We like to spin a yarn, start a story off from the beginning and generally tell it through its end."
He's written one song from the perspective of a used car not wanting to be sold by its owner, and another about a Revolutionary War soldier who begins life in Ireland, fights in the war and then returns to Ireland.
Others range from jailbreak to public defenders and love songs and fight songs.
"Watching him is like sitting around a campfire and listening to somebody tell a story," Simms said of his songwriting bandmate.
The notion isn't far from reality. The Tritts built a new home recently with a huge porch specifically designed to allow them to play music outside. The overarching idea is to help keep the local music scene alive.
"We're trying really hard to hang onto the music culture and make sure that it stays here," Jeremy Tritt said. "And that we pass it on."
On Feb. 20, Devil's Gulch plays what they're calling the biggest show of their career when they take the stage at Club Crow to open for The Delta Bombers, a world-touring rock band based in Las Vegas. The show begins at 7 p.m. Tickets cost $10.
"This show … is kind of a culmination of our first big journey together," Jeremy Tritt said. Adding, "It's a big deal."
Simms noted, "It's worth being a little hungover Friday morning at work."
If you miss Thursday's show, the band will play Friday at Stein Leavenworth and Saturday at Icicle Brewing Co. in Leavenworth.