A painting sits on an easel while another leans up against the wall. A third is propped up on a collection of paint cans; several more are in rotation on the floor.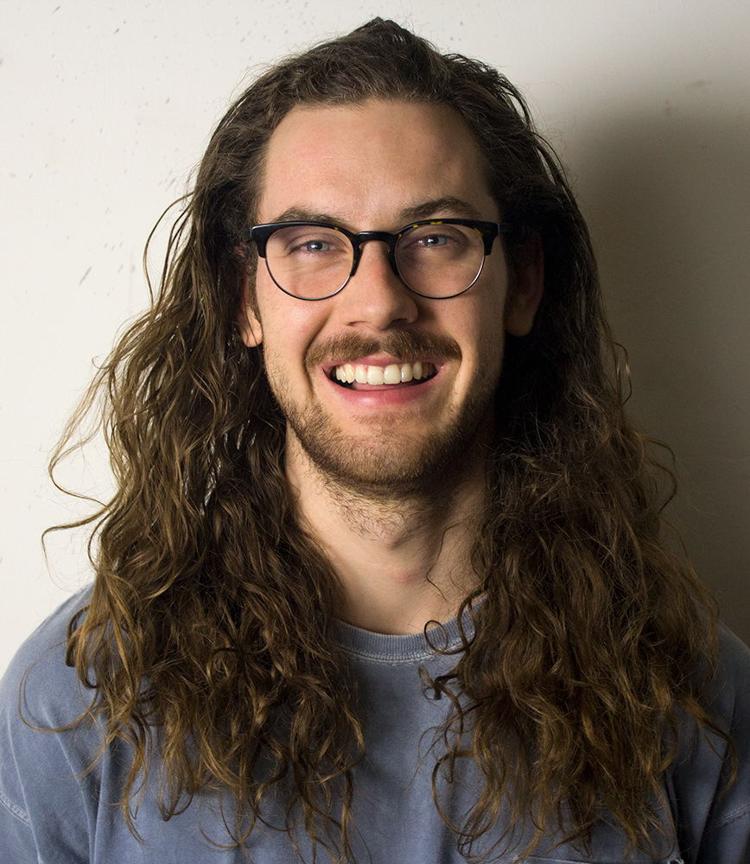 Nate Heinle, a Wenatchee artist whose paintings were featured in January at Wenatchee's Collapse Contemporary Art Gallery, stands in the middle, mixing colors. He places some paint on the canvas in front of him, and then a little more on another painting in a corner.
This is typical of how Heinle goes about his work — in fact, he generally has at least five paintings going at any given time. Working on multiple pieces simultaneously brings a cohesiveness to his art.
There is something incredibly human about Heinle's process. He struggles, just like all of us, to balance his work life and his art. His inspiration comes in fits and starts — as does his discipline.
"There will be a time you get to a point of almost manic obsession," Heinle said, "and you work on something really furiously. Then you let it sit for a while. It's really hard for me to accept the still moments in the creative process because I feel like I should be working all the time, but it's necessary to let things sit."
Heinle has been painting for five years. January's exhibit at Collapse Contemporary Gallery was his first solo show. He has several pieces remaining on display in the gallery this month and is planning to submit more pieces to the Leavenworth Bird Fest art show this spring.

His pieces are a swirl of colors: soft pinks, dusky grays and warm browns, with scattered pops of reds and oranges in between. He started with acrylic, but now Heinle also uses oil paint, as well as other non-traditional materials. Often, he will rip out pieces of old paintings and paste them to new ones. In one piece, a section of his dad's old bathrobe helps to create texture. In another, embroidery from a discarded lamp is assembled in the shape of a tree.
His favorite painting is a massive canvas decorated with several pairs of wandering feet.
"It's the first time I've planned out a painting," said Heinle. "Usually I just go for it. That's why some of them take three years to make. For this painting I did a lot of sketches in my notebook, drawing weird feet and then chaos all around it."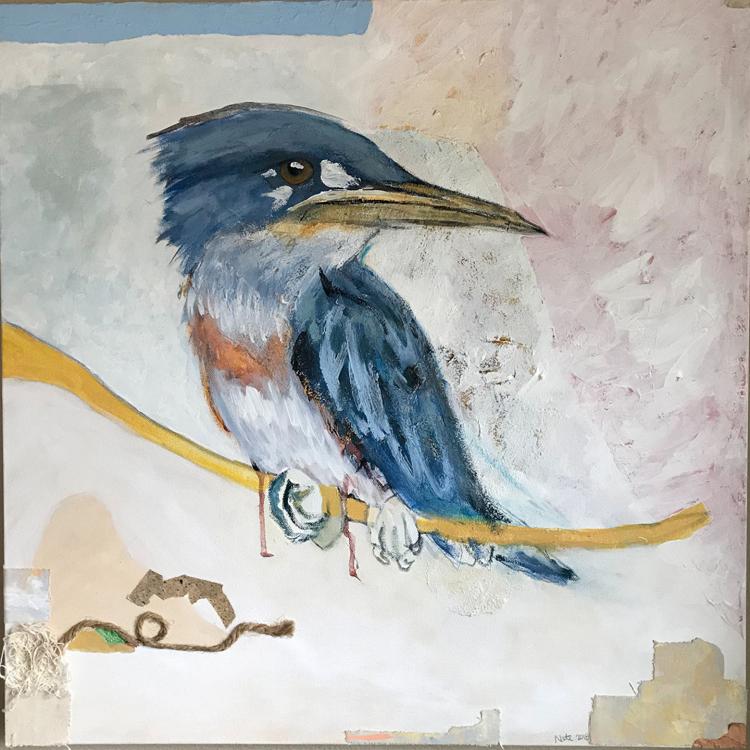 For the most part, Heinle avoids attaching too much narrative to his pieces, preferring instead to let his audience make what they will of his art. For the wandering feet piece, however, he has a sense of what he was trying to portray.
"I'm 26," Heinle said. "I'm very aimless right now. I have no direction, and so I thought maybe it would be a story about that. I'm going that way and it looks like it might be the right direction. I like how the first two are kind of plain, and then the second set has a bunch of different colors, maybe a hint or illusion to how things were drab and white before I started painting and now they have a little more color."
Finding the time and motivation to work on his passions isn't always easy. Even so, Heinle manages to keep his goals in focus.
"Painting is just something that I need to do," said Heinle. "I've told enough people that this is what I want to do; I've told myself that this is what I want to do, so you know you just kind of have to force yourself to do it."