The holiday fun is getting off to a quick start, with events for all ages. Here's a list of some of the community celebrations being planned.
Link Transit provides 'Letters to Santa' workshop
Link Transit has enlisted special scribe elves from the North Pole to assist young writers in crafting letters to Santa during a free workshop from 9:30 a.m. to noon Dec. 6.
The morning includes an opportunity to create a holiday centerpiece from fresh evergreens, treats and a ride on the Link bus to deliver the letters to the post office.
The trip is part of a series of free monthly tours designed for children and their caregivers seeking ways to explore interesting and fun destinations in Chelan and Douglas counties easily accessed from Link Transit's fixed-route system.
All tours begin and end at Wenatchee's Columbia Station and are designed to familiarize community members with public transportation.
Make gifts, see Santa, decorate cookies, sing at the museum
The Wenatchee Valley Museum & Cultural Center has two Santa-centric Saturdays planned.
The annual Christmas Family Fun Day is 10 a.m. to 2 p.m. Dec. 7. Admission is $10 per family or $5 for members. Tickets purchased at the door. Children of all ages can make handmade gifts and crafts, including ornaments, refrigerator magnets and other decorative items, enjoy holiday treats and get their photo taken with Santa.
On Dec. 14 is the Ugly Sweater, Cookie Decorating & Sing-Along Party from noon to 2 p.m., a new event this year. Decorate holiday-themed cookies while showing off your ugly sweater. Prizes will be awarded for the ugliest sweater. Visitors can enjoy singing along with Dave Gellatly as he performs Christmas carols on the 100-year-old Liberty Theater Wurlitzer Pipe Organ. Santa will also take a break from his busy workshop to join the fun. Admission is $2 for adults, free for kids. Pre-registration is required and can be made online at wenatcheevalleymuseum.org or by calling the museum at 888-6240.
Wings 'n Wishes includes tree lighting, Santa
East Wenatchee's Wings 'n Wishes Christmas Tree Lighting celebration starts at 6 p.m. Dec. 5 at East Wenatchee City Hall, 271 9th St.
The event includes free activities for the whole family including caroling, the arrival of Santa on a firetruck, an opportunity to write a letter to the man in red or read a story with Mrs. Claus at the East Wenatchee Library. Sip some hot chocolate and enjoy some cookies.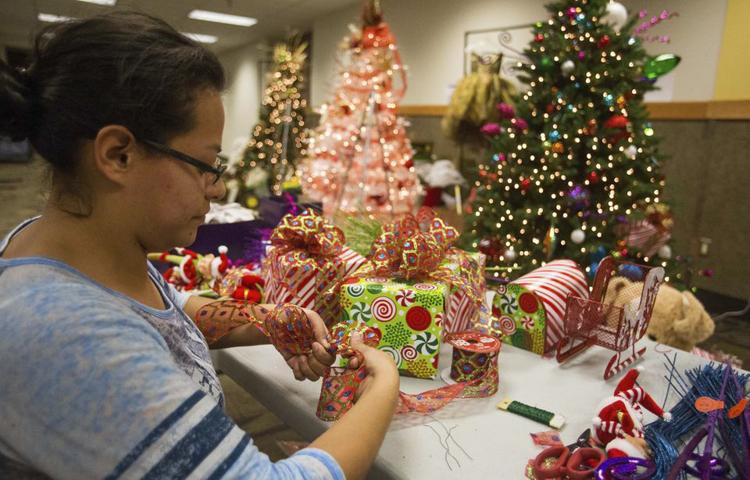 Festival of Trees brings decorations, good deeds
Numerica Performing Arts Center annual fundraiser, the Festival of Trees, from Dec. 5-7, includes decorated trees and wreaths and a weekend packed with events at the Stanley Civic Center.
The public is invited to check out the community-decorated trees and wreaths of all sizes displayed upstairs in the Stanley Civic Center. The event includes a silent auction on the displays. The doors open at 10 a.m. each day.
Special events kick off with two "Holiday Spice" variety shows featuring local performers at 7 p.m. Dec. 6 and 1 p.m. Dec. 7. The 2019 Stanley Lifetime Achievement recipients also will be recognized at each of the performances. Tickets are $27-$33 with discounts for seniors and students.
The Little Black Dress Party is at 8 p.m. Dec. 6 at the Wenatchee Convention Center, touted as the premier ladies event of the season. Women can enjoy a night of dancing, giveaways, cocktails and more! Must be 21 or older to attend. Tickets are $35.
The annual fundraising dinner and live auction at 5 p.m. Dec. 7 is also held at the convention center. It includes special auction items, live entertainment by Wenatchee Valley Symphony Orchestra. Tickets are $75 or $700 for a table of 10. For information, call 663-2787 or go to wenatcheefestival oftrees.org.
Santa, fireworks, music and more during month of festivities
The Historic Downtown Chelan Association's Small Town Christmas kicks off Friday and runs through Dec. 24. The month-long lineup includes a parade of lights with Santa in the fire truck starting at 6 p.m. Friday, leading to the tree lighting ceremony and then fireworks and bonfires at Riverwalk Park. On Saturday, have breakfast with Santa, see L-Bow the Elf and more. More events are planned. For a detailed list, go to historicchelan.org.
Community Christmas event includes crafts, singing and Santa
Cottage Avenue between Aplets Way and Woodring Street will be closed from 10 a.m. to 4 p.m. Dec. 7 for Cashmere Chamber of Commerce's Christmas in Cashmere events including a complimentary warm beverage, holiday treats, kids craft stations, live entertainment and Christmas themed photo opportunities. Santa and Mrs. Claus are expected to be on hand from 12:30 to 2:30 p.m.
Parking for the event will be available at the city lot by Cashmere Baptist Church and in the public lot on Elberta Street. For details go to wwrld.us/cashmerechristmas.
Christkindlemarkt, lantern parade starts the season
The day after turkey day in Leavenworth is the annual Bavarian-style Christmas market, Christkindlemarkt, an event that expands from the Leavenworth Festhalle to Front Street Park.
See authentic Bavarian foods, handmade arts and crafts and other gifts, and family-friendly, Bavarian- and Christmas-themed entertainment from 11 a.m. to 7:30 p.m Friday, 10 a.m. to 7:30 p.m. Saturday and 10 a.m. to 3 p.m. Sunday.
The Lantern Parade is part of the fun at 5 p.m. Friday and Saturday. It starts at the Leavenworth Festhalle and includes all children and parents who want to participate. Mr. and Mrs. Santa Claus lead the parade through the streets to the gazebo, where the Christkindl will welcome one and all.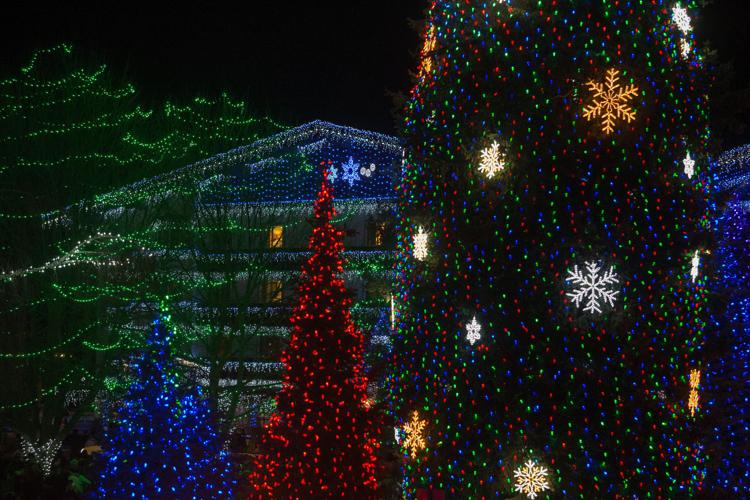 The following three weekends in Leavenworth is the annual Christmas Lighting, Dec. 6-8, 13-15, 20-22. For details, go to leavenworth.org.
Methow Valley celebrates Mistletoe Madness
The Mistletoe Madness events start at 4 p.m. Dec. 5 in downtown Twisp.
Santa will roam from 4 to 5 p.m. before hopping on a real horse and carriage to fly down to Hank's Harvest Foods, where the community can enjoy food, a firepit and holiday photos.
Free horse-drawn carriage rides are planned — stops are marked by the large candy cane poles and hotspot fire pits — along with holiday carolers, lots of shopping and good cheery.
Watch for the Art Market at the River Bank Building from 4 to 7 p.m., followed by an Ugly Sweater After Party from 7-11 p.m.