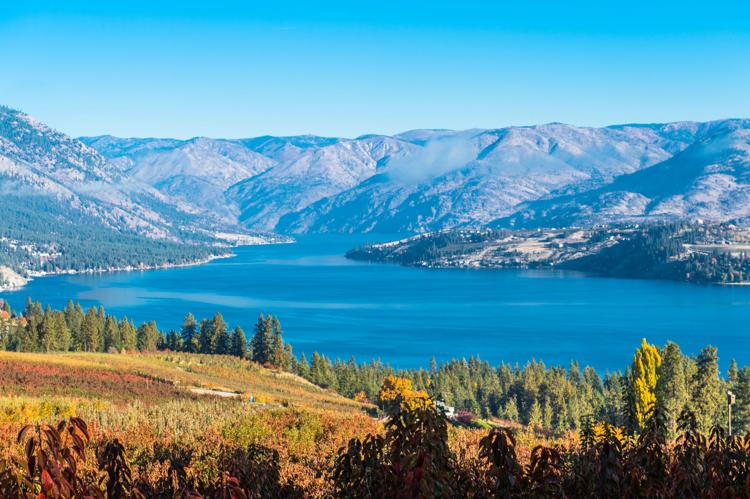 To celebrate Lake Chelan's 10-year anniversary of its official designation as an American Viticulture Area (AVA), the Lake Chelan Wine Valley and members of the Lake Chelan community will join forces to host Vintage Lake Chelan, the first multi-day event of its kind, June 7-8.
At Vintage Lake Chelan, guests will have the opportunity to taste delectable wines made from one of Washington state's most exciting AVAs, as well as experience a variety of wine-themed educational and social events throughout the weekend.
"Over the last decade, the Lake Chelan AVA has seen tremendous growth and has made a significant impact on the Washington state wine industry and tourism as a whole," said Mike Steele, executive director of the Lake Chelan Chamber of Commerce. "We are thrilled to partner with the Lake Chelan Wine Valley to host a multi-day event of this caliber in our region."
The weekend event schedule is as follows:
June 7: The weekend will kick off with a welcome reception from 6 to 8 p.m. at the Lake Chelan Chamber of Commerce and Visitors Center, 216 E. Woodin Ave. Attendees will have the opportunity to sample delicious bites and taste a selection of wines and bubbles, produced by the top wineries in the Lake Chelan region, such as Hard Row to Hoe Vineyards, Karma Vineyards, Nefarious Cellars, Rocky Pond Winery, Tsillan Cellars, Tunnel Hill Winery and WineGirl Wines.
June 8: The final day of Vintage Lake Chelan will feature two tasting seminars, led by representatives of the Walter Clore Center, and one grand tasting event. All three tasting events will take place at Larc Hill Vineyard Ranch, 3795 Highway 97A, Chelan.
"The Pioneers of the Lake Chelan AVA," 10 a.m. to 12 p.m. Hear and taste from those who had the vision for the Lake Chelan Wine Valley and Lake Chelan AVA, including Alan Busacca, the geologist who studied the region and filed the official petition for the Lake Chelan AVA. Other panelists include Bob Broderick of Chelan Estate Winery, Judy Phelps of Hard Row to Hoe Vineyards, Heather Neff of Nefarious Cellars, Steve Kludt of Lake Chelan Winery and Larry Lehmbecker of Vin du Lac Winery.
"Lake Chelan AVA — A Balancing Act from North to South," 1:30-3:30 p.m. Attendees will take a deep dive into the most extensively planted varietals on both the north and south shores of Lake Chelan, including Riesling, Chardonnay, Pinot Noir and Syrah.
To close out the weekend, a grand tasting celebrating the food and wine of the Lake Chelan Wine Valley will take place from 7 to 9 p.m., with a VIP hour from 6 to 7 p.m. Ancestry Cellars, Cairdeas Winery, Lake Chelan Winery and Rio Vista Wines will also be among the 20-plus wineries pouring at the grand tasting event. Additionally, Dry Lake Vineyards will showcase wines made with grapes grown in its vineyard on the north shore of Lake Chelan. Newcomers to the Lake Chelan Valley, The Meat Shop and KáVé Roasters & Bakery will be among a handful of restaurants serving their fare.
Lake Chelan became the 11th AVA in Washington State on May 30, 2009. This designation is an appellation of origin granted by the federal government, and signifies an area with unique climate, soil and physical features that distinguish it from surrounding areas.
Due to the ice age glaciers that formed Lake Chelan, the soil surrounding it has distinctive properties such as coarse, sandy sediment with notable amounts of quartz and mica. The result is grapes with discernable textures, minerals, and nutrients.
The AVA is also distinguished by a significant "lake effect" that creates mild and favorable temperatures for surrounding areas, resulting in a longer growing season and a reduced risk of frost.
The Lake Chelan AVA encompasses the southernmost and easternmost areas of the lake and the surrounding land at or below 2,000 feet in elevation. It begins with the town of Chelan and continues up-lake for 12 miles.
Pricing for single-day and weekend passes range from $45 to $275 (excluding taxes), and can be purchased online at eventbrite.com. For more information on the Lake Chelan Wine Valley and up-to-date event details, please visit vintagelakechelan.com.
Lacey Lybecker is co-owner of Cairdeas Winery and committee chairwoman for Vintage Lake Chelan. Mike Steele is a state representative for Washington's 12th District and executive director of the Lake Chelan Chamber of Commerce.