WENATCHEE — With their three-day eviction notice expired and extended a day, residents of the George Sellar Bridge homeless camp on Monday dismantled their small community.
"Find another spot, man," said Glenn Wilson, the camp's volunteer manager. "That's all you can do."
The camp was raised in September on an otherwise unused state Department of Transportation lot on the 1200 block of Columbia Street near the Salvation Army Social Service Office and grew to about 40 people.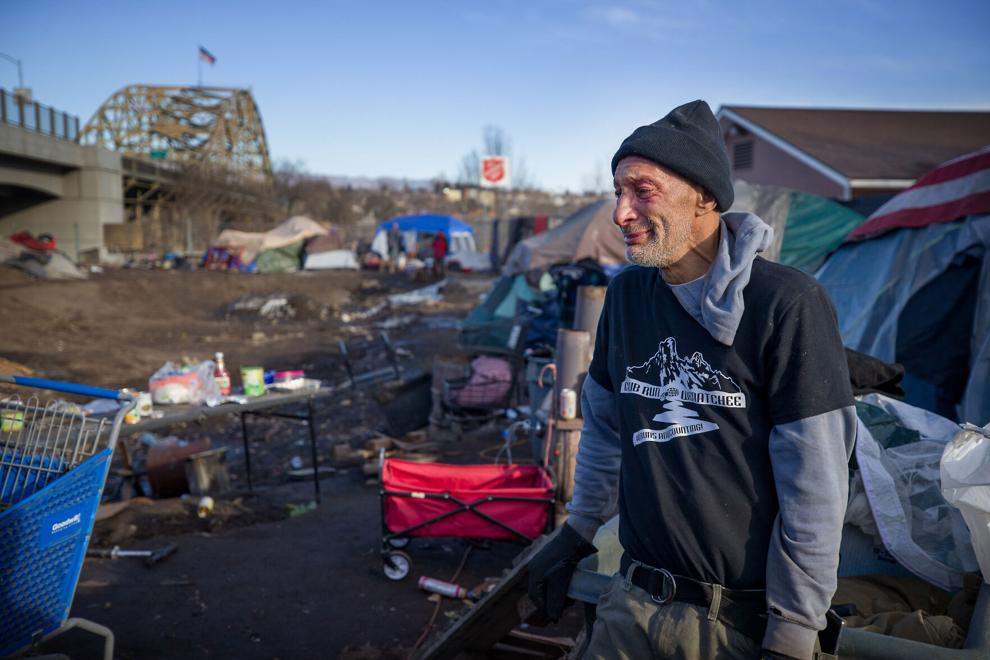 The state on Thursday gave the residents a 72-hour notice, citing complaints from BNSF Railway of trash and debris on the railroad and a damaged electrical service box that provides lighting to the Sellar Bridge.
The rumor filtering through camp Monday was that state Transportation officials were bringing in the National Guard on Tuesday. David Bierschbach, the state agency's North Central region administrator, dispelled the notion in an email and clarified that the Washington State Patrol would provide security for Transportation employees cleaning up the camp remains.
Wilson was initially defiant of the order, saying they weren't leaving until provided permanent housing, but was resigned Monday to the inevitable: he and his neighbors were back on the streets.
"I don't like being told to have to move every 24 hours by the law," Wilson said, explaining that prior to the camp he was only allowed by authorities to have a tent in place from 6 p.m. to 6 a.m. "I'm not trying to give them a hard time. They gotta do what they gotta do too."
Some, like Christopher Leblank, were distraught.
"This is all we have right here," Leblank said. He doesn't know where he'll go next.
That's a big problem, Wilson said.
"You have 50 homeless people here — where are they going to go?" Wilson asked. He added, "They'll be back under the bridge."
Another resident, Chris, who did not provide his last name, said he's going to "back to the rock I crawled out of" on the bank of the Columbia River.
"So, the rest of the world has a home they got to treat us bad? That's ungodly, that's un-American. Put that in quotations: 'This is un-American.'"
Chris said he has been homeless for more than a decade.
Wilson isn't sure where he'll go either.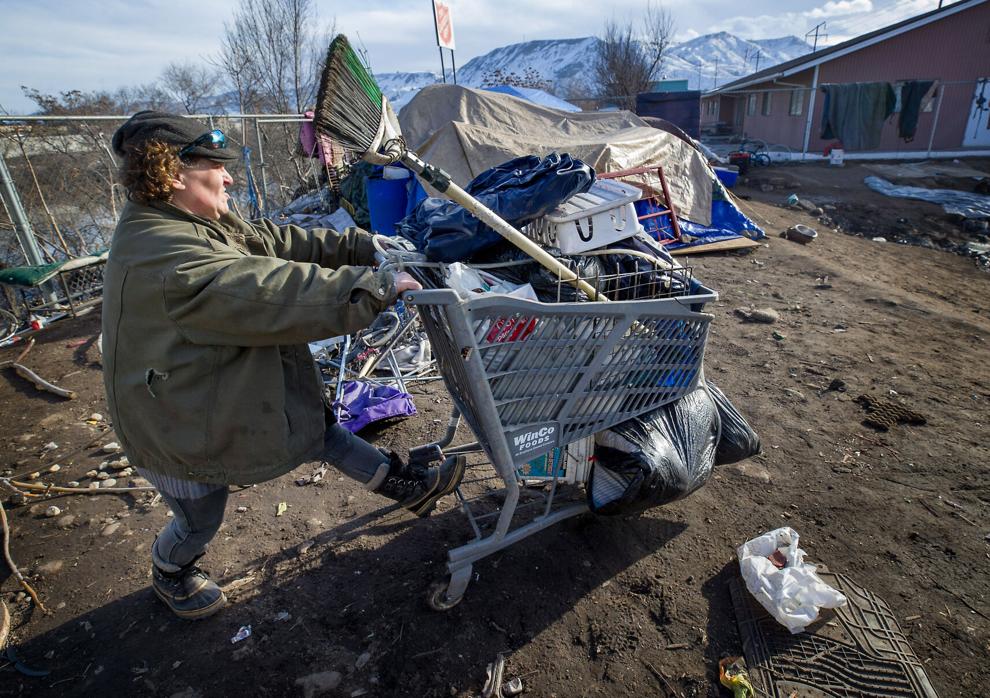 "You know, I got to jump on my bike tonight; find a spot," Wilson said.
To Leblank, it's another defeat.
"And we're losing it. Again. We're getting kicked down hill. You can't get nowhere," Leblank said.
Many people seem likely abandon much of their belongings because they have no place to store their items, especially on short notice.
"You just don't kick nobody out in 72 hours, man," Wilson said. "I've been here five months."
Wilson was one of the camp's first residents and has worked to keep it clean.
He estimates he's hauled 30-40 bags of garbage up from the railroad tracks and river bank and said state Transportation officials told him to leave the garbage outside the camp for them to pick up. His experience with the state agency has left him soured.
"They didn't keep their word with me. They said I wouldn't have to move from here," Wilson said. "I've been here five months. Never had any problems."
Wilson said the camp has policed itself and its residents aren't committing crimes.
"The worst we did was take pallets for wood," Wilson said. "To burn the wood to stay warm."
That's not to say there weren't exceptions.
On Friday, Wenatchee police officers arrested a 35-year-old man at the camp in connection to outdoor gear equipment stolen recently from Run Wenatchee.
Wilson distanced himself and the camp from the man, stating he'd only stayed at the camp for four days and that he told the man to leave on Thursday.
"It is what it is — but it wasn't us," Wilson said.
The camp has been home to dark episodes, too — Wilson estimates he's helped resuscitate a half-dozen people suffering from an overdose — but it's helped others find redemption. Like Leblank.
Leblank recently completed parole and is trying to turn his life around. He said he's off drugs and is staying out of trouble. He attributes the turnaround to the community he found at the camp, in particular Wilson, who pushed him to be better.
"If it wasn't for this man, I'd be dead," Leblank said of Wilson.
On Monday, Leblank was visited at the camp by officials with the state Department of Children, Youth and Families. They came to tell him they'd restored his visitation rights with his 2-year-old son. He hasn't seen the boy in six months.
"I want to show my son that I can do it," Leblank said. "I'm not going to lose that."