WENATCHEE — Wenatchee officials say a homeless camp on South Columbia Street would likely be disbanded if a low-barrier shelter is built nearby.
The city, in partnership with East Wenatchee, plans on building a low-barrier shelter next year. The shelter would be funded through a one-tenth of 1% sales tax increases the cities passed earlier this year to fund housing projects.
The proposed location for the shelter is directly across from a 30-person homeless camp currently on property owned by the Washington State Department of Transportation.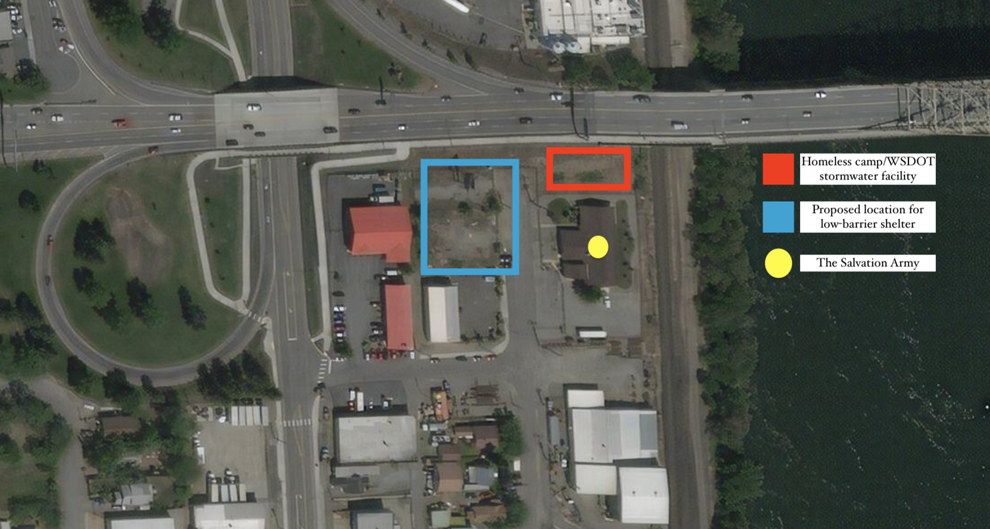 Wenatchee Community Development Director Glen DeVries said the city is working in partnership with WSDOT; the state agency's current directive is not to remove individuals from its property unless they damage the property or pose a public safety risk.
"Where people have the tents now is a stormwater facility; it is not a vacant lot," DeVries said. "So it's ultimately not an appropriate place to put tents."
Should the low-barrier shelter be built in the proposed location, DeVries said WSDOT has indicated it would put up fencing around the stormwater facility that would cut off entry.
He said WSDOT would also help fund fencing around the low-barrier shelter so that access is limited to a single point. The current proposal for the low-barrier shelter would also use the right of way in between the shelter and the Salvation Army.
"We want people to have a positive experience there, where they can get out of their point of crisis and have a safe place to be in the evening and have it be safe for surrounding uses as well," DeVries said.
He emphasized that the cities are still in the discussion stage with Salvation Army, which owns the property of the proposed location.
WENATCHEE — Glenn Wilson doesn't have a job in the traditional sense of the word, but the work he does is making an impact for many in the hom…
Capt. Edgar Reinfeld of the Wenatchee Police Department said since the WSDOT is no longer having police remove individuals from its properties, it's hard to tell whether having the low-barrier shelter would eliminate the need for the camp.
"It may not change anything, but case management might, which is a huge part of the low barrier," he said. "Those who don't want to be talked to by case management might get sick and leave. But what we've seen anecdotally (is that) case management works."
Mayor Frank Kuntz said city staff are currently aware of the camp and looking at options; the camp's fate, he said, is ultimately dependent on how the Washington State Department of Transportation wants to handle its property.
"At some point, to trespass them off of that, would require the state to do something. And I don't know exactly where that's at," he said. "I would envision that those tents wouldn't be there if we had a low-barrier shelter there, but I'm just speculating that would be the case."