Wielding a large wooden spoon and perched on a step-stool, Larissa Victoria watched over pots of boiling chicken and pork, hominy and a green sauce.
The four pots make up a signature dish for the local chef: pozole.
It's a meal that Victoria, a 48-year-old resident of Rio Rico, grew up eating and has cooked for her own children for years.
It's also a staple of her fledgling catering business and central to her dream of one day opening her own restaurant.
As a child in Nogales, Sonora, Victoria said, pozole was a connection to her father's family, from Ometepec, Guerrero.
Her father, who died several years ago, was the only one of his siblings to leave Guerrero, coming to Nogales, Sonora to work as a customs officer.
On occasions like his birthday, Victoria said, her father would ask his wife to make pozole for family, friends and colleagues.
"My mom would make the pozole so I learned from her, watching her," Victoria said.
When Victoria had kids of her own, pozole remained a household favorite.
Her three children, now 23, 22 and 17, all live with her and enjoy the dish.
Her eldest, Jose, got the first bowl when she demonstrated her technique on Nov. 22.
He took a bite, chewed, and gave a thumbs-up sign of approval.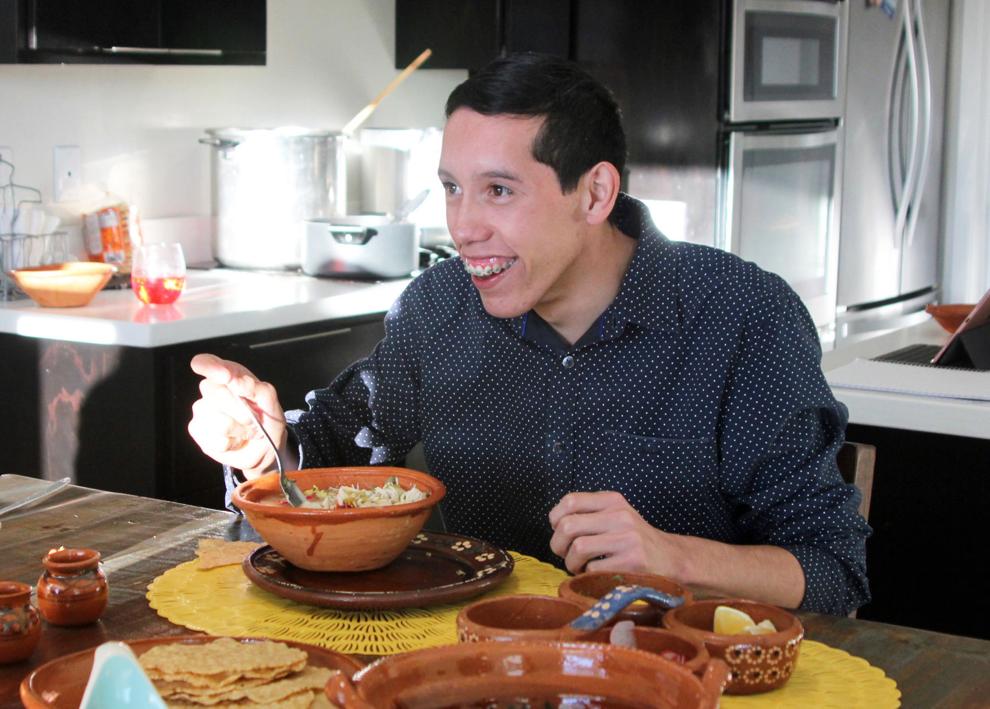 Pozole is a rich, heavy soup with origins dating to the pre-Columbian era – the name comes from a Nahua word and historians say the dish was prepared by Aztecs with a certain meat that wouldn't appeal to modern sensibilities.
Today, it's a popular meal during the cold winter months and is often prepared for family gatherings around the holidays.
The soup comes in three basic styles – blanco, rojo and verde – all with a base of meat, hominy and broth.
Blanco is the simplest version, a no-frills soup with soft hominy kernels and tender chunks of pork or chicken, simmered with onion and garlic until the meat almost melts into shreds.
Add a chile-based red sauce and the soup becomes pozole rojo.
A pozole verde is made by adding a tomatillo-based green sauce.
Victoria sticks to the blanco and verde styles because they are more common in Guerrero, but she's made some concessions to practicalities.
To please a variety of tastes, she keeps the ingredients separate and fills bowls first with hominy and broth, then chicken or pork, and, optionally, the salsa verde.
And while pozole purists would say that corn kernels should be soaked and cooked – nixtamalized – as part of the process, Victoria saves time by picking up pre-cooked hominy at Garrett's Supermarket in Rio Rico.
But she also seeks out pozole made a more traditional style.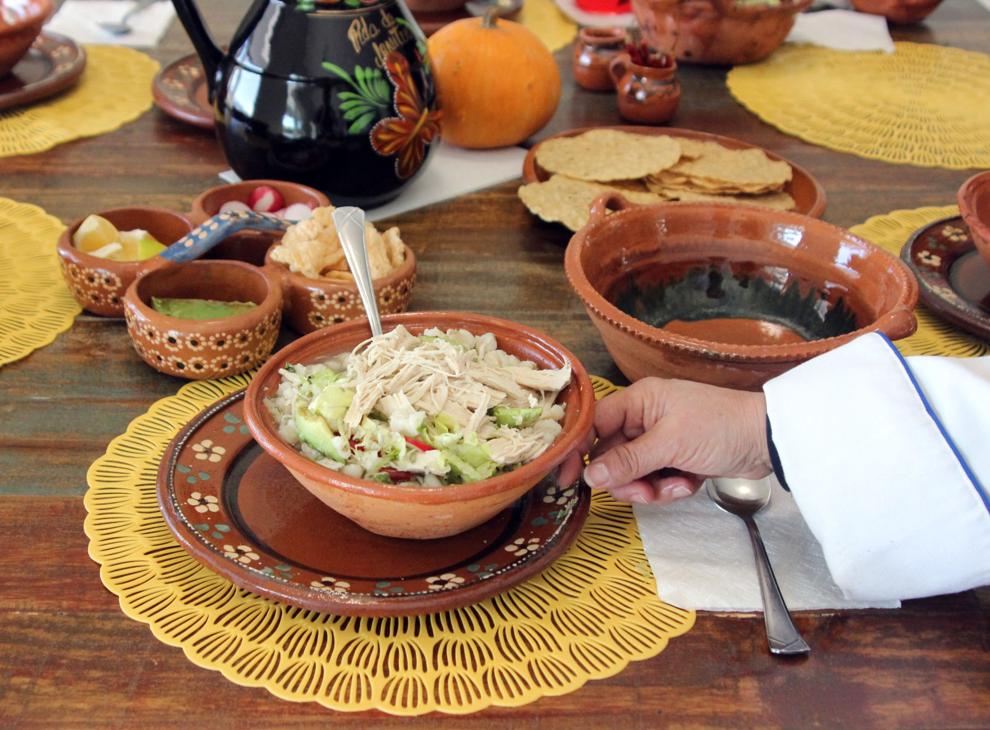 Two years ago, when Victoria took her kids on a trip to the coastal city of Acapulco, Guerrero, she brought them to a local pozoleria.
"Mom, it tastes like yours, but a little spicier!" they told her.
While cooking was always a passion, Victoria spent most of her career in a different industry.
She studied communications at the University of Arizona and eventually worked 17 years for the popular Nogales, Sonora AM station Radio XENY while living in Rio Rico.
It wasn't until 2012 that she turned her attention to cooking professionally.
That's when she signed up for a gastronomy program at the Universidad CEUNO in Nogales, Sonora. At the time, it was the only local school offering a culinary degree.
Classes were on Saturdays and it was hard work – she'd often be at school from 7 a.m. to 10 p.m. – and most of her classmates were in their 20s and 30s.
The assignments weren't just about kitchen work. Once, she had to transform a classroom into a burlesque club with drinks and hors d'oeuvres.
Her biggest project was to design and, for one day, operate a restaurant serving her choice of cuisine.
The decision wasn't hard: she made a pozoleria.
For the project, Victoria reached out to other relatives who had carried the family pozole tradition outside of Guerrero.
Her cousin, Estela Victoria, started a pozoleria in Mexico City about a decade ago.
Estela's restaurant goes to serious lengths to provide an authentic Guerrero style: all their ingredients are sourced from Chilpancingo, the state capital.
So Larissa went to visit, watching their process and taking notes.
Back in Nogales, she prepared her project, setting up a small gazebo for the location and hiring a musician to play marimba.
The pop-up restaurant was called "La Cuchara Loca," or "The Crazy Spoon."
"I used this big spoon for the pozole," Victoria explained, "and everyone thought I was crazy in school, because I was really wild and I was making jokes in the kitchen and laughing."
Victoria got her degree in 2017 and, since then, she's started building a business.
She estimated that she's catered about 15 events, some for as many as 200 people, serving pozole and other dishes.
Now she's hoping to open a pozoleria locally, or perhaps in Tubac.
She'd also like to collaborate with her friend Miriam Mondragon, who ran the former Grand Avenue restaurant El Taco Boy.
In the meantime, pozole is a good excuse for the two friends to get together.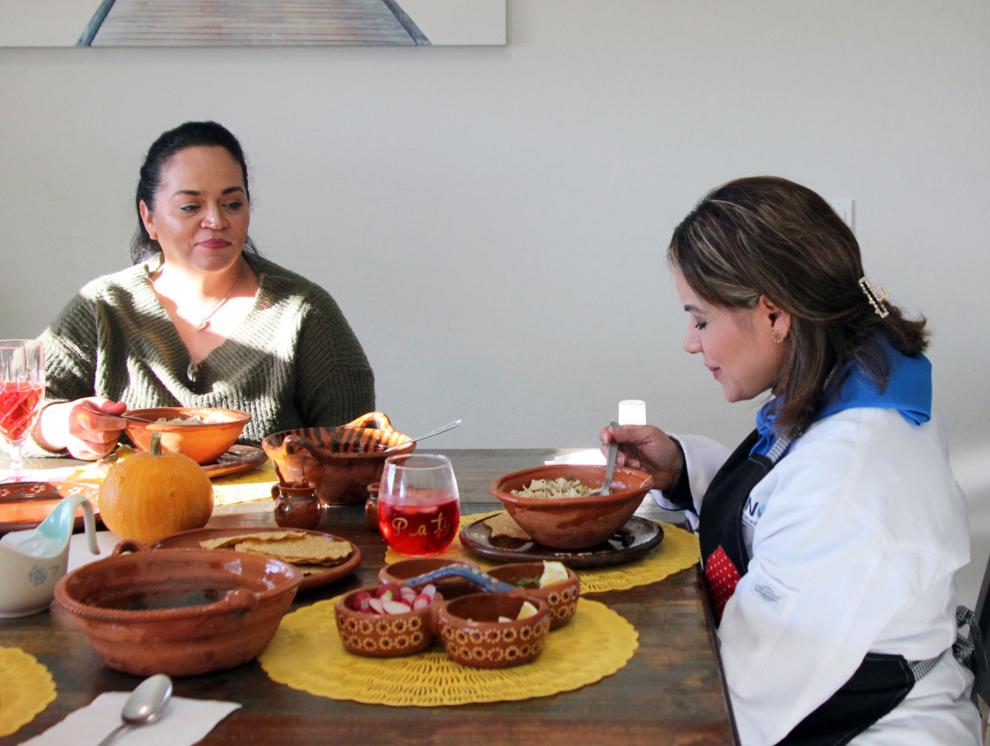 On Nov. 22, she was at Mondragon's house, setting out bowls for both women's families as well as some friends.
And Victoria thinks her dad would be happy to see her cooking one of his favorite dishes.
"He would be really proud," she said.
---
(Larissa Victoria uses an online recipe to guide her cooking.)
1 kg. (2 lbs.) hominy, pre-cooked
1 kg. (2 lbs.) meat (pork or chicken)
1 head peeled garlic
1/2 onion
2 cups lettuce, shredded
4 sliced radishes
2 avocados
1/2 can sardines in tomato sauce
1/2 chopped onion
2 lemons or limes
Chiltepino
Oregano
Chicharron
Tostadas
250 grams (1/2 lb.) tomatillos
100 grams (1/4 lb.) pumpkin seeds
1 cup cilantro
1 cup lettuce
1/2 cup radish leaves
1 chile poblano
1 jalapeño chile
2 laurel leaves
1 tablespoon oregano
1 teaspoon cumin
3 cloves garlic
1/2 onion
Crush the garlic with onion in a little water.
In a very large pot, put pre-cooked hominy, garlic and onion mixture, and add plenty of water.
Bring water to a boil, cover and cook for at least two hours, until the meat is tender and the hominy soft.
Remove meat and cut into small pieces, season as desired.
Serve the meat over the hominy and broth. Add garnishing as desired.
Roughly chop the tomatillos, cilantro, lettuce, chile poblano, jalapeños, garlic, and onion.
Combine all ingredients in a blender or food processor, mix until smooth.
Heat in a saucepan before adding to pozole blanco to make pozole verde.
Salt to taste