Nothing says fall like the tangy-sweet flavor of apples. Sure, apples are good any time of year, but they even better when they are seasonal and fresh — be it baked into a pie or blended with mulling spices into a hot drink. Whether you picked them off a tree or the grocery store shelf, here are 15 things to do with your apples this fall.
Savory
Why have plain-old coleslaw when you can have apple slaw instead? The tartness of apples complements the slight bitterness of cabbage and the tang of vinegar perfectly. Try it in tacos or as a side dish and paired with pulled pork.
Apples are the perfect choice if you want to add a hint of sweetness to your salad. Don't be afraid to get creative. Try cheddar or feta cheese, walnuts, cranberries or bits of bacon. Chicken and pork are great protein choices. Drizzle some sweet or savory vinaigrette on top and sit down to enjoy your masterpiece.
You've probably roasted potatoes or other veggies to go with your dinner, but why not try roasting apples instead? For a savory dish, try combining olive oil, garlic, onions and sweet potatoes with a firm variety of apple. Toss the mixture in a pan and season with salt and pepper before putting it in the oven.
Apples in sandwiches might sound crazy, but it really makes for a perfect combination. Try a twist on a classic peanut butter and jelly by swapping your jelly out for a few apple slices (thinly sliced). Alternatively, use apple slices to jazz up your meat and cheese sandwich. Try sharp cheddar cheese, lettuce and turkey, ham or bacon. For bread, multigrain or sourdough works best.
Sweet
What would a list about apples be without apple pie? This dessert is a classic for a reason and if you have extra apples on hand and a little bit of time, why not consider baking one? A basic pie is easier than you'd think. Simply mix together apple slices, sugar, cinnamon, nutmeg, salt and a little bit of flour in a bowl. Pour your mixture into a pie crust, pop it in the oven, and you are done!
Homemade applesauce is easier than it sounds, and tastes much better than the store bought kind. To make it, simply dice some apples and toss them in a crockpot for the day with about ½ a cup of water. Add sugar and cinnamon to taste. Peeling the apples beforehand isn't necessary, but it does improve the texture. For an even creamier applesauce, blend with an immersion blender after cooking.
Canning is a bit of a learning process, but apple jelly is a great place to start. Apples contain natural pectin (a thickening and gelling agent used in jellies), which means apple jelly can be made with only two ingredients — apples and a sweetener like sugar or honey. You can also make apple butter, jam or preserves. Canning is a great way to preserve your apples when you have more than you can eat.
Speaking of preserving apples, making apple chips is another way to make sure those extra apples don't go to waste. If you have a food dehydrator, apple chips are super easy. If not, apple chips can also be made in the oven. Sprinkle some cinnamon over your apples before drying for an extra special treat.
Want something even sweeter? Apples go great with caramel! Use it as a dip for sliced apples, or place a whole apple on a skewer and coat it in caramel, then set it aside to let the caramel harden.
Drinks
There's nothing quite like freshly squeezed apple juice. If you have a juicer, the process of juicing apples is really quite simple — simply toss in the apples and let your juicer do all the work. Without a juicer, the process is a bit more labor intensive, but still well worth the work. To do so, the apples must first be cut and boiled. Then they should be placed in cheese cloth and pressed until all the juice is squeezed out. The leftover pulp can be tossed or used to make fruit leather.
If you are looking for a new hobby, hard cider is easy to make from home. All you really need to get started is apple juice — both homemade and store bought work fine — yeast, and time. From there you can toy with the process and recipe until you've crafted a brew you can be proud of.
A steaming cup of mulled cider is an ultimate comfort drink. While you can simmer a stockpot on the stove, a crockpot works even better. To start, fill your crockpot with fresh-squeezed juice (store bought or homemade), then add your spices. Typical mulling spices include cinnamon, nutmeg, cloves and ginger, but feel free to experiment. Tie up your spices in a cheesecloth bag to avoid having to strain your cider later. Finish up by setting your crockpot on low and leaving it to cook for around 4 hours.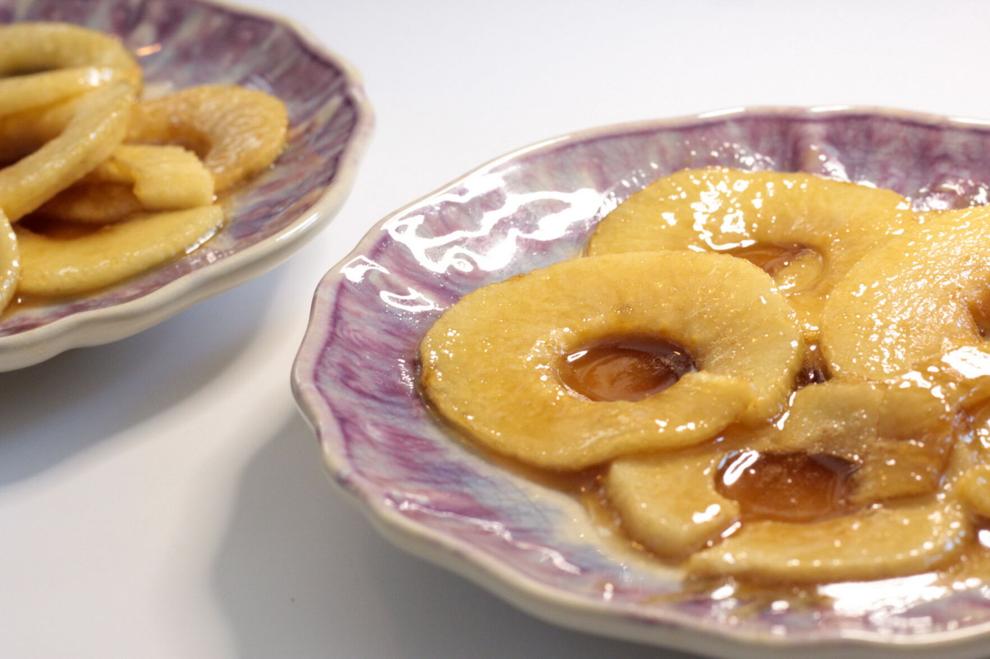 Recipe
This simple, sweet treat is a favorite from an old family cookbook. Eat as a breakfast side or on its own.
• Melt ¼ cup butter and ¼ cup brown sugar in a skillet over low heat.
• Add four ½-inch thick apple slices (rings with the core removed) and fry on both sides until rings are coated with syrup and tender. The apple rings will puff up while cooking.
Tip: Best served with eggs, sunny-side up!