Jan Burke warned me when I called to set up an interview with the family's Burke Vineyard Winery.
"We're not a big winery with a fancy tasting room. We're hay growers with a vineyard," she said modestly.
She needn't have been so humble. Burke Vineyard wines speak for themselves. At least they did at the 2021 North Central Washington Wine Awards. The young winery's 2015 Syrah was a Gold Medal winner and named Best of Class, Best Red Wine and Best of Show (reds and whites) among nearly 250 wines in the annual competition. The three other wines entered — a 2014 Cabernet Sauvignon, 2015 Cabernet Sauvignon and 2015 Malbec — were all Silver Medal winners.
"It was the first time we ever entered a competition," Jan said when I shared the results with her husband Terry.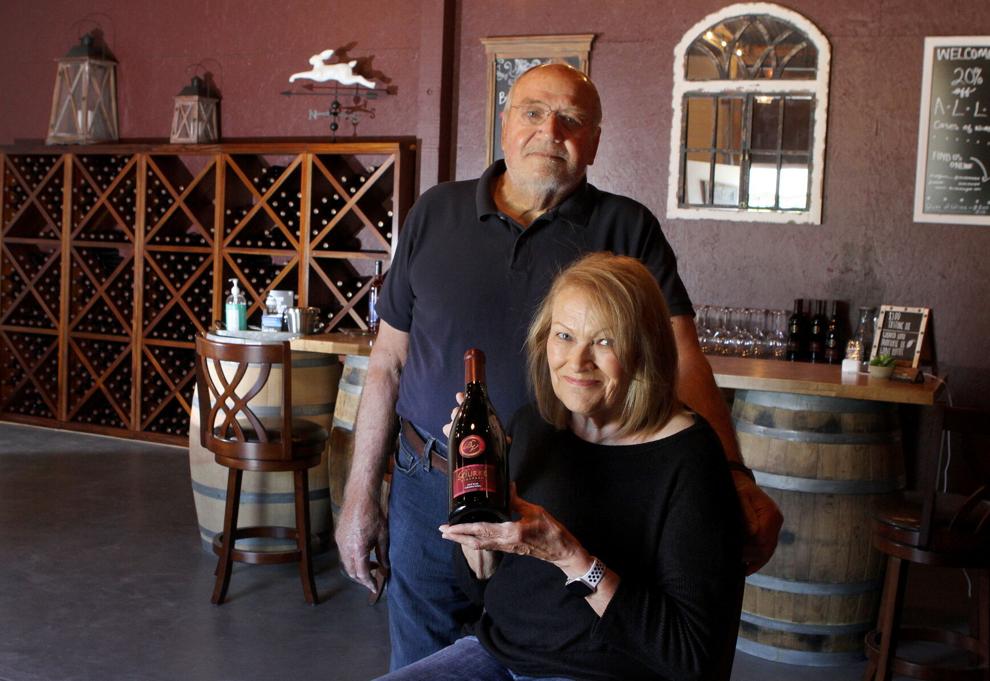 Burke Vineyard is, indeed, off the beaten path of most winery tours. Turn off I-90 at the small Grant County town of George and head 10 miles south along Beverly Burke Road past huge circle irrigation farms and over the rolling slopes of Frenchman Hills. You've arrived at the Royal Slope American Viticultural Area. It's Washington's newest AVA and it's quickly gaining a reputation as one of the state's premier wine grape growing areas.
Terry's parents, Guthrie and Viola Burke, began growing hay in 1959 after purchasing land through a lottery held to populate the desert region when irrigation water arrived from Grand Coulee Dam through the Columbia Basin Project.
Terry returned to the farm after a stint in the U.S. Navy during the Vietnam War and college, where he met Jan, to grow alfalfa and timothy hay. There were many lean years of farming and raising four children before the couple could afford or have time for other endeavors.
Jan said it was their oldest son, Scott, who persuaded them to plant 21 vines in a corner of one of the hay circles. Scott was taking viticulture classes in Walla Walla at the time. He made the first wines but later convinced his parents to expand the vineyard and start making wine. Terry said Scott also got them started drinking good wine.
"We would take trips to Napa and spend thousands of dollars on wine. We thought we better start making our own," he said with a laugh. Terry learned basic wine chemistry from Quincy winemaker Pete Beaumont and started poring over wine craft books and articles.
"He's a farmer from the get-go," said Jan in describing her husband's approach to winemaking. "He can fix anything. He's a very logical person. He takes everything step by step."
"Jan asked me what my goal is. I told her I want to make a $100 bottle of wine and sell it for $25. I want people to be able to afford good wine," Terry said.
Burke Vineyard became bonded and began selling wine with its 2014 vintage in 2017. The winery currently has two Cabernet Sauvignons, a Syrah, Malbec, Merlot and Sangiovese, all in 2014 and 2015 vintages.
Terry said he really dislikes buying wines that need to be aged two or three years before they're drinkable. He ages most of his red wines five years in French and American oak barrels.
"I think people should get a wine that's ready to drink," he said.
The winery produced its first Rosé of Syrah last year and has plans to release a few red wine blends in coming years. The couple said they want to keep production at 500 to 600 cases a year. The vineyard has expanded to two acres of red varietals, including recent plantings of Petit Verdot and Cabernet Franc. All wine is sold at the winery and a few local retail stores and fruit stands.
The whole family gets together at harvest time to pick the grapes, crush and start fermentation. They gather again when it's time to bottle the wine.
"Everything is estate grown. Everything is done by family. We don't plan to plant anymore," said Jan, adding that they like keeping the winery small and intimate. She enjoys getting to know the people who take the time to seek out their winery.
"It's funny. You can't stop. Every year, you think you can do it a little better," Jan said.
"I just wish we started this a lot earlier," Terry added.