Editor's note: A version of this story first published in 2021 Methow Home produced by Methow Valley News.
Pick a window, any window, at Joan Wellman and Tom Robinson's Mazama home, and you'll find a stunning view.
That was their plan when they worked with architects Ray and Mary Johnston to remodel the mid-1990s home, focusing on letting in abundant natural light and showing off views in every direction.
"We do a lot of fairly compact house design, and what we've learned to do —and really like — is to include the outside as part of the experience of the interior of the site," Ray Johnston said. "Joan and Tom's house when I first saw it was the total opposite of that. It was designed during an energy crisis and it really turned its back on its surroundings. Small windows. Small panes in small windows."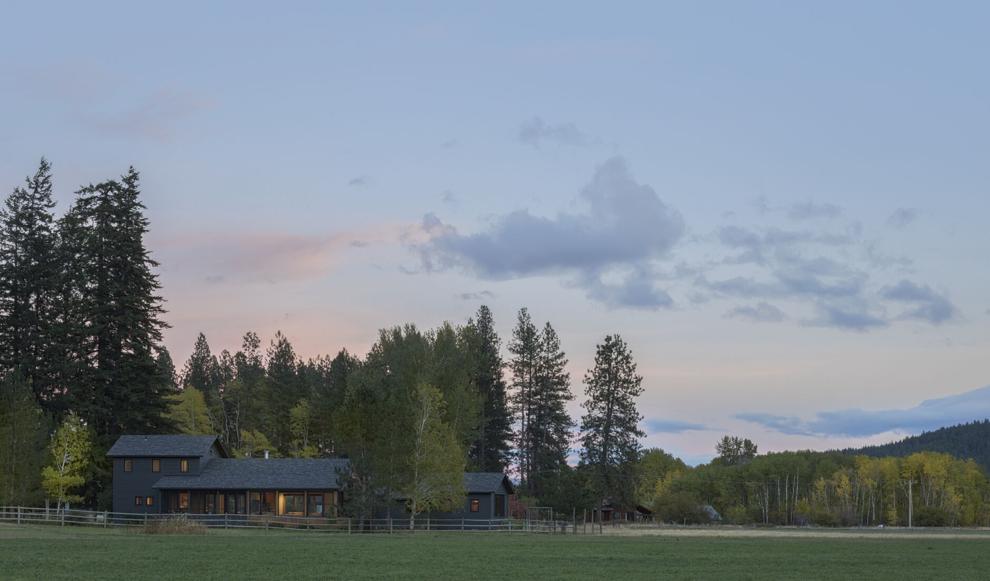 Johnston said his goal was to "peel open" the living spaces of the house, bringing it and its surroundings together.
"(The former owners) were art collectors, so they had wanted to maximize the wall space in the house, so they had plenty of space to hang art. … (W)hen we came to see the house, we loved the layout and we loved the site, but they hadn't really optimized the views," Wellman said.
Now, the home is all about its 360-degree views. Despite not being on high ground, the roughly 2,500 square-foot home is anything but in shadow, with sunlight and vistas in every direction. The master bedroom opens on Lucky Jim Bluff.
Wellman and Robinson worked with the Johnstons to reimagine the house, while keeping a very similar floor plan. They also credited contractor Rick Mills for his work on the house.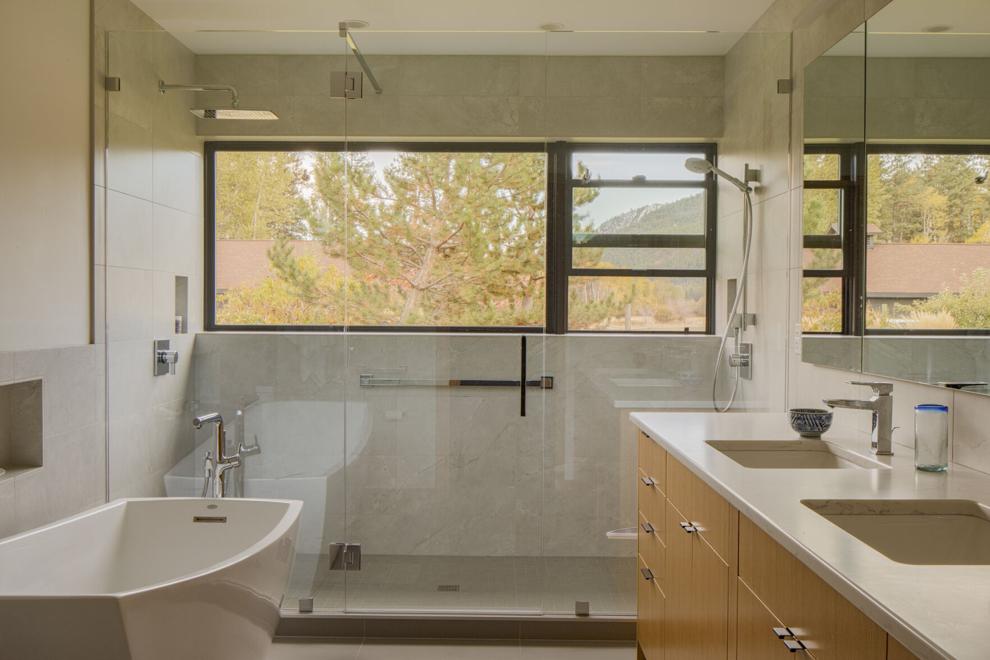 Love, but not at first sight
Wellman and Robinson knew what they were looking for when they started house hunting.
"And this house wasn't it," Wellman said. "When we first looked at it, I just said 'no.'"
While their first impression of the house wasn't great, the spacious house on 30 acres started to grow on them.
"And then we came back and looked at it again and I said, 'maybe,' " she said.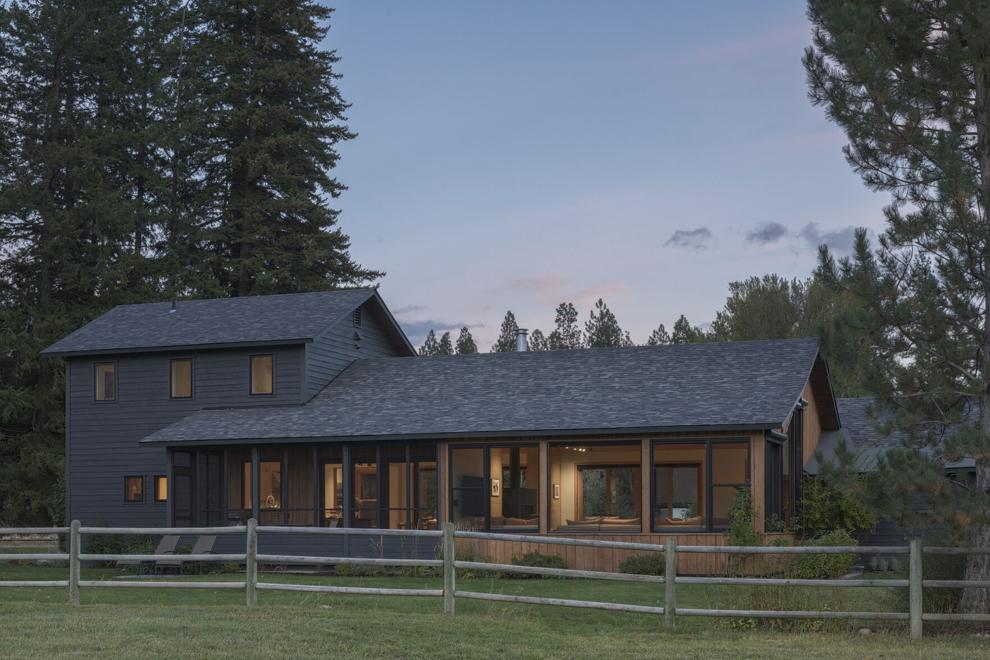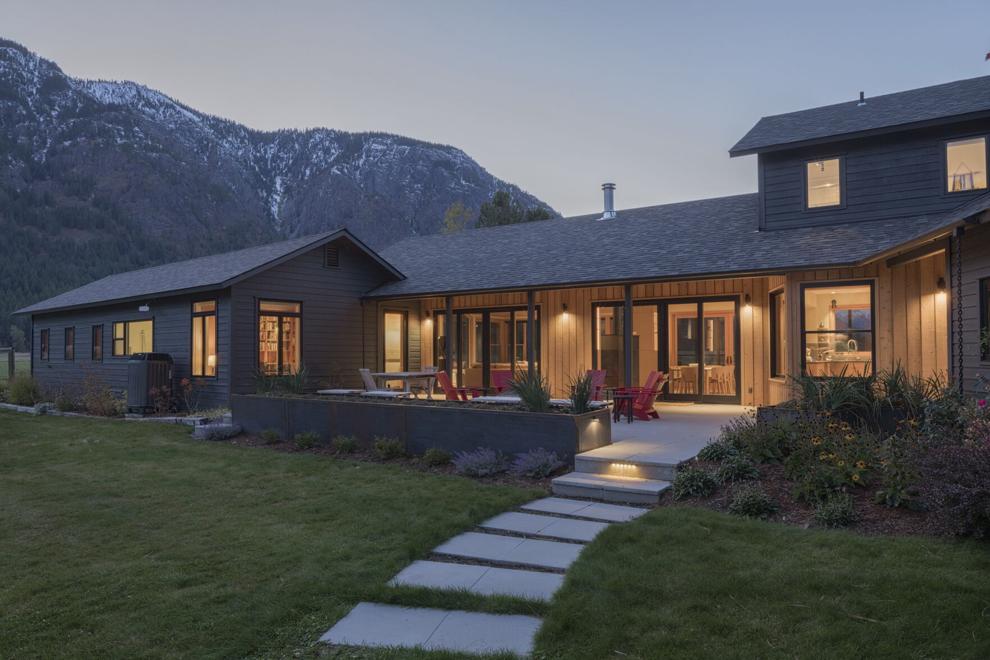 The site, adjacent to Lucky Jim Bluff on the valley floor, and the all-day natural lighting eventually won them over, along with helpful ideas from Johnston Architects.
"That started getting us more excited. And we're really delighted with the outcome. We couldn't be any happier," Wellman said.
The open-plan living room and kitchen was once split in two by a solid white wall, with a door to one side. Now, the kitchen/dining/living area is open, bright and inviting, separated only by a fireplace.
Once solid walls now house large windows that let in light all day long — even in the dead of winter. In the summer, electronic blinds help keep the space comfortable.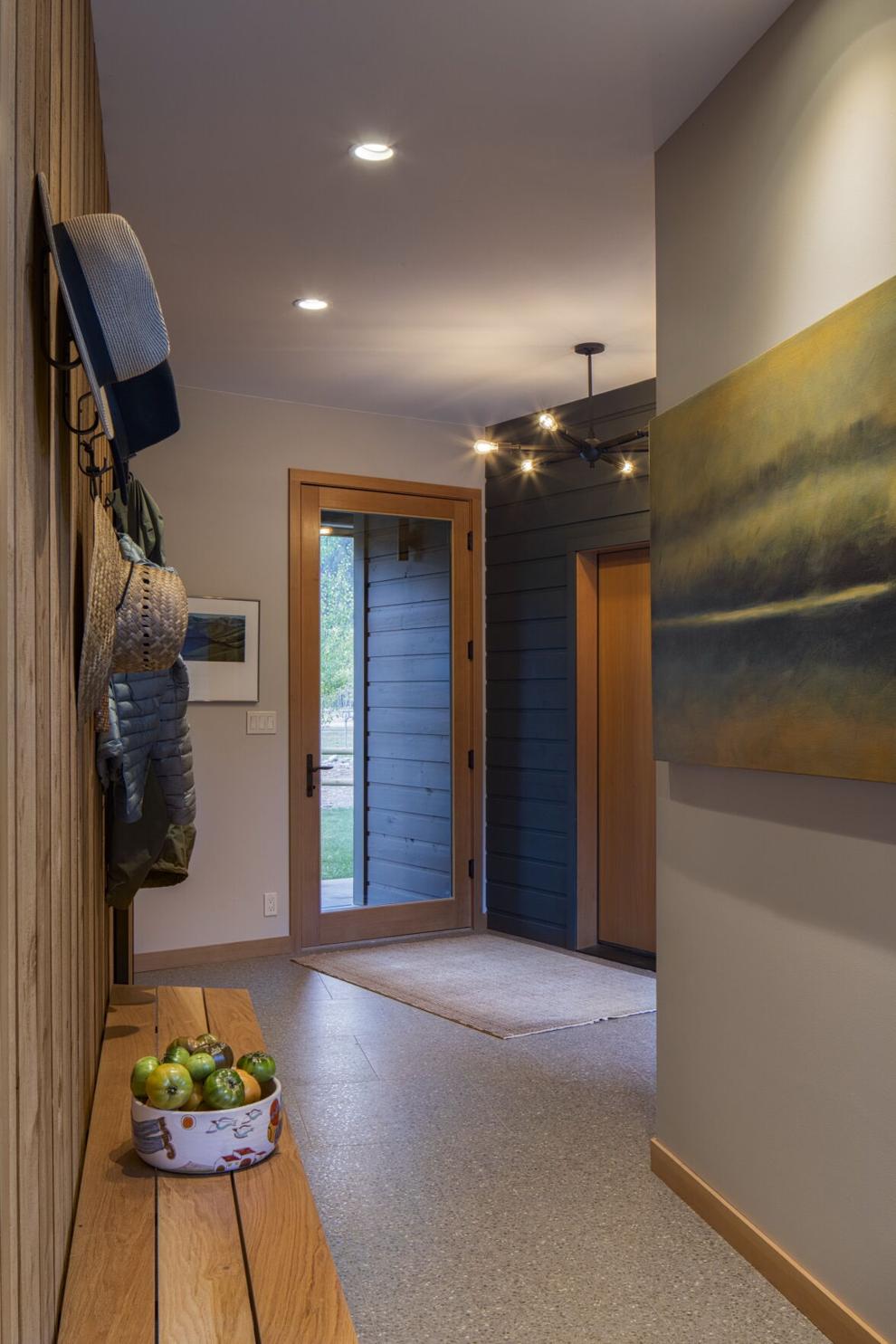 "The house stays amazingly cool — we hardly used our air conditioning at all," Wellman said.
The house includes a spa-like master bath, a sauna, walk-in master closet, an office known these days as the "Zoom room," along with two upstairs guest rooms. The house has the feel of a cabin, with natural wood finishes and some industrial metal elements, including the stair rails to upstairs rooms. Most of the materials were sourced locally, Robinson said.
"It's really locally resourced," he said. "All the blinds are from Winthrop, appliances are from Omak or Wenatchee. We didn't make a Seattle house. This is an Eastern Washington house."
Wellman and Robinson lived in the Seattle area before their retirements, and vacationed at a Methow cabin since 2007. Now they have a small condo in the Seattle area but spend most of their time in the valley.
"It used to be that our vacation home was here, and now it's the opposite," Wellman said.
Robinson retired first and began a new career as a rolfer — similar to a massage therapist. When Wellman retired in 2017, the couple started spending all of their time at their Methow cabin.
"We came up here and spent all our time in our cabin, and after about a year of that we went, uh, this isn't working … this is not enough space," Wellman said.
"We had no garage or anything," Robinson added.
They decided early to buy an existing home and remodel rather than build a new house. The timeline was considerably shorter, they noted, with new construction in the Methow projected to take three years. They bought the home in December 2018 and moved in full time in February 2020.
Johnston noted remodels generally cost less than construction of a new house.
"We really retained most of the rooms; we just altered their walls, so we weren't really changing the shape of the house or moving substantial walls around," he said. "When you start doing that, the costs (versus new construction) start to equal."
Johnston said his business in the past has only received a request to do a remodel every few years. In the past year, they've had three new requests.
However, that's how their business was sustained when it was formed 30 years ago.
"In the valley, where a lot of our residential work is, there just aren't that many remodels going on," Johnston said. "Most of our work for the first year was remodeling little bungalows in our neighborhood. Our roots are in that kind of transformational effort that a remodel is; we don't do as many now but we always have a few."
Thirty years after starting their business and being introduced to the Methow Valley, Ray and Mary Johnston also moved from Seattle to the Methow full time this year.
"About 30 years ago we were introduced to the Methow Valley, and we loved it instantly, and started going there then and it was the beginning of a long love affair we've had with the place," Johnston said.