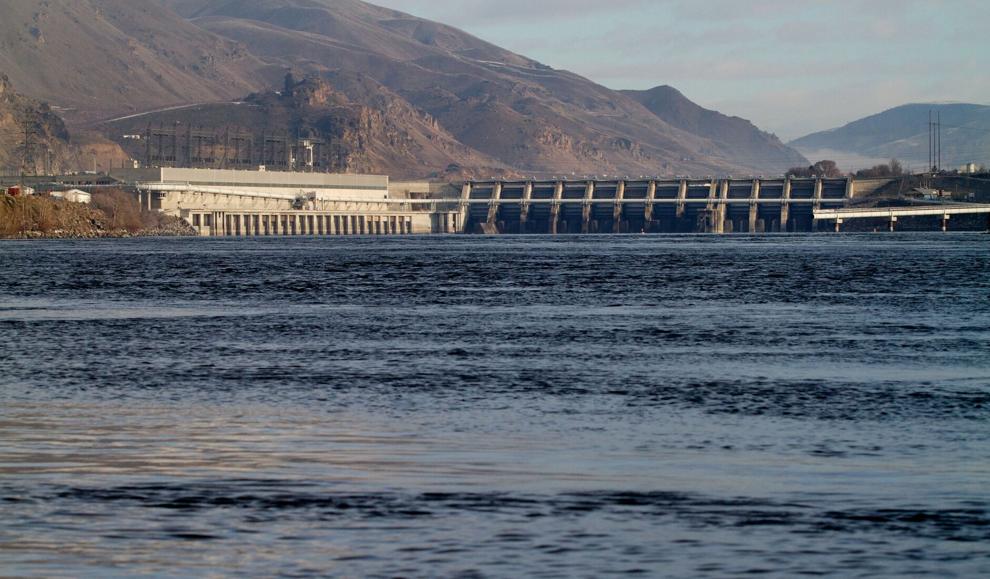 WENATCHEE — Following the Sept. 11, 2001, terrorist attacks, hydroelectric dams were given additional security attention.
A Sept. 14, 2001, issue of The Wenatchee World includes an article on a suspicious object at Chief Joseph Dam in Bridgeport. A bomb squad was called, but no explosives were discovered.
A separate article for Sept. 14 notes that federal officials consider Grand Coulee Dam a potential terrorist target and said breaching the dam would "interrupt power throughout the West and flood communities along the Columbia River to the Pacific Ocean."
Workers from the U.S. Bureau of Reclamation at Grand Coulee Dam were sent home the day of the attacks, and the Grand Coulee Dam School District temporarily closed its four schools.
"I've got two schools downriver from the dam," Superintendent of the Grand Coulee School District Dennis Przychodzin said at the time. "If there was ever a breach, well, I just don't want to think about that."
Nearly 20 years later the focus on dam security remains.
A spokeswoman for Reclamation, which oversees Grand Coulee Dam, said in an email that security was adjusted at all of their offices and facilities following the attacks.
"The Grand Coulee Power Office maintains 24 hours a day, 7 days a week law enforcement and security response capability who assess any potential risks and threats," the spokeswoman wrote. "Unfortunately, we cannot disclose any law enforcement and security procedures."
At Rocky Reach Dam, security plans are consistently refreshed.
Richard Hyatt, director of corporate security at Chelan County PUD, oversees Rocky Reach, Rock Island Dam, Lake Chelan Dam, 25 substations, 14 parks, water pumping stations and a workforce of 840 people.
To do so, planning and preparation are key.
"Threats range from anything. We keep our eye out on trespassers, potential breach scenarios," Hyatt said. "We try to make sure nobody is going to interfere with our operation or have an impact on the bulk electric system."
The amount of security is dependent on the perceived threat level. If a threat is detected, the PUD begins communicating with their protective security adviser with U.S. Homeland Security, local police and other security personnel.
The PUD participates in several tabletop security exercises. Some, such as a cyber security exercise, are mandated by the U.S. Department of Energy. The PUD also participates in national exercises to test the country's electrical grid.
"We try to make sure we don't become complacent," Hyatt said. "Part of my job is that our security team stays sharp, stays focused."
Hyatt has been in his current position for six years, though he has 32 years of experience in security. This includes stops with the New York Police Department's crime prevention division and as an investigator at John F. Kennedy International Airport in New York.
"The biggest takeaway is that you're never done. It's a journey, you're never arriving at your destination," Hyatt said. "You have to kind of keep changing and tailoring your physical security program to your new environments."
Security at PUD facilities today is more sophisticated than in 2001.
"Back in the day, the old adage for security was gates, guards and guns," Hyatt said. "Because that was to generate a real overt security presence at a facility."
Hyatt estimated before the attack, there were a total of two cameras and one guard post in operation. When Hyatt took over in 2015, there were about 100 cameras. Now, there are over 300 cameras, 500 electronic card readers and barrier arms at all points of entry at the three hydro facilities.
"In 2001, a lot of entities, a lot of companies didn't have a big emphasis on physical security," Hyatt said. "After 9/11, there was a mad dash to get hardened real quick."
The PUD now has software that monitors video feeds for unauthorized personnel. Instead of one guard spending an eight-hour shift checking on five or six sites, personnel can check multiple sites in a matter of minutes.
"It's not just about having a uniform at a post, there are a lot of things that you don't see behind the scenes. Sometimes, the best security is the security that's not so obvious."
Hyatt also prioritized retrofitting facilities such as Rocky Reach Dam, which was completed in 1961.
"A lot of old doors, we've really made a concerted effort to secure those old doors and put everybody on access patrol so we could prevent unauthorized access by a trespasser or anybody else who may breach the facility," Hyatt said.