ORONDO — At this point, few people have seen it and even fewer have tasted it. But by next year there will be more than 2 million boxes of Cosmic Crisp apples on the market.
The variety is being promoted with a $10 million marketing campaign featuring social media influencers, astronauts and chefs. The first seedlings were distributed using a drawing system, due to the high interest from growers. 
A rollout of this scale is unprecedented in the apple industry — but so is this apple. A Washington State University tree fruit breeding program designed the variety nearly two decades ago by cross-pollinating Enterprise and Honeycrisp varieties.
Thanks to the advancements of the 21st century, agriculture is evolving. Packing lines now use infrared cameras, storage warehouses have robotic forklifts and, in the case of Cosmic, even the fruit itself is an innovation.
It's left the industry more automated and more efficient, but also more consolidated.
"Yes, agriculture is probably the oldest industry in human civilization," said Jon DeVaney, president of the Washington State Tree Fruit Association. "… But just because it's the oldest industry, does not mean agriculture is exempt from pressures other industries face: to be more efficient, to stay at the cutting edge of new development, and to always increase productivity while decreasing the amount of resources needed."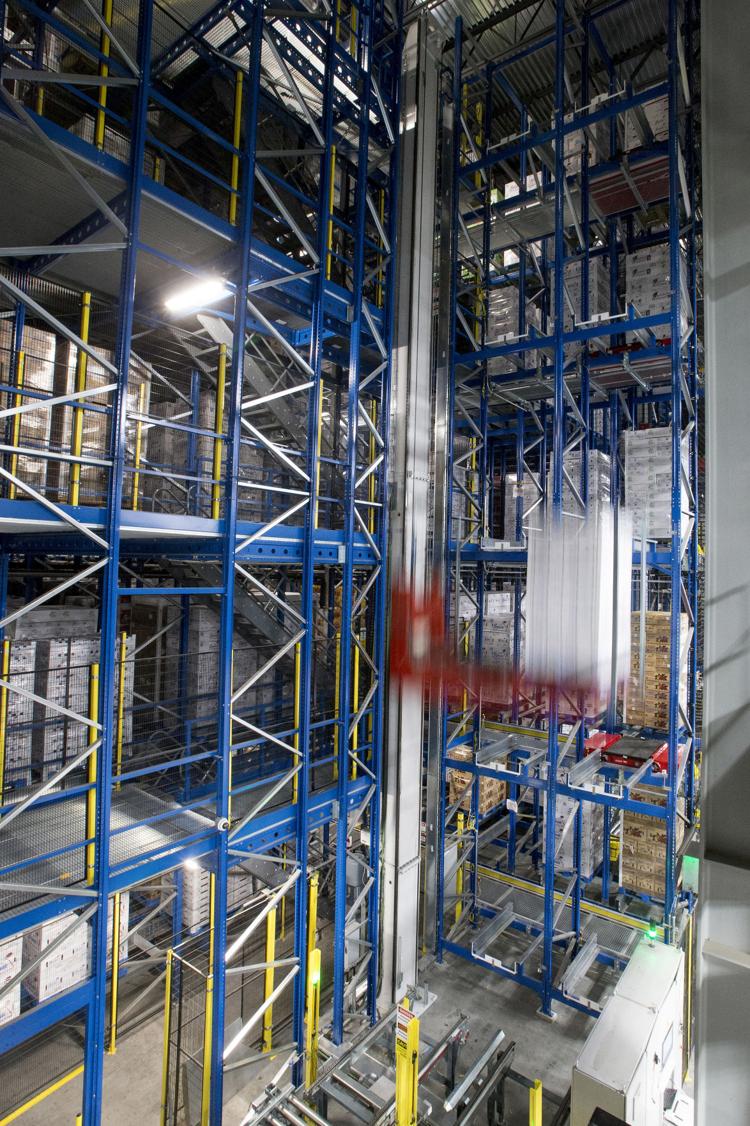 Agriculture at the speed of automation
The heart of Stemilt Growers' new distribution center is kept cool, just over 30 degrees, to help preserve the fruit. It's also dark, because the robots don't need light the way their human counterparts do.
This is Stemilt's Automated Storage and Retrieval System, or ASRS, — a hive of automated carrying machines that pluck pallets of fruit from towering storage racks before they're shipped around the world.
The 478,089-square-foot distribution center was conceived after the 2015 Sleepy Hollow Fire destroyed one of the company's shipping centers in Wenatchee.
All Stemilt produce leaving Wenatchee is now routed through the one facility, which was completed next to the company's Olds Station headquarters in June 2018.
"The distribution center was always a vision of the Mathison family, who owns Stemilt. But it never would have been made a reality without that fire," said Stemilt spokeswoman Brianna Shales. "The opportunity that came out of that destruction was the ability to have a consolidated shipping facility and operations."
The company has two cherry packing lines and one apple packing line in a neighboring packing shed on its Olds Station campus. Once packed, boxes of fruit travel across an elevated, cooled conveyor belt into the distribution center.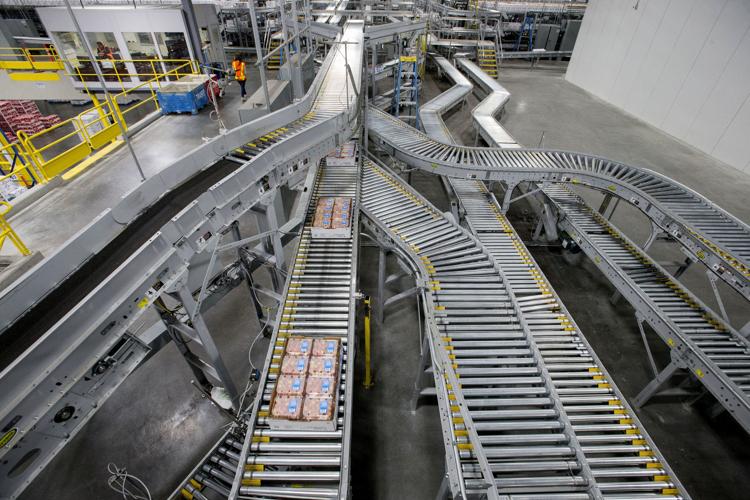 The boxes are stacked onto pallets and secured by large plastic wrap-wielding robots. Each pallet must be precisely stacked and wrapped before entering the ASRS.
The five-level ASRS can store 12,770 pallets at any given time. The facility also has a conventional storage area — with human workers tending to the stacks — that can store another 4,122 pallets.
When an order of fruit needs to go out, the automated carrying machines pull down the needed pallets and arrange them for a human-operated forklift to load into a waiting truck.
The facility has 22 truck loading bays with room to expand. 
The whole system is designed to make a notoriously complicated part of the fruit production system faster and more efficient, Shales said.
"Before, a truck might have to go to two facilities to get fully loaded. Now they're coming to one," she said. "And they're also getting out much quicker because we're relying on automation to be able to set up the majority of the order and the forklift to finish it off."
The goal is to have a truck leave within an hour of checking in, she said.
The efficiency has also allowed Stemilt to reduce shipping staff hours, Shales said, "which is a huge benefit."
But even when the crews go home at night, the ASRS is still hard at work, rotating and organizing the pallets to prepare for the next day.
Better than pencil and paper
The cherries go by in a flash, too fast for the eye to keep up. But the Cherry Vision 3.0 has already analyzed each cherry's size, color and any potential defects.
The optical sorting system, made by Italian company Unitec, represents one of the fastest-advancing areas in agriculture: the packing line.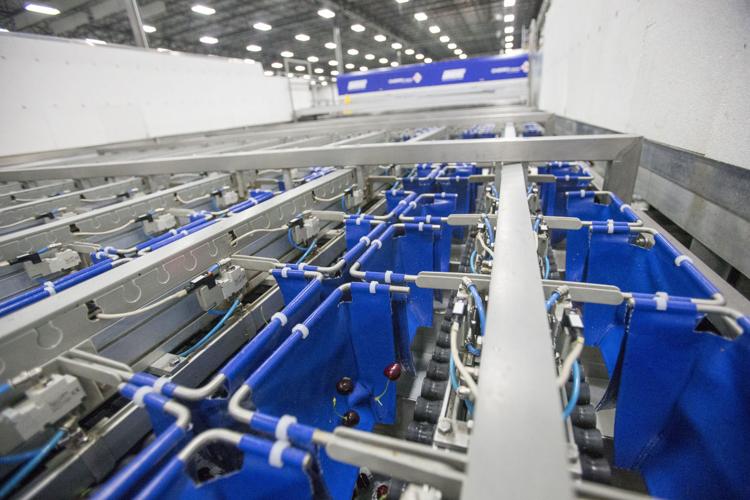 "When you have a controlled environment in a warehouse, it's more easy to automate," said DeVaney, the Washington State Tree Fruit Association president. "It's easier to scan a piece of fruit running across a line than it is to scan it on a tree when it may be behind leaves or branches and you're outside. There are opportunities in the orchard, but we're seeing those technologies applied first in the packing house."
The agriculture industry is expanding and the available labor force is having a hard time keeping up, DeVaney said. Automating some areas of the production process has helped relieve that pressure.
"It reduces the amount of labor needed to move fruit. But it's not that we've seen a decrease in the total number of employees in the industry, we've just seen a big increase in the amount of productivity that we can get out of the labor force that we have," he said.
And these computerized packing lines are now producing something almost as valuable as the fruit: data.
"It's exciting how much can be done with this new technology. Not just with production, how much volume individual packing houses can handle with these new lines, but how we're able to improve quality control and generate data," DeVaney said. "The warehouses and sales houses can have a better handle on their product. And they can give that feedback to the growers to make sure they are producing a product that is going to give them the best returns."
With the data in hand, producers can adjust tree nutrition or track production volume from year to year, DeVaney said.
"They can really identify trends and fix problems in ways that are harder to do when it's just with the human brain and a pencil after the fact," he said.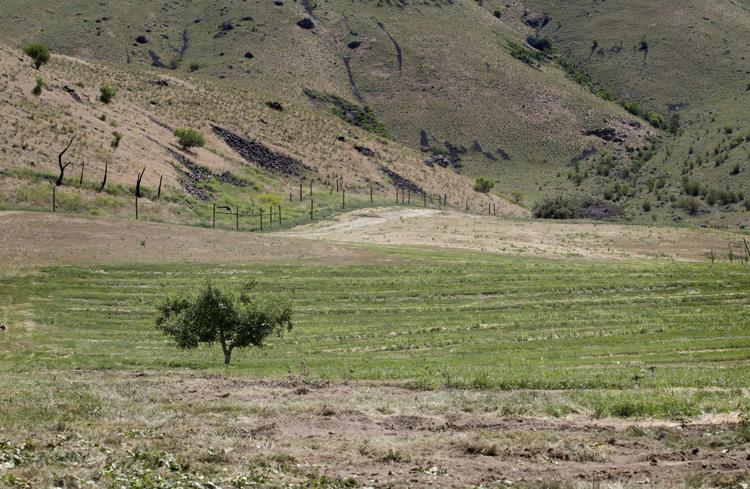 The power of a pencil eraser
The Cosmic Crisp mother tree was planted in 2001 at the end of a row in a quiet orchard in Orondo. It's still there, albeit a little overgrown, and still producing fruit.
"It was the last tree in the row, so it was easy to save," said Bonnie Schonberg, a research tech at WSU. "Otherwise, in convenience, it would have been easy to pull."
"You can think of (the program) like a conveyor belt of material that keeps progressing," said Kate Evans, the program's director. "Plant breeding starts with us deciding what targets we want in our finished variety. Here, we're looking for varieties that will grow in the apple-producing areas of Washington and are available to growers in Washington."
Using a pencil eraser, pollen from one of the parent trees is transferred onto the stigma of another, creating a new variety.
"It takes us about 18 years to get from that point to the point where we've tested and selected," Evans said. "... Every year we're making those new crosses, so every year we're introducing new material into the program and every year everything else shifts a little further down the conveyor belt to whether it's going to be good enough to be released or not."
Those years of testing are for both the tree and the apple. They're looking for qualities that'll make it successful on a mass scale: How well does it grow? How well does it store? Can it go over a packing line? And how does the fruit look and taste?
Since the programs started in 1994, only two varieties have passed through this gauntlet all the way: Sunrise Magic in 2009 and Cosmic Crisp.
Due to high interest in Cosmic Crisp, a drawing was held the first year to determine which growers got to plant the first seedlings.
And that's important, because agriculture innovations aren't always available to the masses, DeVaney said.
"They have a significant cost associated with them," he said. "We have been seeing a 100-year-long trend of consolidation of the industry. As it gets bigger, because the cost of investment is significant."
The number of orchard operations in Chelan County went from 1,126 in 1997 to 622 in 2017, according to a U.S. Department of Agriculture census released in April. Total sales from fruit and tree nut operations went up from $150 million to $254 million in the same timeframe.
But there are companies and research groups working on making the innovation more equitable and available, just like Cosmic Crisp, DeVaney said.
"Every grower in the state gets a chance to plant that variety," he said. "Balancing technological innovation with access and affordability is something our industry is constantly working on."