OLYMPIA — All but six of Washington's 39 counties — including all of North Central Washington — will now be able to loosen COVID-19 restrictions and bring back limited indoor dining and live entertainment, and reopen gyms, Gov. Jay Inslee announced this week.
In a news Thursday conference, Inslee said that five of the eight regions in his latest reopening plan for Washington would advance to the second, less-restrictive phase.
Effective Sunday, the move will bring limited indoor dining, live entertainment and other activities to broad swaths of Washington. The regions that will move forward are East, North, North Central, Northwest and Southwest.
Meanwhile the West and Puget Sound regions — which include King, Pierce, Snohomish, Thurston and three other counties — have already advanced to the second phase. Those regions will remain in that phase.
"Today is a very good day for being able to have businesses open and customers being able to have more access," Inslee said during the news conference. "It's a good day to give some financial assistance to these hard-hurt businesses that have been so innovative" throughout the pandemic.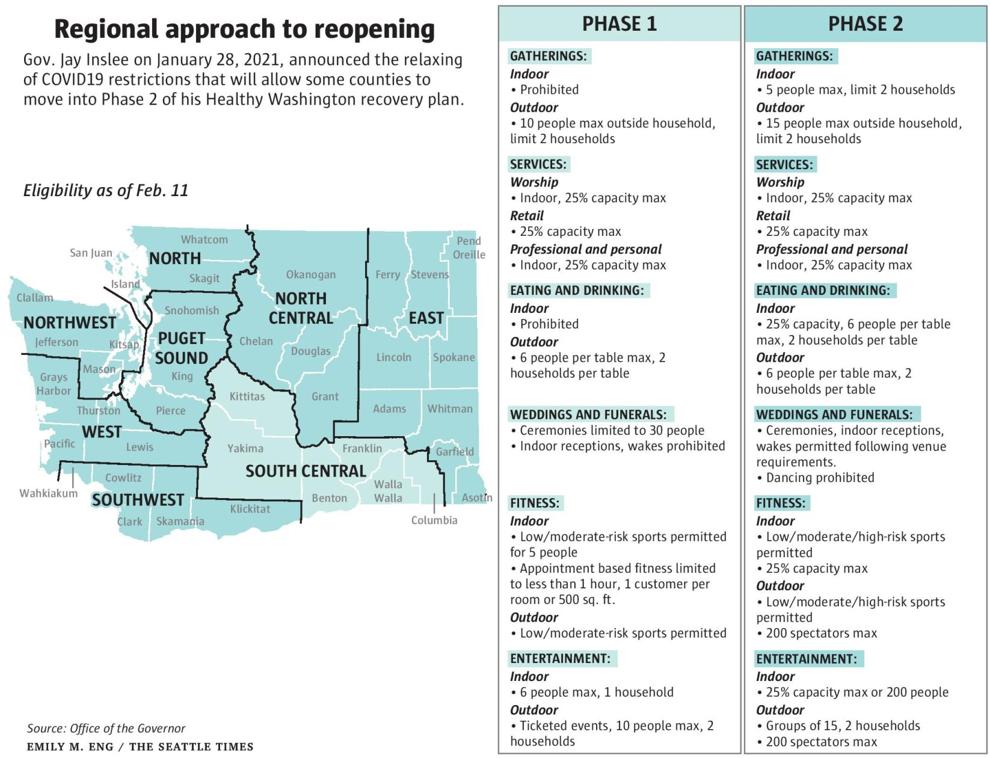 Restrictions around the state are lifting as officials race to vaccinate people with a limited supply of doses even as new, more contagious variants of the virus begin to spread. Those new variants mean a fourth wave is likely to hit, researchers have said.
State health officials Thursday reported 1,490 new coronavirus cases and 30 deaths in Washington, bringing the total diagnoses to 326,159, including 4,633 deaths. A total of 18,531 people have been hospitalized in the state due to the virus.
With Thursday's announcement, only the South Central region — which includes Benton, Franklin, Columbia, Kittitas, Walla Walla and Yakima counties — will remain in the first and more restrictive phase. That phase prohibits indoor dining at restaurants and general admission at live entertainment venues, and fitness centers can operate on an appointment-only basis.
As counties around the state ease restrictions, residents, businesses, schools and health care workers are about to get more government aid.
Inslee Thursday also announced the distribution of an additional $43.5 million for rental assistance and $43.5 million to assist businesses hurt by the pandemic. The money comes from the state's disaster response account.
And the governor hailed the Legislature's passage Thursday of a $2.2 billion coronavirus aid bill, made up mostly of federal dollars.
The legislation — which the governor said he'll sign likely next week — provides dollars to help increase vaccine distribution and contact tracing, aid schools, and assist landlords, renters and small businesses.
As of Thursday morning, around 987,000 doses of the vaccine have been distributed in Washington — which has a population of about 7.65 million — according to Inslee's office. That includes both first and second doses.
The state is starting to focus more on people who have received a first dose, said Inslee, to make sure they get their second shot.